What You Need to Know about Hybrid Resume
The reverse chronological resume and the functional resume are the most common resume types. But did you know that there is a third type, called the hybrid resume? Get to know why the hybrid aka combination resume might be the best type of resume for you.
What is a hybrid resume?
So what is a hybrid resume? Basically, it combines the reverse chronological resume format with the functional resume format. While the chronological resume focuses on experience, and the functional resume displays your skills, the hybrid format places equal highlights on both of these important qualifications. It's a much more contemporary format to use and is preferred by many hiring managers.
The way the hybrid or combination resume is built is that it places your relevant and/or transferrable skills near the top of the page. This is then followed by a work experience section that provides only the key details of your work history. This way, your best skills, and experience are given special attention, which is the way a resume should be.
The benefits of a hybrid or combination resume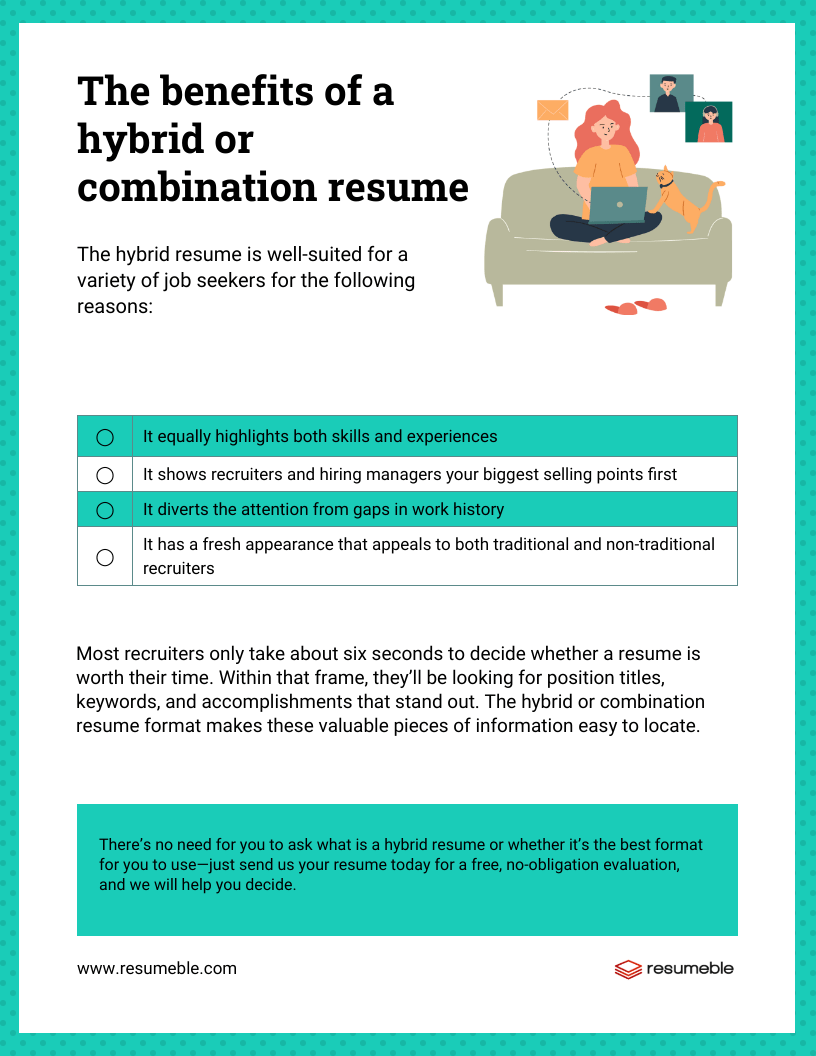 The hybrid resume is well-suited for a variety of job seekers for the following reasons:
• It equally highlights both skills and experiences
• It shows recruiters and hiring managers your biggest selling points first
• It diverts the attention from gaps in work history
• It has a fresh appearance that appeals to both traditional and non-traditional recruiters
Most recruiters only take about six seconds to decide whether a resume is worth their time. Within that frame, they'll be looking for position titles, keywords, and accomplishments that stand out. The hybrid or combination resume format makes these valuable pieces of information easy to locate.
When to use a hybrid or combination resume
Not everyone can benefit from a hybrid resume. If you have a pretty solid industry background or plan to apply to a company with a traditional management style, a reverse chronological or functional resume will be the best type for you. But if you're just starting out in your career, burdened with a lengthy unemployment period, or planning to forge a new career path, the combination resume will likely be the best option for you.
1. If you're an up and coming professional
New graduates who are just entering the workforce can have an edge by using the hybrid resume type. Since the hybrid type starts off with your skills, the fact that you have little or no experience to speak of is given less importance. You can set up your skills in the way that you would in a functional resume, and then follow it up with any high school, volunteer or intern experience you might have.
2. If you're switching careers
A combination resume can be the ticket to success for those looking to make a seismic shift in their career paths. When changing careers, your past skills and experiences could be rendered irrelevant, but fortunately for you, the hybrid format makes effective use of your transferrable skills and relatable experiences to make your different background appear valuable to recruiters and hiring managers reading your resume.
3. If you have employment gaps
A lengthy unemployment is not something that you would want to put on your resume. But a problematic work history is not something you should cover up, either. The hybrid or combination resume allows you to tone down your career gaps and instead place the focus on skills that qualify you for the job. You can even display any skills you may have acquired during your unemployment period, which is not something you could usually do with a regular resume.
How to write a hybrid or combination resume
To write an effective combination resume, here are the tips that you must keep in mind.
1. Use a contemporary formatting style
Make sure you use a modern font like Calibri, Georgia or Helvetica, and keep your font size between 10 and 12. As best you can, limit your resume to just one page—two pages maximum—and include only your professional information that's relevant to the position you're applying for. Lastly, the margin on all sides of your resume should be one inch on all sides.
2. Include your contact information in the heading
The heading should contain all your key contact information so recruiters will immediately know how to get hold of you. Make sure to include the following:
• Full name
• Email address (one that appears professional and formal)
• Mobile phone number
• Hyperlink to your LinkedIn profile
You can include your home address, but only if it's near the location of the office or workplace. Otherwise, if you live out of town, the recruiter could set your resume aside in favor of someone who lives closer.
3. Select your most sellable skills
Take the time to pick your most attractive and relevant skills—the ones that the potential employer requires for the role. List each skill as bullet points, and begin your statements with an active verb to show that you know how to take initiative. Back up each skill with hard numbers and measurable results to show the positive effect of the work that you put in for your previous employers.
4. List your work experience
Place your work experience section under your skills, and list your work history in reverse chronological order, starting with your latest to your earliest. Accompany each job position with the length of time you worked there along with two to three bullet points that detail your responsibilities and quantifiable achievements.
If you don't have any professional experience, you can replace your work history with any type of skill-acquiring experience you may have, such as volunteer work, internship, and training.
5. Include your educational attainment
End your hybrid resume with your education section, which should include your degree, the name and location of your school, and the year you graduated from that school.
If you're wondering whether or not to include your GPA, the general rule is that you should include your grade within the first year or two after graduation, especially if you have a score of about 3.5 or above. Once you earn two to three years of work experience tucked under your belt, it's best to leave off your GPA from your resume, unless an employer specifically asks for it.
Work with Resumeble today
There's more than one way to write a resume, and each type serves a different purpose. Resumeble can guide you on whether a chronological, functional, or hybrid will be best for your situation. There's no need for you to ask what is a hybrid resume or whether it's the best format for you to use—just send us your resume today for a free, no-obligation evaluation, and we will help you decide.
-

Check Your Resume Branding

-

Learn About Main Mistakes and How to Fix Them

-

Check if Your Resume is ATS-compliant

-

Get Your Analysis within 24 Hours or Less!
Get a free resume
review
Upload Resume