LinkedIn Profiles vs. Resumes
You already have a LinkedIn profile for recruiters and hiring managers to check out, so why would you need to have a resume written? Is a LinkedIn profile all you really need? Although it can seem that having both a LinkedIn profile and resume is redundant, they each have different purposes. Get to know the similarities and differences between a LinkedIn profile vs. resume and why it's in your best interest to have both.
LinkedIn profile vs. resume: The similarities
Generally speaking, LinkedIn profiles and resumes have three things in common.
1. Sections
A quick way to begin your LinkedIn profile is to copy key pieces of professional information in your resume like your work history, skills, education, awards, and affiliations, etc. These sections are already present in your resume, and your LinkedIn profile should match what's written there.
It makes sense that much of the information contained in both your LinkedIn profile vs. resume are the same. The basic sections are also similar, although you can rearrange them according to your needs. For instance, you can put your skills section near the top if you have glaring employment gaps, or you can begin with your work experience if you have a more traditional career path.
2. Summary statement
Your summary statement serves as your sales pitch and introduction, so both your resume vs. LinkedIn profile should begin with one. For a more powerful and effective impact, make sure to work your most important skills, experiences, and achievements into your summary statement. Begin your sentences with active verbs, and incorporate keywords organically into your statements.
3. Keywords
Your resume must contain the right keywords in order to pass a scan by an applicant tracking system (ATS) widely used by employers today. Likewise, your LinkedIn profile vs. resume should also contain these keywords, as hiring managers and recruiters reading your profile information will also want to see them when they evaluate your credentials.
Resume vs. LinkedIn profile: The differences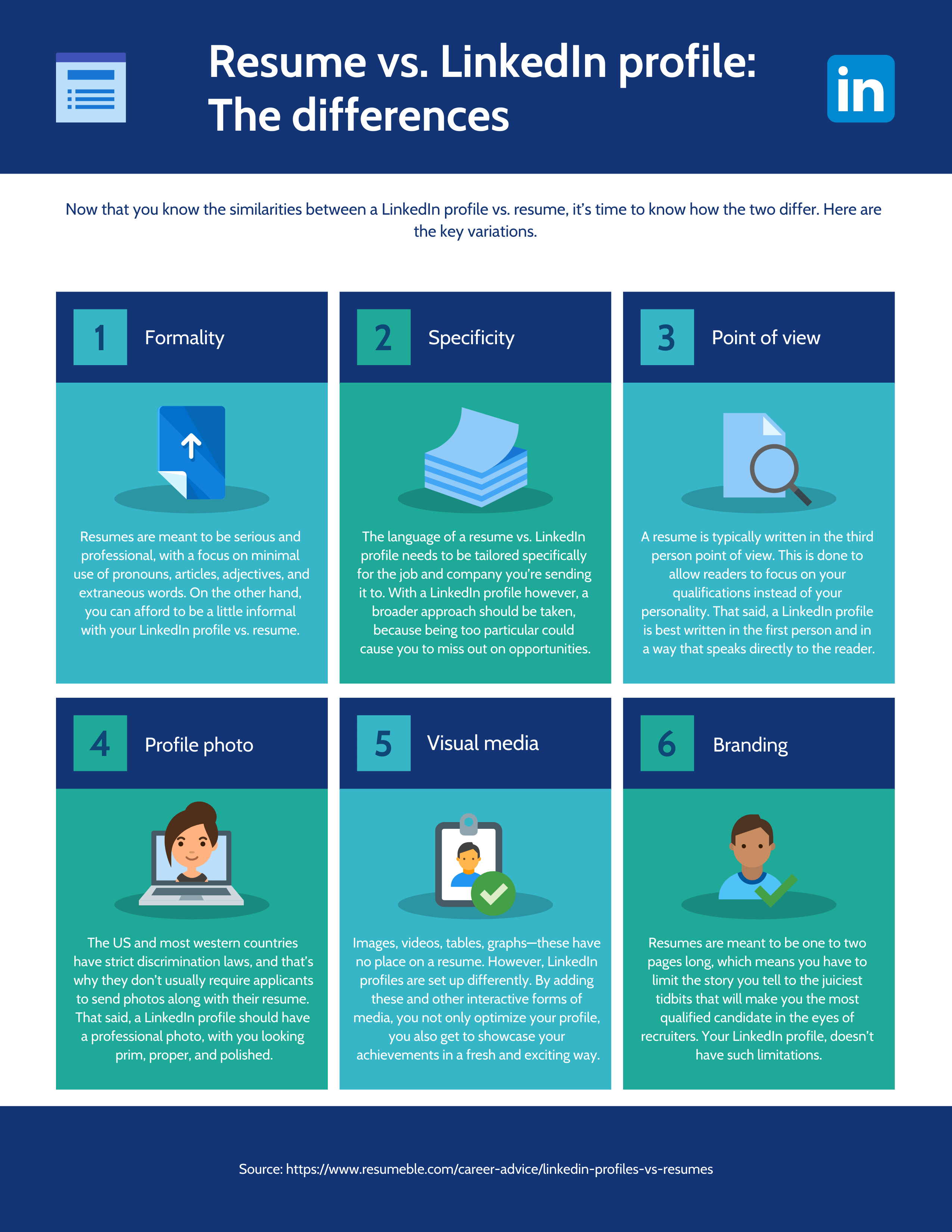 Now that you know the similarities between a LinkedIn profile vs. resume, it's time to know how the two differ. Here are the key variations.
1. Formality
Resumes are meant to be serious and professional, with a focus on minimal use of pronouns, articles, adjectives, and extraneous words. On the other hand, you can afford to be a little informal with your LinkedIn profile vs. resume. Since you're on a social medial platform, it's okay to inject a little humor in your statements. When done right, a bit of wit can be a great strategy for attracting a potential employer's attention on LinkedIn.
2. Specificity
The language of a resume vs. LinkedIn profile needs to be tailored specifically for the job and company you're sending it to. With a LinkedIn profile however, a broader approach should be taken, because being too particular could cause you to miss out on opportunities. For instance, if you limit yourself to managerial roles, your profile won't appear for those looking for a consultant, a partner, or maybe even a full time employee. Make your profile appeal to a wider audience, and you will not only be found by more potential employers, but you'll also impress them with the diversity of your skill set.
3. Point of view
A resume is typically written in the third person point of view. This is done to allow readers to focus on your qualifications instead of your personality. That said, a LinkedIn profile is best written in the first person and in a way that speaks directly to the reader. This helps make your profile appear more friendly and personal, allowing you to network better on the social media platform. If you were to use third person in your LinkedIn, your profile would seem distant, like it was written by someone else.
4. Profile photo
The US and most western countries have strict discrimination laws, and that's why they don't usually require applicants to send photos along with their resume. That said, a LinkedIn profile should have a professional photo, with you looking prim, proper, and polished. If you don't include a photo in your LinkedIn, you could come across as snobbish or lacking in confidence. LinkedIn is a platform for professionals, so when taking your profile photo, choose a solid color background, wear formal attire, smile, and be confident.
5. Visual media
Images, videos, tables, graphs—these have no place on a resume. However, LinkedIn profiles are set up differently. By adding these and other interactive forms of media, you not only optimize your profile, you also get to showcase your achievements in a fresh and exciting way.
6. Branding
Resumes are meant to be one to two pages long, which means you have to limit the story you tell to the juiciest tidbits that will make you the most qualified candidate in the eyes of recruiters. Your LinkedIn profile, doesn't have such limitations.
From portfolios, projects, entire work history and skill sets, and even all of your significant achievements—all of these can fit into your profile. While you have to whittle down your qualifications into bullets to fit them in a resume, you can elaborate as much as you like about them in your LinkedIn profile. Tell a compelling story in your LinkedIn profile, and you'll be able to attract positive attention from potential employers.
Resumeble can help with both your resume AND LinkedIn profile
Aside from resume writing, Resumeble also offers LinkedIn write-up services. No need for you to choose whether to apply to jobs with LinkedIn profile vs. resume—we can help you with both. Get the process started by sending us your resume for a free, no obligation evaluation. We look forward to hearing from you, so contact us today!
-

Check Your Resume Branding

-

Learn About Main Mistakes and How to Fix Them

-

Check if Your Resume is ATS-compliant

-

Get Your Analysis within 24 Hours or Less!
Get a free resume
review
Upload Resume