11 Best Skills to Include on a Resume
It's easy for anyone to list all their skills when writing a resume. However, whittling the list down to the best ones is a little trickier.
Needless to say, different jobs require different skills, and some abilities are more important than others, depending on the job in question. With regards to what skills to put on a resume, however, there are a few that are considered indispensable, and including them in your resume will make you more favorable in the eyes of recruiters. We give you 11 of the most important skills to include on a resume so you can immediately be seen as an exemplary potential candidate.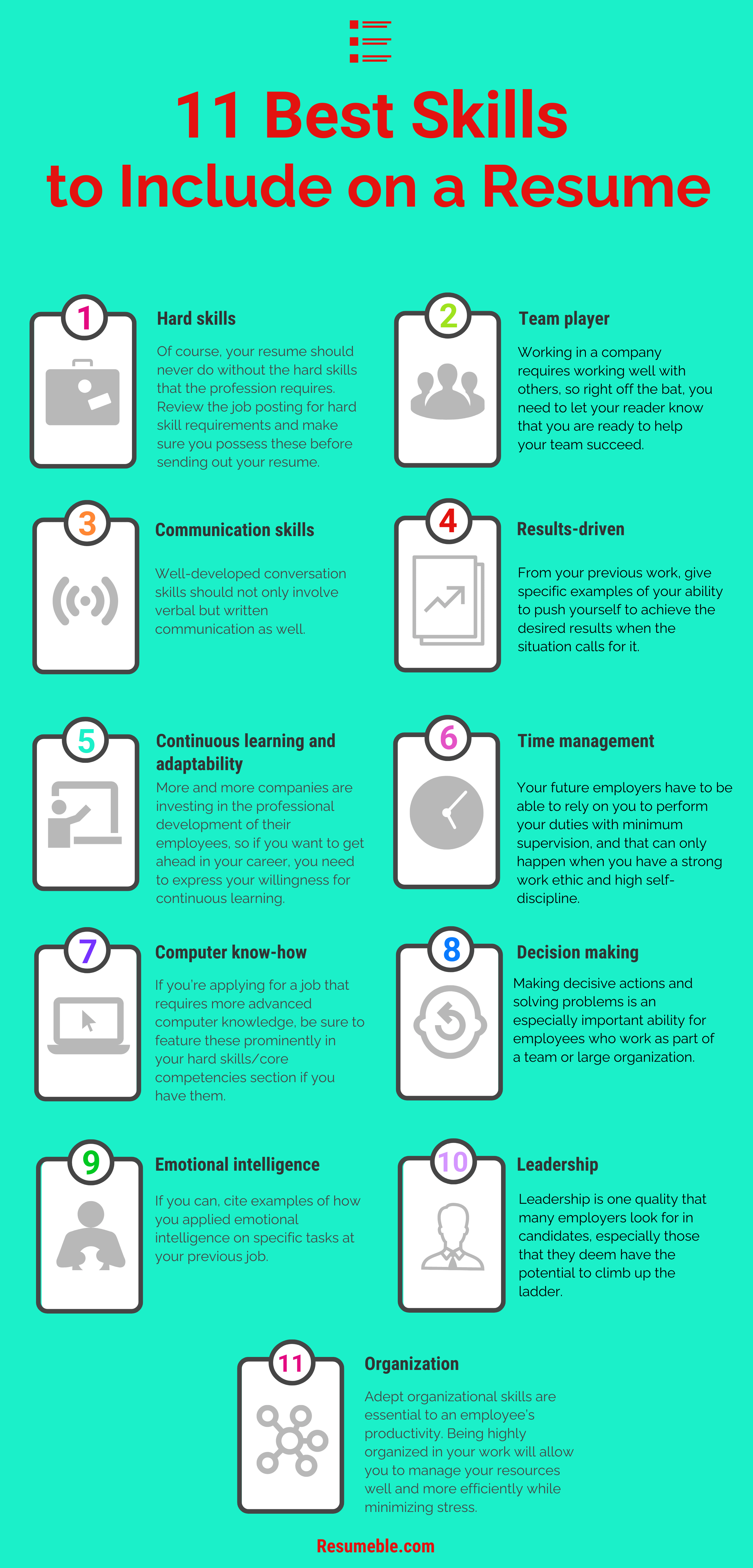 1. Hard skills
Of course, your resume should never do without the hard skills that the profession requires. These tend to be very specific to the work and industry you plan to apply for, so review the job posting for hard skill requirements and make sure you possess these before sending out your resume. Examples include:
Computer applications – Sonar X Producer Edition (music production), Adobe Creative Suite (graphic design)
Machine tools – drilling machines, power saws, presses
Languages – Chinese, German, Spanish
Due to their critical nature, hard skills need to be highlighted effectively on your resume, so make sure to place these on top of your core competencies section where they can be read first by recruiters and hiring managers.
2. Team player
Working in a company requires working well with others, so right off the bat, you need to let your reader know that you are ready to help your team succeed. Many employers consider being a team player a must when reviewing candidates for a job position. It's an important quality to have regardless of your job title or industry.
3. Communication skills
Being a good team player is impossible without good communication skills, and any employer would want to have someone who can connect well with others and effectively understand what the job calls for. Well-developed conversation skills should not only involve verbal but written communication as well.
4. Results-driven
With the business environment as competitive as ever, it's now more crucial to complete tasks and projects in the shortest amount of time while producing quality work. Needless to say, highly productive employees will always find a way to get tasks done and exceed expectations. From your previous work, give specific examples of your ability to push yourself to achieve the desired results when the situation calls for it.
5. Continuous learning and adaptability
More and more companies are investing in the professional development of their employees, so if you want to get ahead in your career, you need to express your willingness for continuous learning. On that note, you don't even have to wait for your company to provide the training for you—there are plenty of resources in the real world and online for improving your professional skills and capacities, as long as you're up for it.
6. Time management
With the wider acceptance of home offices and remote work setups due to the pandemic situation, employees now have to be more responsible with their own time. This means your future employers have to be able to rely on you to perform your duties with minimum supervision, and that can only happen when you have a strong work ethic and high self-discipline.
7. Computer know-how
We are now in the digital age, which makes it virtually impossible for an employee to thrive at his or her job without at least some familiarity with using computers, especially since almost every occupation makes use of a computer in some way. Some computer basics to include are word processing, spreadsheets, email communication, and social media. If you're applying for a job that requires more advanced computer knowledge, be sure to feature these prominently in your hard skills/core competencies section if you have them.
8. Decision making
Making decisive actions and solving problems is an especially important ability for employees who work as part of a team or large organization. This is not easy skill to have, and having the ability to evaluate a situation and come to a conclusive decision immediately identifies you as an excellent candidate. Even if you make a mistake once in a while, it shows that you're willing to take risks, which can be a positive quality to have depending on your role in the company.
9. Emotional intelligence
A study by CareerBuilder showed that over 70 percent of recruiters and human resources managers put more stock on emotional quotient (EQ) over intellectual quotient (IQ), with almost 60 percent stating that they'd rather hire a candidate with high EQ but low IQ than someone with a high IQ but low EQ. The reason? Hiring people believe that the former are better at conflict resolution, keeping calm under pressure, and empathizing with their co-workers. If you can, cite examples of how you applied emotional intelligence on specific tasks at your previous job.
10. Leadership
There's more to leadership than having a "manager" in your title. If you want to progress in your career, you have to convey a strong sense of leadership. Regarding what skills to include on a resume, leadership is one quality that many employers look for in candidates, especially those that they deem have the potential to climb up the ladder. Even when you're applying for an entry-level job, if you can demonstrate leadership in your current capacity, your superiors may be more likely to promote you to a higher-level role when a position opens up in the future.
11. Organization
Adept organizational skills are essential to an employee's productivity. Being highly organized in your work will allow you to manage your resources well and carry out your responsibilities more efficiently while minimizing stress.
A word about what skills to put on a resume
Before you begin writing your resume, consult the job description to pinpoint the specific skills that your potential employer is looking for. Identify appropriate buzzwords—prominent words that show you are part of the industry—and incorporate them organically into your resume's sections and entries. This is the best way to boost your chances of passing applicant tracking systems (ATS) and getting shortlisted by the hiring manager for an interview.
Need help with your resume?
Resumeble has a team of professional writers who will work with you one on one to build with you a resume that attracts the employer's interest and help you get one foot in the door. Choose from one of our packages today and worry no more about what skills to put on a resume.
-

Check Your Resume Branding

-

Learn About Main Mistakes and How to Fix Them

-

Check if Your Resume is ATS-compliant

-

Get Your Analysis within 24 Hours or Less!
Get a free resume
review
Upload Resume