The DOs and DON'Ts of Your Perfect Resume
There may be no such thing as a perfect person, but there is such a thing as a perfect resume. Creating one will all depend on the best practices you use to develop your application. Let these dos and don'ts guide you on how to craft the perfect resume for your needs.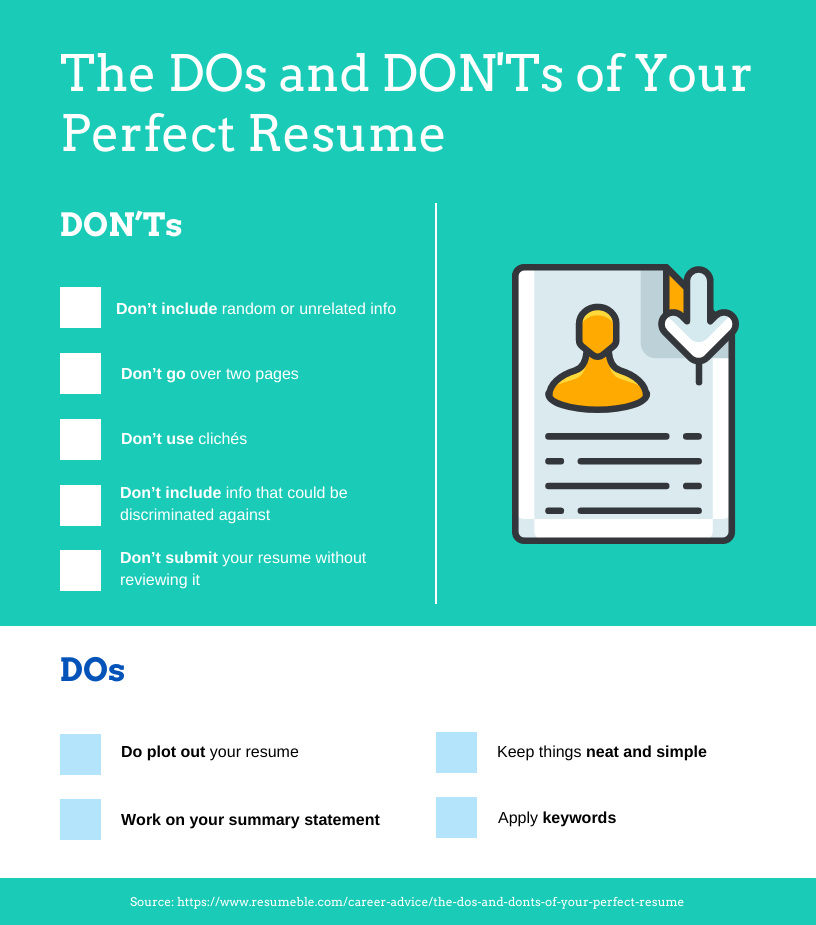 DOs
1. Do plot out your resume
You have to have a strategy for your perfect resume, starting with selecting the format that will work best for your situation. While most applicants will be served well by a reverse chronological resume, you might be better off using a functional or combination format, depending on your personal circumstances.
• Reverse Chronological resume – the traditional type of resume, with the work experience listed starting with the latest and going back to the earliest.
• Functional resume – the type of resume that focuses on skills instead of experience in order to divert attention away from potentially problematic career choices, such as lengthy employment gaps or job-hopping.
• Combination resume – merges the best qualities of both the chronological and functional resume.
After choosing your resume type, you need to plan your sections according to the position and your specific career situation. Most people arrange their sections like so:
• Header
• Summary Statement
• Work Experience
• Skills
• Certifications
• Professional Organizations
• Education
However, you can customize the arrangement and content of these sections according to your needs, as long as you make a conscious effort to build on your strengths and reduce your weaknesses.
2. Work on your summary statement
Your summary statement serves as your perfect resume's introduction, so you need to put in the work to make sure it's as effective as can be. Use your summary statement to emphasize your most important achievements, skills, and experiences. Here are some crucial tips to keep in mind when writing this all-too important resume section.
• Use active verbs to give your sentences more power.
• Use keywords picked from the job description organically.
• State how you plan to help the company achieve its goals.
• Add info on your key achievements as proof that you can deliver results.
3. Keep things neat and simple
Aside from your summary, you also need to make the rest of your resume appear professional and well-organized. Here are some important perfect resume writing tips to remember:
• Choose a contemporary font such as Calibri or Helvetica.
• Keep the text size between 10 and 12 for spaciousness and legibility.
• Strive for the perfect balance between text and white space for a clean look.
• Use single spacing for paragraphs.
• Side margins should be kept one inch wide, as this is the universally accepted standard.
• Print your resume using high quality paper.
In addition, you should make a conscious effort to keep your statements easy to understand and straight-to-the-point. Consider also avoiding too much jargon or industry-specific language unless they were mentioned in the job description. The recruiter who could be reading your resume might be unfamiliar with less common industry keywords, and you can end up confusing instead of impressing them.
4. Apply keywords
With the growing use of applicant tracking systems to screen resumes before they're read by human eyes, you need to ensure your resume contains the right keywords and phrases. Review the job post very carefully for prominent keywords, and incorporate them into the perfect resume 2022. For example, let's say you were applying for a graphic designer position, some of the top keywords you're likely to come across include:
• Creative design
• Adobe Photoshop
• Web design
• Digital artwork
• Graphic illustrator
• Infographics
Using job-specific keywords in your resume organically and naturally boosts your chances of bypassing a company's ATS, thereby getting you a step closer toward creating the perfect resume 2022 and landing that ever-important job interview.
DON'Ts
1. Don't include random or unrelated info
Unless a particular hobby or passion can showcase your transferrable or work-related skills, recruiters aren't likely to care about them. Get rid of anything that doesn't add value to your resume. Anything from high school should probably be not included, unless you're a fresh graduate with little to no experience.
2. Don't go over two pages
You should try your best to limit your resume to two pages unless specified. That said, some companies may require a longer and more in-depth resume, especially for higher positions. Even so, you should not include every single experience in your resume. Pick only the most impressive ones, and make your resume as brief as you can.
3. Don't use clichés
You should strive to make your resume sound as fresh as possible. Remember that recruiters go through a pile of resumes day in day out, and if your application reads just like the rest, they'll probably zone out while reading your resume. Avoid tired and overused terms like team player, hard worker, and excellent communicator. Try to find a different way of saying these overly common phrases.
4. Don't include info that could be discriminated against
Countries like the US have very strict anti-discrimination laws, but even then, discrimination can be hard to prove. As much as you can, try to leave off details in your resume such as your age, religion, ethnicity, marital status, etc. It will also be wise to not include your GPA—although some potential employers may request this information, most will be fine just knowing your highest educational attainment and the name of the institutions you studied at.
5. Don't submit your resume without reviewing it
Read and reread your resume to check for errors, then read it again. If you feel like having an extra pair of eyes go over your resume for you, Resumeble offers free, no-obligation evaluation where we have our experts review your document and provide you with insights on how your resume measures up to global standards.
Resumeble knows how to make your resume perfect
Our deep experience in resume writing equips us with everything you need on how to make your resume perfect. Avoid all the hassles and let us do all the work for you. Choose from one of our resume writing packages to help you stand out from the competition and submit the perfect resume to recruiters. Contact us today!
-

Check Your Resume Branding

-

Learn About Main Mistakes and How to Fix Them

-

Check if Your Resume is ATS-compliant

-

Get Your Analysis within 24 Hours or Less!
Get a free resume
review
Upload Resume