What are the Main Sections of a Resume?
It doesn't matter if you're a recent graduate or a career journeyman with years of work experience — resumes are just notoriously difficult to write.
Fortunately, there are ways to make the ever-daunting task of resume writing easier, and it all begins by knowing and understanding the key resume sections of this all too important application document. Here are the five resume sections to include.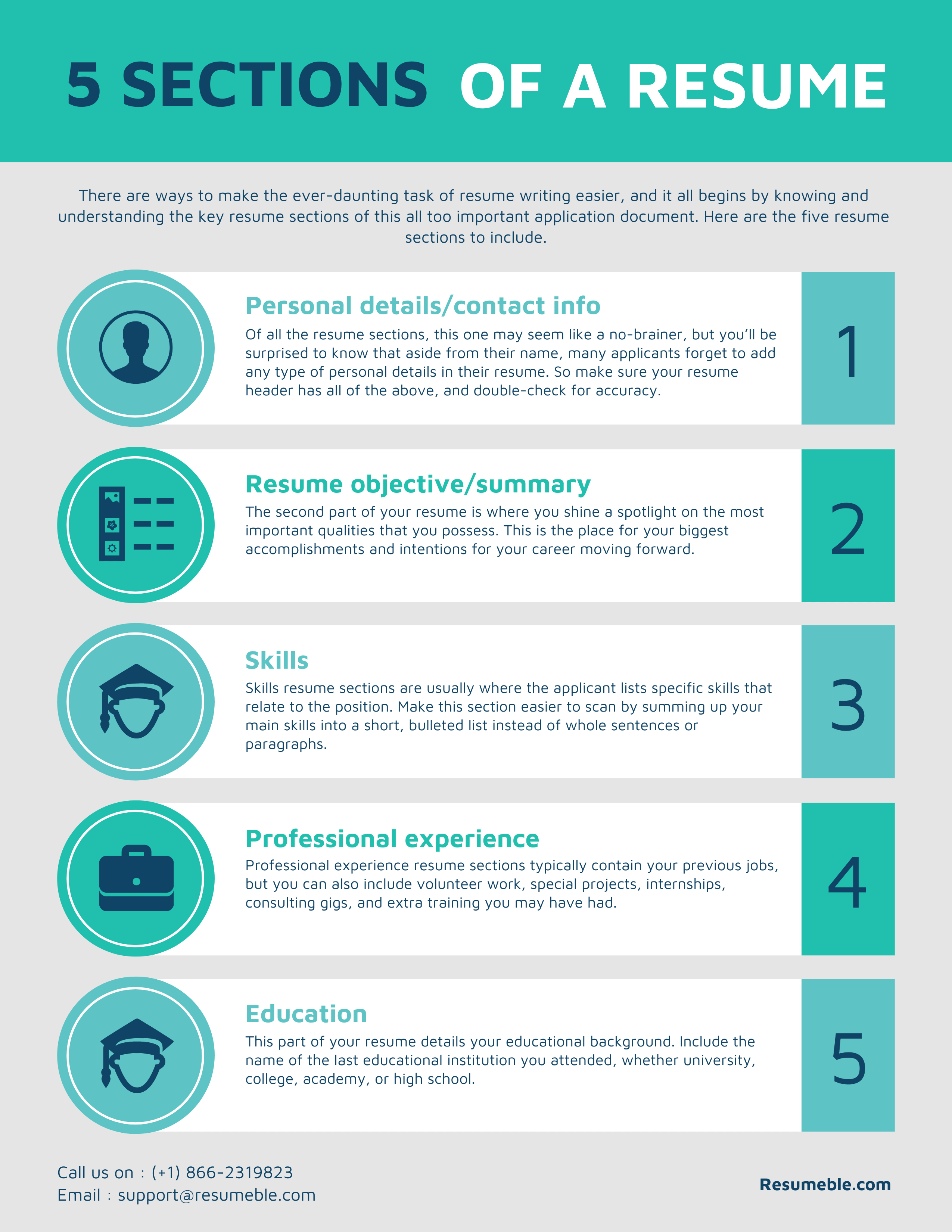 1. Personal details/contact info
When writing your resume, be sure to include the following personal details at the top of the document:
Name
Address
Phone number and email
LinkedIn profile link
Of all the resume sections, this one may seem like a no-brainer, but you'll be surprised to know that aside from their name, many applicants forget to add any type of personal details in their resume. So make sure your resume header has all of the above, and double-check for accuracy.
2. Resume objective/summary
The second part of your resume is where you shine a spotlight on the most important qualities that you possess. This is the place for your biggest accomplishments and intentions for your career moving forward.
Ideally, objective/summary resume sections should be up to three to five sentences long, describing your strongest character traits and how you plan to help the employer achieve their goals. Focus on what you have to offer to the company or business. Make sure the rest of your resume supports what you've written in your objective/summary section.
3. Skills
Skills resume sections are usually where the applicant lists specific skills that relate to the position. Make this section easier to scan by summing up your main skills into a short, bulleted list instead of whole sentences or paragraphs.
Before you begin writing this section, review the job posting to see exactly what skills the employer is looking for, and apply the right keywords so that the recruiter can immediately know what you are capable of. Highlight the hard and soft skills that would make you stand out in the eyes of the recruiter.
4. Professional experience
Professional experience resume sections typically contain your previous jobs, but you can also include volunteer work, special projects, internships, consulting gigs, and extra training you may have had. There's no need to itemize all of your past work—just include the ones that are relevant to the position you're applying for. And make sure you use the reverse-chronological format, beginning with your most recent professional experience.
This is probably the trickiest section to write, especially if you're applying to an American company, because US resumes are typically only one page long. So be prepared to give this part the time it needs to be done right.
5. Education
This part of your resume details your educational background. Include the name of the last educational institution you attended, whether university, college, academy, or high school. List down the degree/s you completed, along with any academic achievements or citations that may have been awarded to you.
If you're a multiple degree holder, list them in reverse-chronological order.
If you are a recent graduate with little to no job experience to speak of, you may need to put Education at the top of your functional resume sections. If this is the case, you may add your high school education information to make your resume look more well-rounded and complete.
When should you add optional info?
It's possible to have additional info that could be relevant to the job, but do not fit in with the other sections. Uncommon resume sections include hobbies and interests, references, publications, language skills, and more. Before you include this section, ensure that every detail you add makes you a better candidate for the position.
Let Resumeble work on your resume
Do away with the stress of writing your resume by letting our professional writers take over. We will work with you until you are 100% satisfied with your resume. Plus, our services come with a 60-day interview guarantee. Send us your resume today for a free, no-obligation evaluation.
-

Check Your Resume Branding

-

Learn About Main Mistakes and How to Fix Them

-

Check if Your Resume is ATS-compliant

-

Get Your Analysis within 24 Hours or Less!
Get a free resume
review
Upload Resume