Hard Skills vs Soft Skills
In resume writing, you are required to list your most relevant skills. Although each skill is important, they are not all equal.
There are actually two types of skills that employers want you to include in your resume—hard skills and soft skills. Understanding the difference between hard skills vs soft skills will not only make your resume easier to scan, but also tell the recruiter that you know what you're talking about. This, in turn, will help you stand out from the pack. Without further ado, let's get to know the difference between hard skills vs soft skills.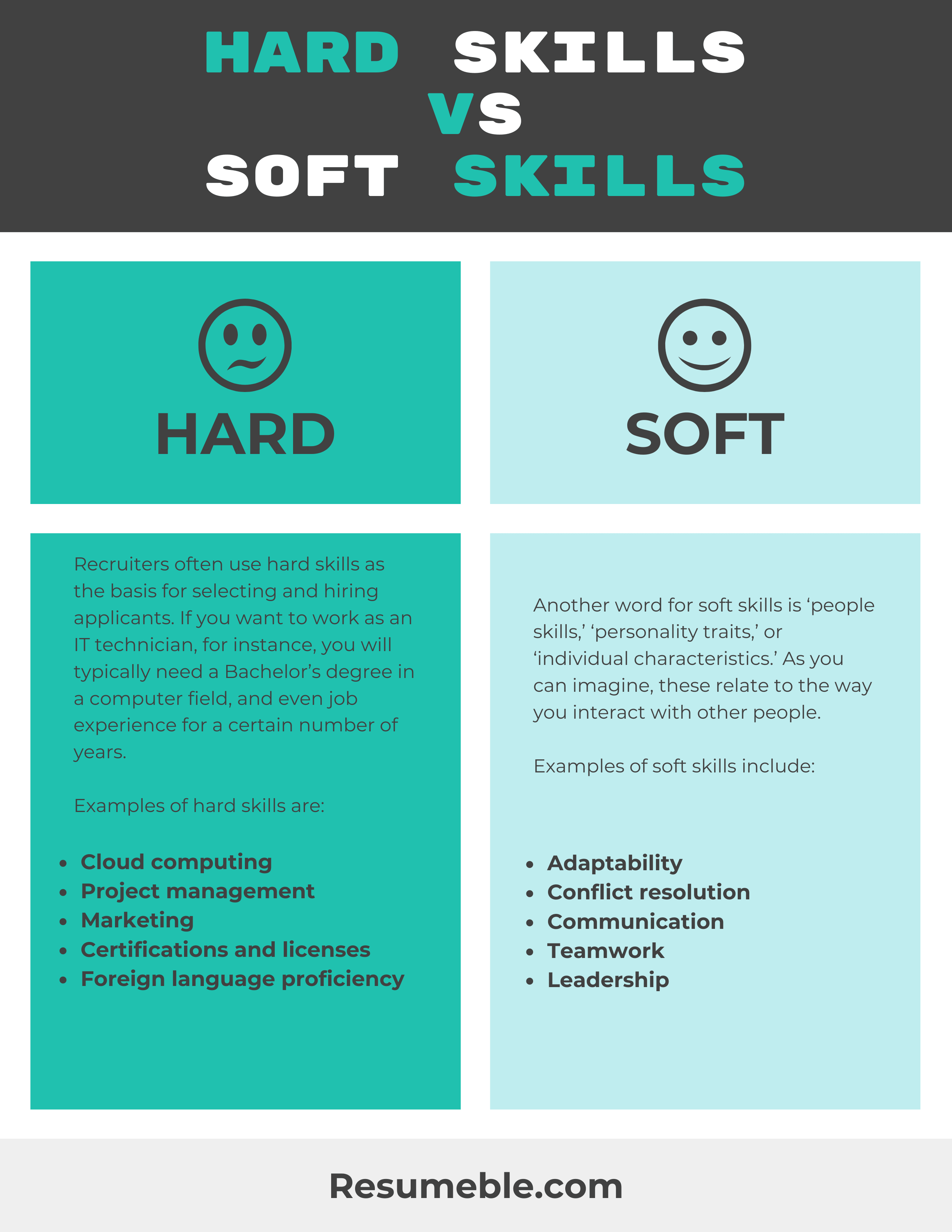 Hard skills
Every job requires some specific skills, otherwise known as hard skills. These are abilities that one learns from school, training, seminars, and other learning resources. Recruiters often use hard skills as the basis for selecting and hiring applicants. If you want to work as an IT technician, for instance, you will typically need a Bachelor's degree in a computer field, and even job experience for a certain number of years. Examples of hard skills are:
Cloud computing
Project management
Marketing
Certifications and licenses
Foreign language proficiency
Hard skills are also especially important to applicant tracking systems (ATS) that screen your resume and determine if it deserves to be seen by a recruiter. The importance of hard skills on your resume cannot be overstated, because they are considered 'keywords' by ATS, so when writing hard skills for resume, be sure you write them exactly as they're written in the job posting to boost your chances of passing the ATS screening.
Soft skills
When it comes to hard skills vs soft skills, the latter is what comes more naturally to a person. If you don't know what soft skills are, you may know them by their other names. Another word for soft skills is 'people skills,' 'personality traits,' or 'individual characteristics.' As you can imagine, these relate to the way you interact with other people. Examples of soft skills include:
Adaptability
Conflict resolution
Communication
Teamwork
Leadership
As you can see, soft skills focus on personality traits. Also, when comparing soft skills vs hard skills, the former tends to be transferrable between jobs and industries, as most of them are considered must-haves for any employee.
Difference between hard and soft skills
Aside from being teachable, hard skills are quantifiable. It's easy for recruiters to know you have them because learners can be certified, licensed, or registered. In contrast, soft skills are the qualities that make you a good employee. On the other hand, it's harder for recruiters to identify that you possess a soft skill. Fortunately, there are various soft skills curriculum available for those who truly want to excel among other applicants and achieve workplace success faster.
Harness both hard and soft skills effectively in your resume
You can further convince a recruiter that your skills are up to par by highlighting your best accomplishments in your resume. When writing your soft and hard skills for resume, detail your results as well as you can. For instance, instead of saying you were in charge of quality control at your old job, say that your input helped reduce inspection times by 30 percent. Add a separate section for any major award that you received so that the recruiter can have a better sense of your capabilities.
Supplement your resume with a smartly written cover letter
More than a way to introduce yourself and express your interest in the job, your cover letter is also an opportunity for you to bring more attention to both sets of skills. That said, you have to make a conscious effort to avoid repeating what you've already said in your resume. Instead, use your cover letter to tell a compelling story that makes the recruiter want to learn more about you. Use your story to link your skills with your enthusiasm and motivation to work for them.
Elaborate on your hard and soft skills during your interview
Once you land an interview, you will have an opportunity to shine a spotlight on your hard and soft skills even further. You may display your hard skills by bringing your diploma, certificate, or license with you and by providing more details regarding the accomplishments you've written in your resume and cover letter. Meanwhile, you can showcase your soft skills by being punctual, maintaining eye contact, asking thoughtful questions, and answering in a positive and confident manner.
Let Resumeble works for you
All of this can sound overwhelming, but don't despair. Resumeble has a team of in-house professional resume writers who can work with you one-on-one to make sure your soft and hard skills for resume are presented in the best light possible. Send us your resume today for a free, no-obligation evaluation. Our resume writing services come with a 60-day interview guarantee because we're with you all the way. Contact us today.
-

Check Your Resume Branding

-

Learn About Main Mistakes and How to Fix Them

-

Check if Your Resume is ATS-compliant

-

Get Your Analysis within 24 Hours or Less!
Get a free resume
review
Upload Resume