TOP-5 Online Jobs That Require No Experience
Due to the COVID-19 situation, a vast portion of the workforce shifted from the office to the work-from-home-setup. Whether this is a positive or negative development, in general, remains to be seen, but this is far from the only paradigm shift caused by the global pandemic. It has also caused massive job losses in industries across the board.
If you count yourself among the unfortunate souls who lost their source of income to the pandemic, perhaps you'll be glad to know that there has been a significant surge of online jobs requiring little to no experience. As long as you have a computer and reliable Internet connection, perhaps a headset, and a tremendous amount of self-discipline, you may just find that one of the following no experience online jobs are best suited to your interests and capabilities.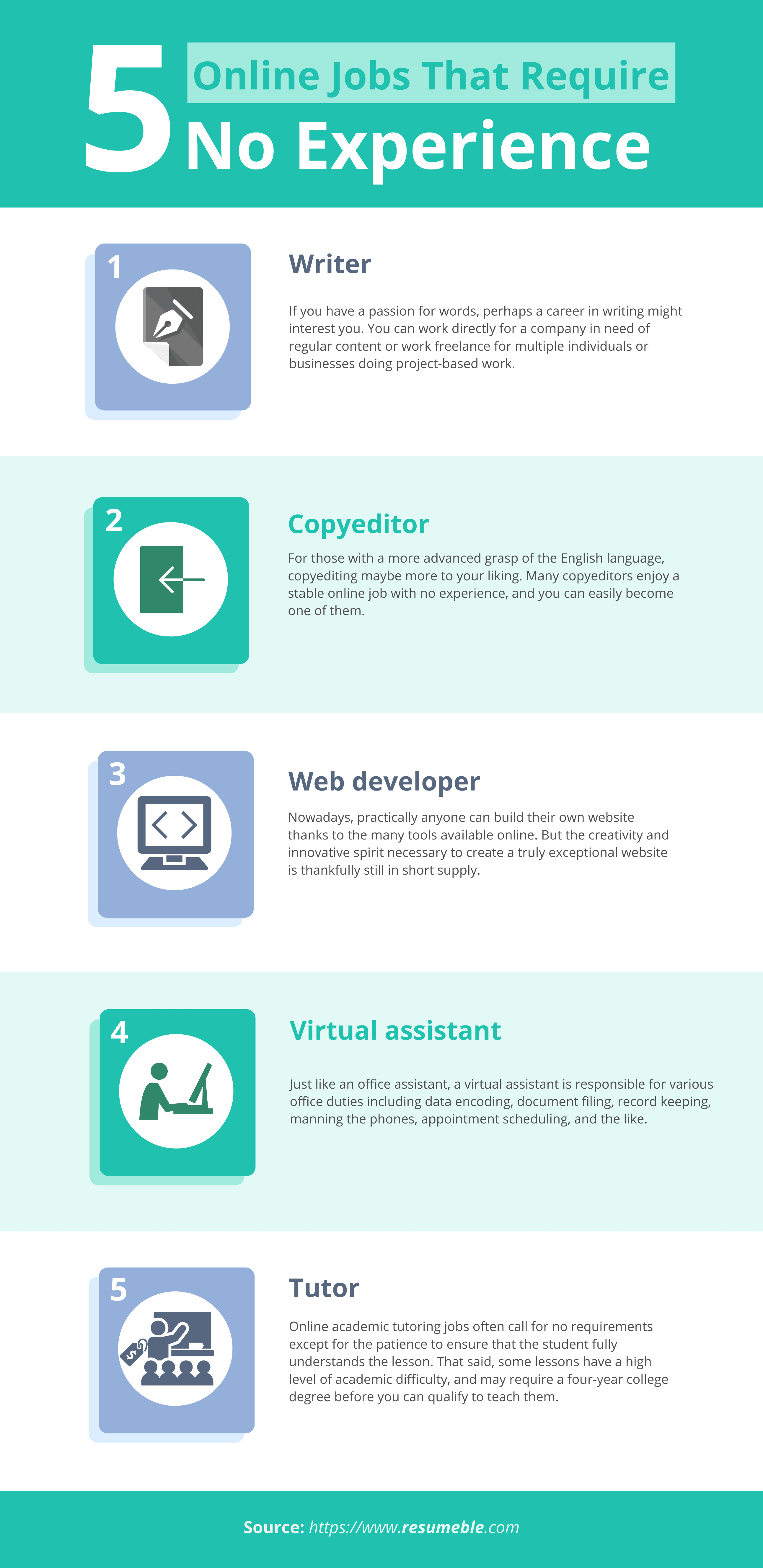 Writer
If you have a passion for words, perhaps a career in writing might interest you. You can work directly for a company in need of regular content or work freelance for multiple individuals or businesses doing project-based work.
Writing is one of the most available work-from-home jobs you can do, and most commercial entities requiring the service are often more interested in the quality of your writing and less about any training or work experience you may have. To find writing job opportunities, you can apply for writing positions on sites like Textbroker.
Copyeditor
For those with a more advanced grasp of the English language, copyediting maybe more to your liking. Many copyeditors enjoy a stable online job with no experience, and you can easily become one of them. Though little to no experience is needed for this job, it requires you to have a keen eye for spelling and grammatical errors, as well as clashing or unexplained information in a writer's work. Some of the companies that are regularly looking for copyeditors include Scribbr and Wordvice.
Web developer
Nowadays, practically anyone can build their own website thanks to the many tools available online. But the creativity and innovative spirit necessary to create a truly exceptional website is thankfully still in short supply. So if you consider yourself a gifted developer, the many available online job hiring without experience for web developers could be an excellent source of projects to build your work-from-home career.
Search engine optimization (SEO) companies are always on the lookout for people with great talent for web development, and you'll discover these companies posting their vacant positions on job search engines like SimplyHired.com. .
Virtual assistant
Just like an office assistant, a virtual assistant is responsible for various office duties including data encoding, document filing, record keeping, manning the phones, appointment scheduling, and the like. That said, the tasks can vary depending on the company. Though a virtual assistant is one of those no experience online jobs, applicants are required to be able to self-manage effectively, with a tremendous skill for organization and dependability. Servcorp.com and OkayRelax.com are just a few examples of companies offering virtual assistant services.
Tutor
Online academic tutoring jobs often call for no requirements except for the patience to ensure that the student fully understands the lesson. That said, some lessons have a high level of academic difficulty, and may require a four-year college degree before you can qualify to teach them. You may find a tutoring online job no experience that appeals to you at Studypool.com or Tutor.com.
Work with us on your resume
Put yourself in a good position for online jobs no experience by having us clean up your resume. One of our resume writers will work with you one-on-one to build a professional resume that's optimized for applicant tracking systems (ATS) and recruiters alike. Contact Resumeble today!
-

Check Your Resume Branding

-

Learn About Main Mistakes and How to Fix Them

-

Check if Your Resume is ATS-compliant

-

Get Your Analysis within 24 Hours or Less!
Get a free resume
review
Upload Resume