Local vs Online Resume Service
Despite the growing market for online resume service, people still have hesitations about them, opting instead to take the "local resume services near me" approach.
However, choosing the former over the latter doesn't have to be a scary or stressful prospect. That said, as with everything, there are advantages to each method, and it pays to know them so you can make a well-informed decision about which type of resume service is best for you.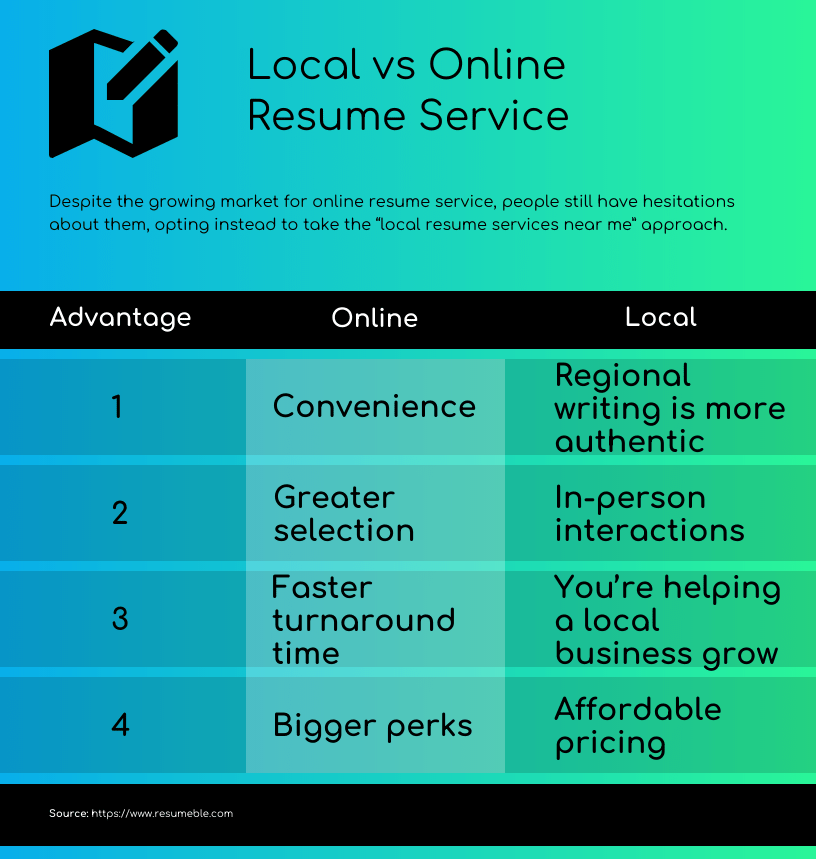 Advantage of online resume service
Convenience
Shopping for services without leaving the comforts of the home has become the norm for many. Especially in the time of COVID-19 when stay-at-home and social distancing must be practiced, ordering your resume online seems to be the perfect option.
Greater selection
The power of choice is easily the greatest advantage of online resume service providers—you are free to choose from the many resume writing firms you can find, giving you control over the quality and price based on the provider you choose. Not only that, you'll also have a writer's pool consisting of the best writers from all over the world.
Faster turnaround time
Online resume services practice a more professional method of resume writing, which means faster turnaround time for project completion. For instance, Resumeble can provide an expert review and analysis of your resume within 24 hours or less, and your completed resume will be submitted to you within 5 to 7 calendar days after drafts and revisions.
Bigger perks
Due to the bigger scope and scale of their offerings, online resume service providers are usually able to provide add-ons that local resume services are rarely able to, such as interview guarantees, online support, and advanced technical and technological tools. Resumeble's resume service, in particular, provides high-quality resumes that can pass through any applicant tracking system (ATS) system. Not only that, but our resume service also comes with a 60-day interview guarantee. Both these extras are rarely provided by local resume services, if at all.
Advantage of local resume service
Regional writing is more authentic
If you're applying for a local company, a local resume service will know the area better. They're more aware of the traditions, practices, and language, as they have a better grasp of the area's culture. However, if you're applying for work in another country or a multi-national company, taking the "local resume services near me" route could put you at a disadvantage, since such entities prefer international standards in resume writing.
In-person interactions
Perhaps the biggest benefit of using "local resume services near me" is that you'll be meeting face-to-face with the person who will be writing your resume. Talking to your writer in person can lead to a sense of socialization and camaraderie, which can promote a stronger working relationship. Likewise, face-to-face communications allow for quicker and more effective resolution of issues. That said, it's worth noting that COVID-19 safety protocols currently discourage such interactions. It's also worth mentioning that online resume services are able to overcome this drawback with video conferencing calls.
You're helping a local business grow
There's no denying that when you use a local resume service, you're helping the local economy grow. Local businesses are owned and operated by people in your community, probably someone you know. Choosing their services means that you are also investing in the wellbeing of your locale and its future.
Affordable pricing
Online resume services usually follow international standards in pricing. Meanwhile, local resume services are free to dictate their prices, which typically means you'll be paying less for the resume that they provide. Unfortunately, this benefit comes with some major drawbacks. For example, since you'll be working with local writers, you could be limiting your pool of talent. Furthermore, you might not have access to the latest and best resume writing tools, techniques, and solutions if the local resume writing service you choose is not up-to-date with their offerings.
What about the risks of resume services offered online?
One of the biggest apprehensions that people have about doing business online is the potential for fraud. No one wants to lose their hard-earned money hiring a bogus resume service, especially someone who's desperately in need of a new job. You can eliminate this risk by choosing to work with a reputable and established resume writing company like Resumeble, trusted by professionals from major companies such as Amazon, Adidas, Microsoft, Samsung, Walmart, and more. Aside from boasting 12,500-plus satisfied customers, Resumeble has real customer reviews from real people to provide you better insight into our capabilities. When you work with Resumeble, you'll be working one-on-one with a professional resume writer with multi-industry experience who can ensure your resume not only beats ATS screenings but also catch the recruiter's eye in a positive way.
Work with Resumeble today
Let us help you take that first step toward career success. Send us your resume today for a free, no-obligation evaluation.
-

Check Your Resume Branding

-

Learn About Main Mistakes and How to Fix Them

-

Check if Your Resume is ATS-compliant

-

Get Your Analysis within 24 Hours or Less!
Get a free resume
review
Upload Resume