Positive Recommendation Letter: How-To Guide
A letter of recommendation is an extremely useful document for anyone who's applying for a job. Some companies even require it, as it serves as a testament to an applicant's good character. If you write a well-crafted positive recommendation letter for a former employee or colleague, you boost their chances of standing out from the rest of the pack and landing the coveted position or vacancy.
Why should you take the time to write a well-written recommendation letter when you're not the one applying for the job? There are three good reasons why you should do so:
You owe it to the person – if the person asking for the letter is an exemplary co-worker or employee, that person deserves a letter that highlights their accomplishments and sacrifices for the company.
It can come back to you – you never know when you might need that person's help in the future. By helping them out with their need for a recommendation letter, your good deed may just pay off in the future.
It's the decent thing to do – and that's the only reason you really need.
How to write a recommendation letter for a former employee/co-worker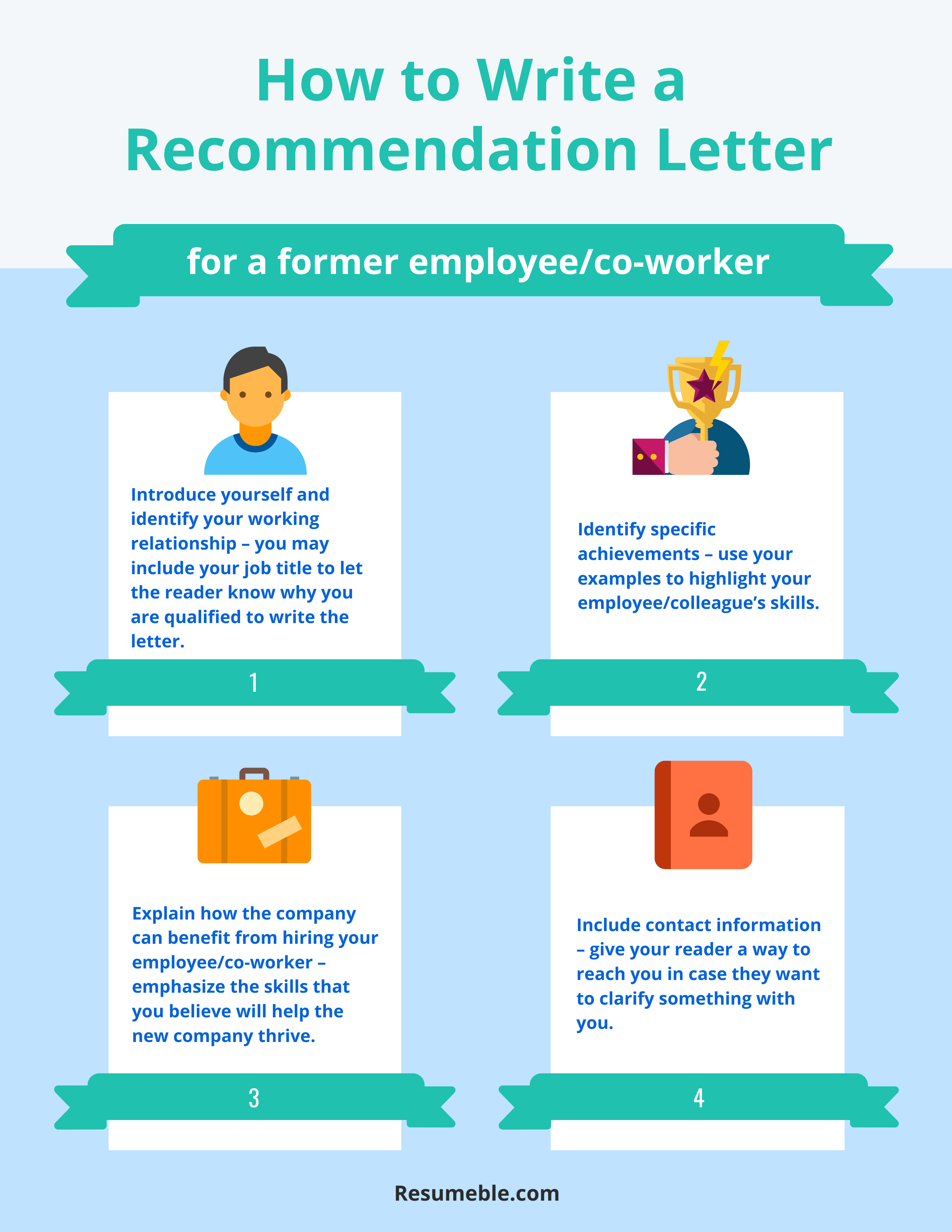 Here's a breakdown of the steps to write your recommendation letter and help your employee/co-worker leave a good impression on a recruiter or hiring manager:
Introduce yourself and identify your working relationship – you may include your job title to let the reader know why you are qualified to write the letter.
Identify specific achievements – use your examples to highlight your employee/colleague's skills. Provide numbers and measurable results whenever possible, like saying your teammate sold a thousand cars during his time with the company, helping to deliver a specific amount of dollars in revenue.
Explain how the company can benefit from hiring your employee/co-worker – emphasize the skills that you believe will help the new company thrive.
Include contact information – give your reader a way to reach you in case they want to clarify something with you. At the end of your letter, say something like "For any further questions and clarifications, you can get in touch with my through phone (888-7777) or email ([email protected])."
How to write a recommendation letter for a student
If you are asked to write a recommendation letter for student, follow these steps to know how to organize the letter and what it should include.
Ask about academic background and achievements – be sure to know about their GPA, academic awards, and extra-curricular activities, including the clubs and sports teams that they are a member of. You may inquire about any volunteering work as well.
Ask about the job they're applying to – knowing more about the position will tell you which particular skills and achievements to highlight.
Address your letter properly – it helps to address the recipient by name instead of using something generic as "to whom it may concern." Aside from making the letter appear more personalized, this ensures that your letter is received by the correct person.
Introduce yourself and state your credentials – a lot relies on your qualifications when you write a letter of recommendation for a student, so open your letter by identifying who you are and what certifies you to offer your valued opinion.
Share something about your academic relationship – as part of your introductory statement, discuss about how long the student was under your tutelage.
Identify the student's qualifications –talk about the student's contributions to the school. Include information from the academic background and achievements you asked about earlier.
Emphasize your support – end your letter by attesting to the student's skills and abilities, and offer your contact information in case the reader wants to speak with you directly about what you've written in your recommendation letter.
How to write a recommendation letter for an internship
A recommendation letter for internship has plenty of similarities with those written for a student in the sense that they are both intended for those with little to no work experience, and so they rely on academic background more than anything else. Here's how to write it:
Introduce yourself and identify your working relationship – explain how you're associated with the person you're recommending and how long you've known them.
Mention the individual's standout qualities – share why you think the person is a suitable candidate for the internship. Include examples of the person's achievements and expertise, along with why you think they will be a valuable addition to the organization.
Close the letter – end the letter with a way for the reader to contact you in case of additional questions.
How long should a recommendation letter be?
In general recommendation letters should not exceed three to five paragraphs:
The introductory paragraph – contains info about your qualifications and working relationship with the individual.
The body – highlights the individual's skills and accomplishments, and most importantly, your glowing endorsement. This can take up to three paragraphs.
The closing paragraph – summarizes the content of the letter and provides the reader with a way to contact you.
What's the best way to ask for a positive recommendation letter?
If you're the one who needs the recommendation letter, avoid asking family members and relatives to avoid presumption of bias. When you have your list of prospects, speak with them beforehand to ensure their willingness, then let them know your reason for asking them. It can help to schedule a meeting with them to discuss an overview of the information you want to include.
What about your resume?
Along with your positive recommendation letter, you also need a well-crafted resume to represent you as the best candidate for a position. Resumeble can help in this regard. Contact us today!
-

Check Your Resume Branding

-

Learn About Main Mistakes and How to Fix Them

-

Check if Your Resume is ATS-compliant

-

Get Your Analysis within 24 Hours or Less!
Get a free resume
review
Upload Resume