The Best Way to Work From Home With Kids
Hellish commutes, annoying coworkers, unpleasant managers, etc.—for employees who have endured so much stress from working in an office, the work from home (WFH) setup can be a god send. But for those with very young children, WFH comes with a whole new world of challenges. Some of the biggest struggles of work from home with kids include:
• Focusing on work – it can be daunting to try and stay focused on your professional duties while looking after the kids and doing house chores simultaneously.
• Separating professional from personal life – many employees working at home with kids continue to work even after the usual working hours
• Lack of visibility – out of sight, out of mind, as they say, and it can be tricky to convince office-based coworkers and managers that someone working at home with kids is toiling just as hard as they are. Thus, you could end up getting passed over when a higher position opens up.
Though the WFH arrangement can be tough for parents who work from home with kids, there are a few tips and tricks you can apply to make your situation a little less complicated.
How to work from home with kids
Below are some of the best strategies offered by actual parents who have managed to balance career and children during the height of the pandemic.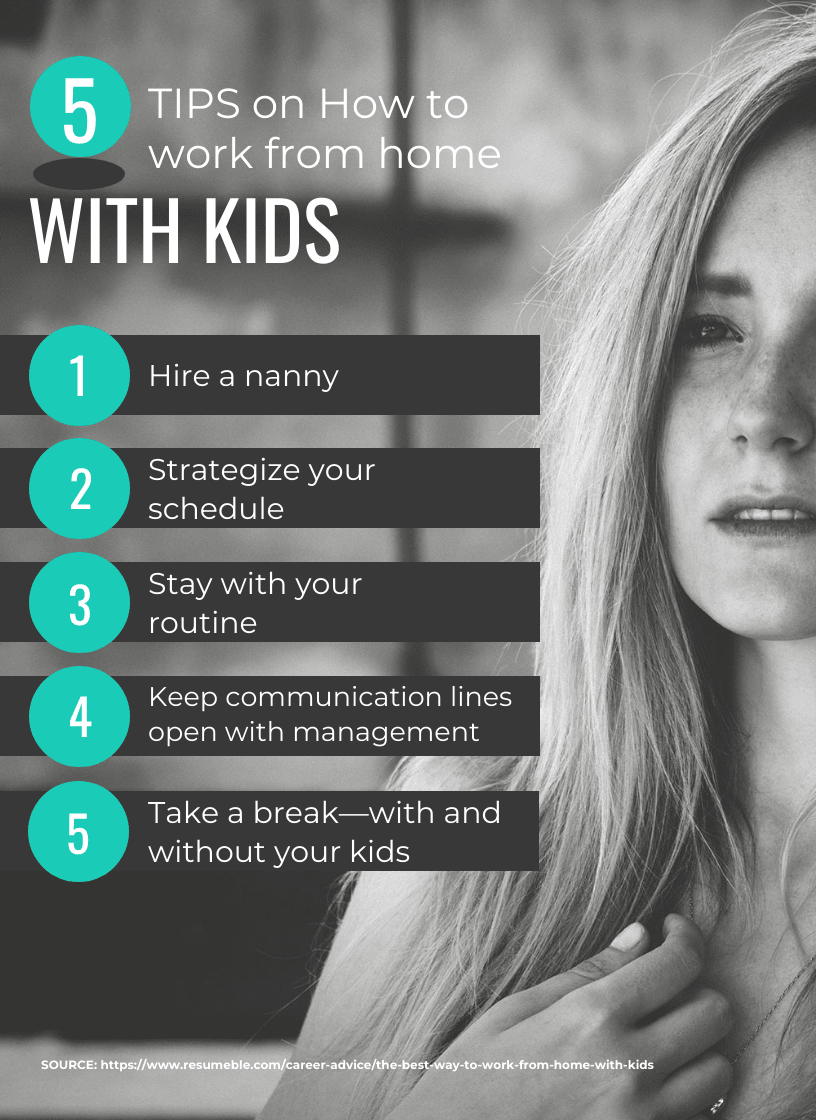 1. Hire a nanny
You hired a nanny for your kids when you were working in an office. Now that you're home all the time, you don't need a nanny anymore, right? Wrong.
Despite being home all day, parents who work from home with kids can still find themselves overwhelmed with keeping up with work and family responsibilities. Employing a nanny affords many benefits including:
• Uninterrupted work
• Better monitoring of the care given to your child
• Attend meetings or run errands without worry
Even a part-time nanny can be a lifesaver, so if your budget allows it, hiring an extra set of hands can be the perfect solution to work from home with kids.
2. Strategize your schedule
Of course, not everyone can afford a nanny, so if your spouse or another family member is also at home with you, consider 'splitting' your schedule with them. For instance, you can work the morning while they take care of the kids, and reverse your roles in the afternoon.
The good news is, WFH allows you to start working as soon as you wake up, so you can maximize work time by being creative with your schedule. That said, whichever hours you choose to work in, be prepared for an adjustment period as you learn to adapt your new work schedule.
3. Stay with your routine
It's not only you who will be adjusting to how to work from home with kids, but your entire household as well. Once you have your work hours set, let your family members know about it. It will be wise to print your schedule out and pin it somewhere easily seen—such as the refrigerator or entryway, so that everyone in the house will be familiar with it and always be reminded by it—including you.
Even young kids and toddlers can benefit from a routine, though they'll need to be guided more than older children. You'll have to apply some of the techniques used by daycare centers and preschools—such as having specific activity times, screen times, play times, nap times, etc.—to keep them preoccupied throughout the day.
4. Keep communication lines open with management
Stay in contact with your manager and continue to discuss and negotiate work expectations as you adjust to WFH with kids. Many companies are willing to accommodate adjusting the targets of their WFH employees due to the difficulty. If you're not doing it yet, it might help to have an online meeting with your manager once a week or every other week to let higher-ups know how you are adjusting to your situation.
Likewise, let your team and manager know the hours when you can be contacted without interruption. The regular communication may help your manager to better understand the limitations of simultaneously working and caring for your kids.
5. Take a break—with and without your kids
During your breaks, make it a point to spend time with your children. Play with them, help them with their schoolwork, or take them out for short trips to a nearby playground. That said, make sure to find some downtime on your own. Otherwise, the combined stress of taking care of work and family can take its toll on your wellbeing. Take advantage of the early morning or late night when the kids are asleep to give yourself some all-too important alone time.
Learning how to work from home with kids is an overwhelming but manageable experience. The most important thing to remember is that with the WFH from home setup, you get to watch your kids grow—and that's the most valuable takeaway of all. And with a little bit of planning, constant communication, and lots of positivity, you'll not only survive, but thrive in your new work setup.
Need to find a work from home job?
Not all organizations will be accommodating of the needs of a WFH parent. If your situation seems like it can't be helped, looking for another company who can adapt to your unique situation may be the best solution. Boost your chances of landing the perfect job by having Resumeble develop your resume with you. Send us your resume today for a free, no obligation evaluation.
-

Check Your Resume Branding

-

Learn About Main Mistakes and How to Fix Them

-

Check if Your Resume is ATS-compliant

-

Get Your Analysis within 24 Hours or Less!
Get a free resume
review
Upload Resume