Presentation Matters: The Best Fonts to Use on Your Resume
You already know the ingredients of a well-crafted resume: properly formatted, concise, easy to read, error-free grammar and spelling, and limited to a single page.
But do you know that your choice of font or typeface is just as important in convincing a recruiter or hiring manager that your resume worth reading, and even possibly schedule that elusive job interview with you?
Your resume is your professional representation, and the right font choice guarantees that you have the best representation possible. When you have the best font for resume 2020, your resume will be easily noticed by anyone who needs to view it. Try to get fancy with it, and your resume may the wrong kind of attention. A badly selected typeface can render your resume practically unreadable, and instead of going to the top of the pile, it's likely headed to the shredders or trash bin.
Considerations for picking a font
You only have one chance to make a good first impression, so when choosing what is the best font for resume, you have to consider three things:
Mobile-friendliness – with more and more recruiters using mobile phones to read an applicant's resume, you not only have to make sure your typeface not only looks good on a laptop but that it's also easy on the eyes when viewed on a mobile device.
Word count – remember that your target is to fit all of your most winning qualities on one page. Likewise, your resume format should also contain the smart use of white spaces. The right font can make your resume appear well put together.
Attractiveness – it only takes six seconds for a recruiter to gauge whether your resume is worth reading, and you want to choose a clear, appealing, and highly readable typestyle so recruiters will take time to go through its contents and get past the six-second threshold.
If you're asking what's the best font for a resume? Here are resume-friendly fonts preferred by many recruiters and hiring managers.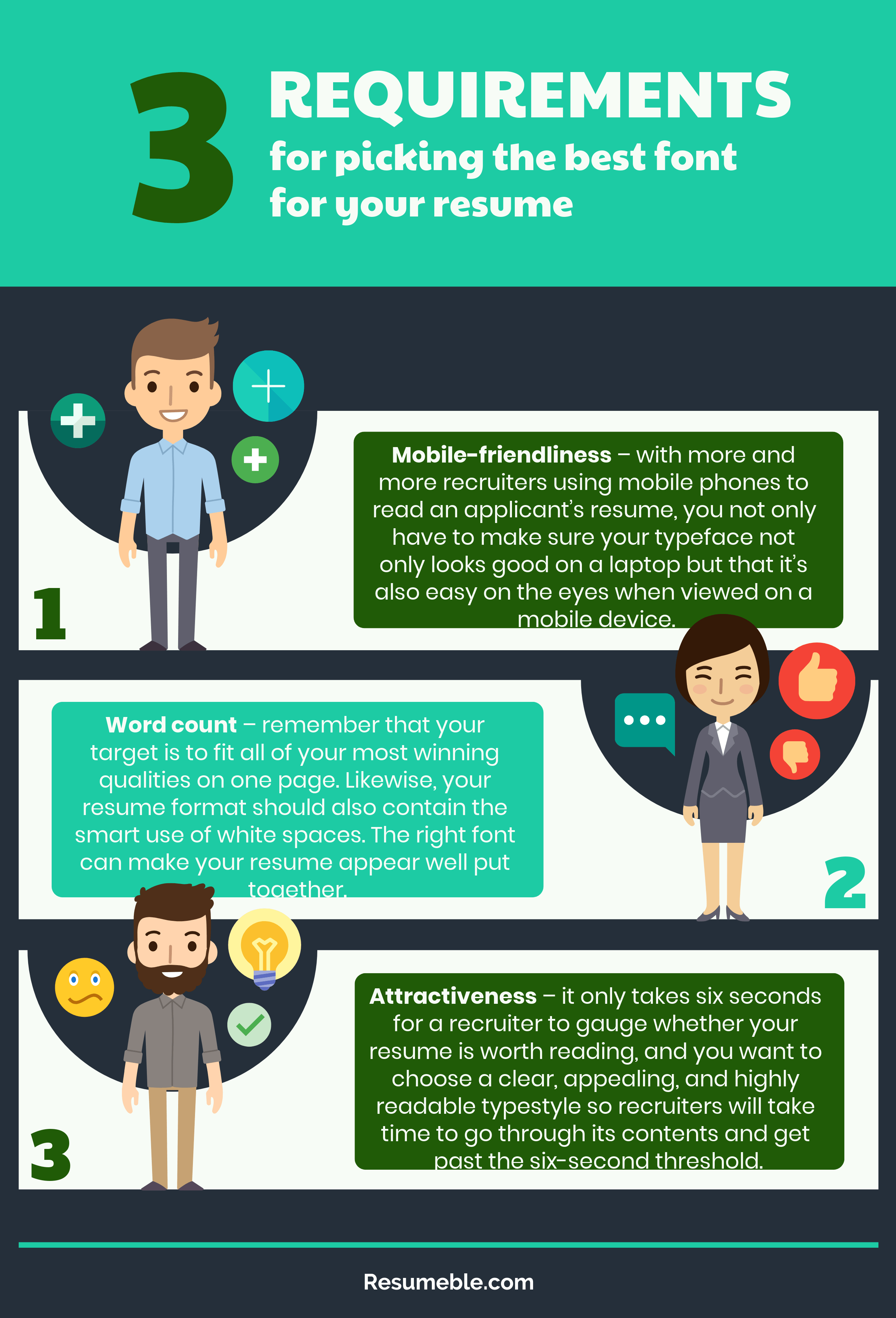 Arial
Arial is considered by many to be the safest font to use on a resume. Arial letters have an uncluttered look, are reasonably sized, and most importantly, easy to read. Unfortunately, due to this lettering's widespread use, many young recruiters find it boring. Still, its straightforward appearance makes it the best font for a resume for those in the marketing field.
In case you have trouble fitting your info on one page with standard Arial, try Arial Narrow instead.
Calibri
Calibri is another safe font that's already familiar to the eye, primarily because it's the default lettering on Microsoft Word. On both paper and computer screen, Calibri appears smooth and visually pleasing, and its contemporary look means it's highly preferred by those in modern industries such as tech and Internet companies. Likewise, the size makes it especially useful for when you have to cram a lot of information into your single-page resume.
Cambria
Cambria's reliable and classy appearance makes it very readable even when printed small. It characteristically has even spacing and proportions that are perfectly suitable as body text, which consequently makes it the best font for resume cover letter. If your resume has a lot of bullet points, then include Cambria in your shortlist of fonts to choose from.
Helvetica
Heavily favored by designers and typographers, Helvetica has a clean and confident look that's traditional like Times New Roman, minus the attention-calling embellishments. That's why you'll notice it widely used in company brands and logos—Jeep, Lufthansa, and Panasonic are prime examples. Helvetica makes a great choice for those applying for corporate jobs, and widely considered as the best font for a resume header.
Georgia
Classic and sleek, Georgia makes resumes a breeze to read. It has a traditional look but doesn't have the tired appearance of Times New Roman or Arial. Many career professionals recommend its use to job seekers, and universities recommend its use to students because of its high readability on computer screens.
Garamond
Garamond offers a contemporary twist on the traditional style, offering a gracefulness, poise, and presence that suits creative types well. For those who want to have a career in the arts (literary, visual, theater, etc.), this is the best font for resume to show your exquisite taste.
Final thought
When writing your resume, your primary goal is to make your qualifications easily visible and readable. Your great skills and experience won't matter much if the recruiter is going to miss it on the first—and likely final—scan. Prevent your resume from landing in the rejection pile by choosing your font wisely and making sure the rest of your resume's features are polished, professional and totally on point.
Having trouble crafting the perfect resume? Contact Resumable to help. From font choice to structure, to margin size and more, we can build you a resume that meets the employer's needs and lands you that interview. Contact us today to learn about our range of resume writing services and ensure you have the best font for resume 2020.
-

Check Your Resume Branding

-

Learn About Main Mistakes and How to Fix Them

-

Check if Your Resume is ATS-compliant

-

Get Your Analysis within 24 Hours or Less!
Get a free resume
review
Upload Resume