How to Write a Creative Resume?
In the creative fields, job applicants have to find a way to make their resumes stand out by using both imagination and inspiration. That said, the resume must essentially remain formal in tone. And thereby lies the challenge of writing a creative resume—balancing the formal with the creative. Use the creative resume writing tips below for an application that impresses the hiring people in your industry.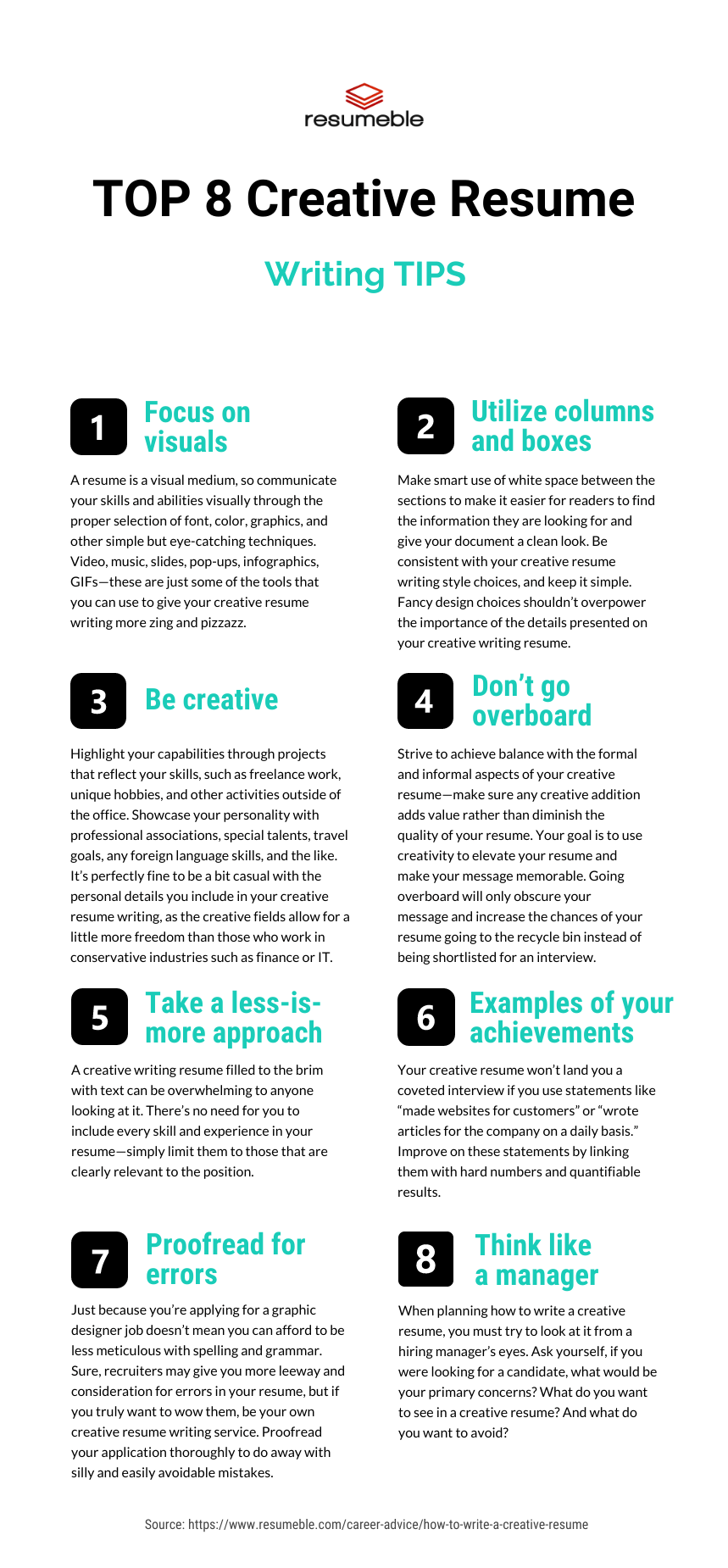 Focus on visuals
A resume is a visual medium, so communicate your skills and abilities visually through the proper selection of font, color, graphics, and other simple but eye-catching techniques. Video, music, slides, pop-ups, infographics, GIFs—these are just some of the tools that you can use to give your creative resume writing more zing and pizzazz.
Avoid using resume templates or word processing apps, as these are mainly for simple and traditional resumes. Remember that you are applying for a creative job, and you won't stand out if your creative writing resume looks like the rest of the applications that recruiters see every day.
Utilize columns and boxes
In creative resume writing, you have to manage sections with columns and text boxes to highlight your most relevant skills and experiences. Make smart use of white space between the sections to make it easier for readers to find the information they are looking for and give your document a clean look. Be consistent with your creative resume writing style choices, and keep it simple. Fancy design choices shouldn't overpower the importance of the details presented on your creative writing resume.
Be creative with the content as well as the design
Highlight your capabilities through projects that reflect your skills, such as freelance work, unique hobbies, and other activities outside of the office. Showcase your personality with professional associations, special talents, travel goals, any foreign language skills, and the like. It's perfectly fine to be a bit casual with the personal details you include in your creative resume writing, as the creative fields allow for a little more freedom than those who work in conservative industries such as finance or IT.
Don't go overboard
A little creativity in creative resume writing can be helpful, but too much can be off-putting. Strive to achieve balance with the formal and informal aspects of your creative resume—make sure any creative addition adds value rather than diminish the quality of your resume. Your goal is to use creativity to elevate your resume and make your message memorable. Going overboard will only obscure your message and increase the chances of your resume going to the recycle bin instead of being shortlisted for an interview.
Take a less-is-more approach
A creative writing resume filled to the brim with text can be overwhelming to anyone looking at it. There's no need for you to include every skill and experience in your resume—simply limit them to those that are clearly relevant to the position.
Likewise, there's often no need to include an education section in a creative writing resume, because in the creative field, the college or university you went to matters less, and it's your portfolio that matters more. So put in the time and effort to make your portfolio the best it can be.
Ultimately, it will be wiser for you to take a minimalist approach when crafting your creative resume. Always keep in mind that recruiters are busy people who have to go through tons of resumes every day, so be concise and straight-to-the-point at all times.
Provide measurable examples of your achievements
Your creative resume won't land you a coveted interview if you use statements like "made websites for customers" or "wrote articles for the company on a daily basis." Improve on these statements by linking them with hard numbers and quantifiable results. For instance, if you're a graphic designer, you can say something like:
Developed 500-plus websites, slashing costs by 20 percent in 12 months
For content writers, here's a sample of how to quantify your achievements:
Wrote over 4500 articles for 60-plus different clients, averaging five 500-word articles a day as a senior content writer.
By writing your successes in a measurable manner, you communicate to recruiters the positive impact that you made at your previous position, and that will pique their interest in your resume even more.
Proofread for errors
Just because you're applying for a graphic designer job doesn't mean you can afford to be less meticulous with spelling and grammar. Sure, recruiters may give you more leeway and consideration for errors in your resume, but if you truly want to wow them, be your own creative resume writing service. Proofread your application thoroughly to do away with silly and easily avoidable mistakes.
Think like a manager
When planning how to write a creative resume, you must try to look at it from a hiring manager's eyes. Ask yourself, if you were looking for a candidate, what would be your primary concerns? What do you want to see in a creative resume? And what do you want to avoid?
You may be applying for a creative position, but always remember that the company you're applying to is a business first and foremost, and your role is to help the business succeed, not impose your wants. No matter your creative profession, keep this goal in mind when developing your resume.
Quality creative resume writing service from Resumeble
Our creative resume writing service provides the help you need to elevate your resume to where it needs to be. Let us guide you on how to write a creative resume the right way. Contact our top-notch creative resume writing service today!
-

Check Your Resume Branding

-

Learn About Main Mistakes and How to Fix Them

-

Check if Your Resume is ATS-compliant

-

Get Your Analysis within 24 Hours or Less!
Get a free resume
review
Upload Resume