Practical Guide to Find a New Job in 2022
The COVID-19 pandemic has certainly impacted the employment world in both positive and negative ways, leading many individuals to reevaluate their work choices. As employers suffer massive workforce shortages, applicants right now have a huge advantage in job and salary negotiations. Still, with fierce competition, it's no guarantee that you'll land a job that's perfectly suited to your personal and lifestyle needs. Here are six essential tips on how to find a new job in 2022—the one you exactly want.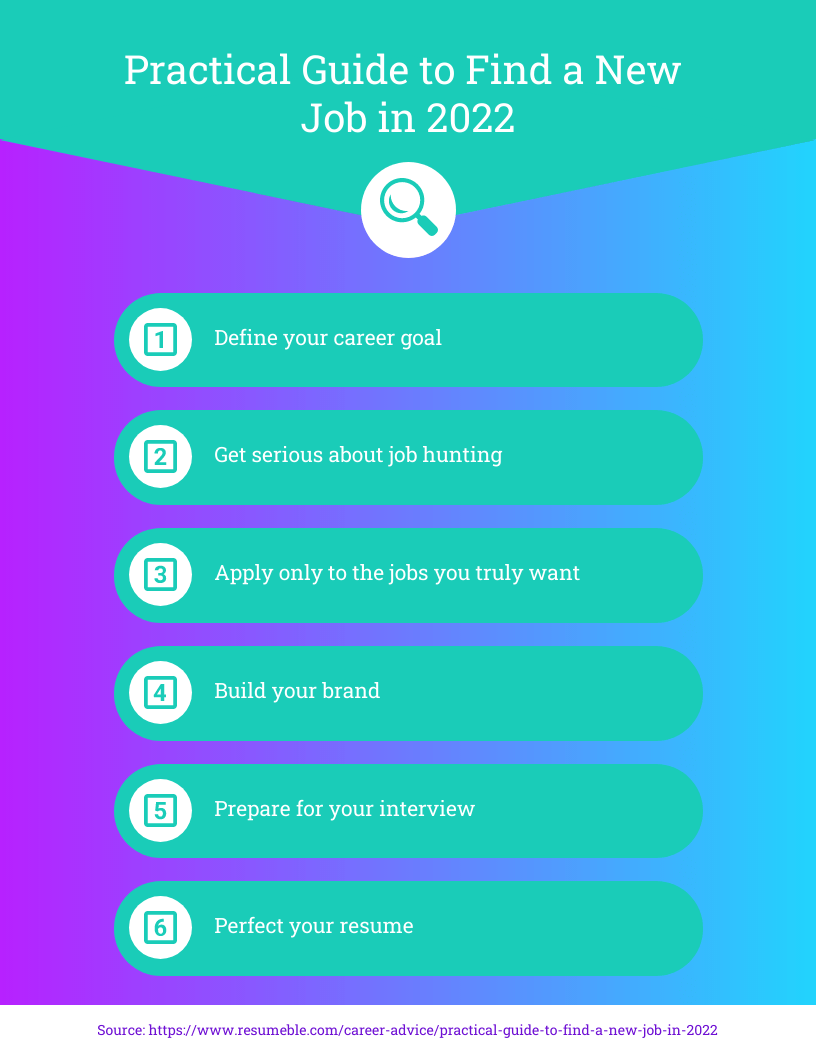 1. Define your career goal
How long does it take to find a job? Not long, if you know how. The first and most important step toward finding a new job is to define your career goal. Do you want to be an established expert in your field? Perhaps you'd prefer to move up in the corporate ladder. Or maybe you'd prefer to forge a completely new career path for yourself.
By having a career goal, you'll be better equipped to create a clear plan of action necessary to achieve your objectives. Carefully evaluate your personal strengths, passions, preferences, and work style, as well as your own financial needs. Think of your career goal as your professional GPS—let it define where you are, where you want to be, and what you need to do to get there.
2. Get serious about job hunting
Stop daydreaming and asking yourself "How long does it take to find a job?" If you want to find the job you want, you can't go into the job hunting process half-heartedly—you need to make it your mission and conduct the process religiously. This means you have to build a schedule, and stick to it. Take the time to focus on job searching and researching activities, such as scanning job boards, learning more about companies, and applying to positions.
As you develop your job hunting schedule, try to identify which job hunting tasks swallow most of your time, and which ones are delivering results. This way, you can identify which tasks need more focus so you can allot more time for them.
3. Apply only to the jobs you truly want
With labor shortages everywhere, applicants can now afford to be picky. If you don't have an idea of what you really want, here's a tip that can help: write your own job description along with what an ideal employer looks like to you. By applying to fewer jobs, you'll reduce your average time to find a job. Think rifle, not shotgun. By targeting jobs and companies that are good matches, you'll have a better chance of landing a job that you're qualified for and will be happy with.
4. Build your brand
A well-developed professional brand leaves a lasting impression that resonates with people. When branding is done right, you'll distance yourself from the crowd in a way that is meaningful to your intended audience, whether it's your social media friends or the recruiter of a Fortune 500 company.
Creating an effective professional brand takes time, but it must be done if you want stop asking yourself how to find a new job. Begin by a having a brand vision, identifying your audience, and developing a persona. For instance, if your goal is to get noticed by recruiters and hiring managers, start by cleaning up your online presence (which they'll be sure to check), optimizing your LinkedIn profile, networking with industry professionals, fine-tuning your resume, etc.
5. Prepare for your interview
Regardless if the company conducts job interviews in person or online, it's crucial that you prepare so that you will appear confident and impactful in your interview. Most of all, you need to convey that you are a good fit not only for the vacant position, but the company as well. Here are some of the more common "how to find a new job" interview questions to prepare for:
• Can you tell me more about yourself?
• How would you describe your work style/ethics/ philosophy?
• What motivates you?
• How do you handle feedback?
• What would you say are your strongest/weakest characteristics?
As you prepare your answers, the job posting will be a vital resource, as it contains all of the qualities, qualifications, and experiences that a potential employer is looking for in a candidate. By aligning your answers to the information in the posting, you could soon stop asking how to find a new job, because you'll already have work.
6. Perfect your resume
When was the last time you updated your resume? If you haven't changed anything in it since you last searched for a job, it's time to do so. A polished and up-to-date resume is your best way to find a new job, so make sure to include your latest and best experiences, trainings and skills. Focus on making them as interesting to your target employers as you can. Again, review the job posting carefully, and check for keywords that applicant tracking systems (ATS) will be looking for.
How to find a new job fast? Work with Resumeble
It bears repeating that your resume is your best tool when looking for a new job. Ensure that your resume is what your target employer is looking for by having one of our in-house writers develop it with you.
With Resumeble, you'll be working directly with your assigned writer, and not a sales representative. Choose from one of three resume writing packages and begin your journey toward finding the right job for you this 2022.
-

Check Your Resume Branding

-

Learn About Main Mistakes and How to Fix Them

-

Check if Your Resume is ATS-compliant

-

Get Your Analysis within 24 Hours or Less!
Get a free resume
review
Upload Resume