How to Mention Relocation in a Cover Letter
You dream of moving to a new city. But before you take the huge leap, you want to make sure there's a job waiting for you so you can hit the ground running. The problem is, most employers prefer to have their employees within a particular geographical distance from the workplace. So how do you convince an employer that the process of interviewing and hiring you will proceed just as smoothly as if they were hiring a local candidate? The answer: a well-written relocation cover letter.
What exactly is a relocation cover letter?
A cover letter can serve different purposes, and as the name suggests, a relocation cover letter formally lets recruiters and hiring managers know that you are moving or plan to move close to their geographical place of business. And just like any cover letter, your cover letter for relocation also works as an opportunity to summarize your qualifications and show potential employers that you are the best candidate for the open job position.
When writing your cover letter for relocation, you need to address the challenges that you may face with your relocation, including securing a place of residence, traveling to and from work, and convincing your future employer that you are in it for the long haul. You'll have to handle these concerns briefly in the last paragraph of your relocating cover letter. Why the last paragraph, you may ask? So that the focus of your cover letter remains to be how qualified you are, and your relocation becomes just a minor issue that recruiters won't feel the need to dwell on.
How to mention relocation in a cover letter: the three must-haves
Now that you know what a relocation cover letter is and where in your letter to place your relocation info, here's what to include and how to say it.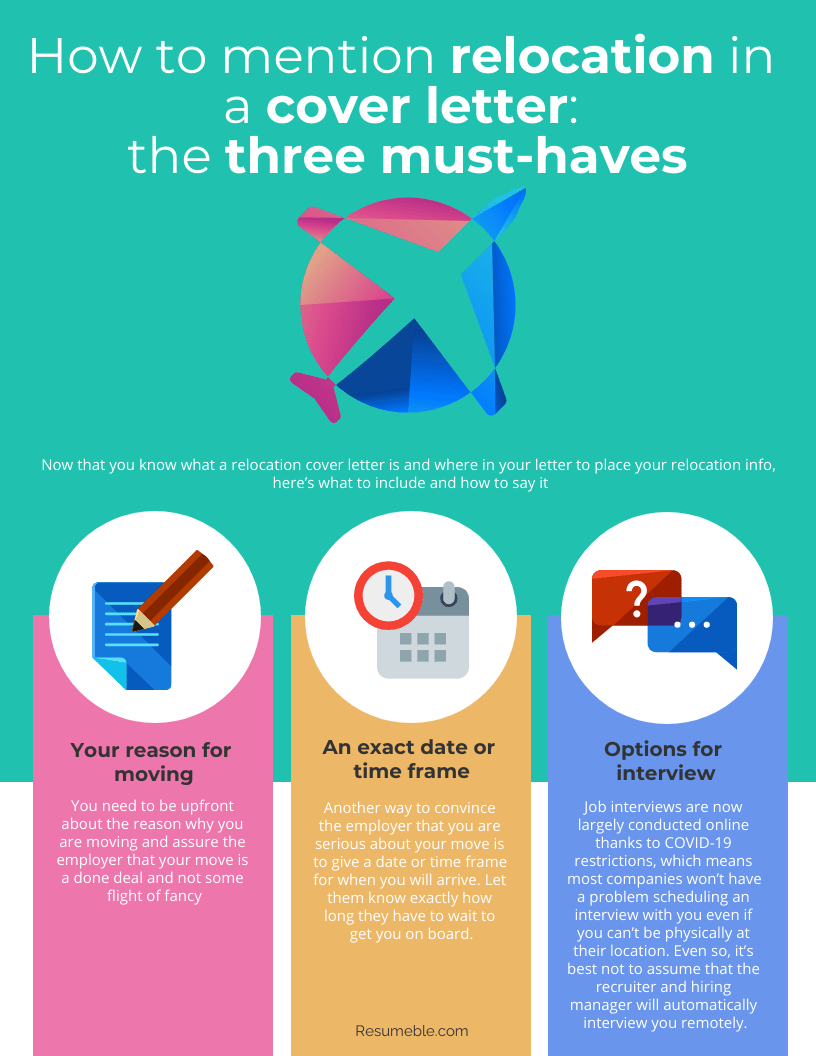 1. Your reason for moving
One reason that employers may feel hesitant to accommodate long-distance applicants like you is that they are not sure how dedicated you are to your planned relocation. That's why you need to be upfront about the reason why you are moving and assure the employer that your move is a done deal and not some flight of fancy. For this particular tip on how to mention relocation in a cover letter, here are some examples of what you could say:
"My move represents a homecoming for me, and I would love the opportunity to establish a career in my hometown of Seattle."
"Moving and working in Austin allows me to be closer to my two children, both of whom live with their families in the area."
2. An exact date or time frame
Another way to convince the employer that you are serious about your move is to give a date or time frame for when you will arrive. Let them know exactly how long they have to wait to get you on board. The sooner the date you provide, the better, because it lets potential employers know that you can start immediately, helping put their mind at ease. It can also help to include information on how you plan to facilitate the move. Here are some examples for this tip on how to write a cover letter for relocation:
"If accepted, I can start within two weeks, as it's quite easy to book a moving service at my location."
"Most of my stuff is already with my family living in the area, so moving will pose a very small problem for me should you decide to hire me."
3. Options for interview
Job interviews are now largely conducted online thanks to COVID-19 restrictions, which means most companies won't have a problem scheduling an interview with you even if you can't be physically at their location. Even so, it's best not to assume that the recruiter and hiring manager will automatically interview you remotely. Offer up your preferred platforms for communication, and remain open to any other chat applications that they might have in mind. Here's are some examples:
"I am available for an interview on Zoom and WhatsApp. I can also accommodate any other communications app that's more convenient for you."
On that note, you'll also want to meet with your potential employer at some point, because it would be folly to accept a job offer without first finding out if you would be a good fit there. So make sure you also include an offer of a visit in your relocation cover letter. Here's what you can say:
"Aside from an online interview, I am also open to traveling to Los Angeles to meet with you in person, should you feel that I am the right candidate for the job."
Some employers—particularly startups and small businesses—won't have the budget to pay for interview travel costs, so set aside some money to cover this expense just in case.
Let Resumeble handle your cover letter for you
Aside from writing resumes, Resumeble also provides cover letter writing, among many other additional services. Let us write your relocation cover letter for you so you can focus on the more important aspects of your application. Contact us today!
-

Check Your Resume Branding

-

Learn About Main Mistakes and How to Fix Them

-

Check if Your Resume is ATS-compliant

-

Get Your Analysis within 24 Hours or Less!
Get a free resume
review
Upload Resume