Best 10 Effective LinkedIn Headlines
LinkedIn has become an indispensable tool for job hunters and recruiters alike. For anyone who's looking for a new job or longing to expand their professional network, NOT having a LinkedIn profile is practically a mortal sin. But before your profile can grab a recruiter's attention, it needs to follow the high standards of the best LinkedIn headlines.
4 qualities of a good LinkedIn headline
If you've ever been enticed to read a news column or article, it's because the headline made you want to know more. In that case, you already have a good idea of how important LinkedIn headlines can be. With this in mind, a good Linked headline should have any or all of these four qualities:
• Inform readers of your strengths and biggest selling points
• Represent you as a trustworthy and knowledgeable in your profession
• Entice people to learn more about you
• Convince recruiters to give you a call
As you can imagine, hitting these LinkedIn headline goals is easier said than done, but with a little bit of research, creativity, and tenacity, you could craft for yourself LinkedIn headline examples that are worthy of praise.
Get inspired by these 10 best LinkedIn headline examples
With the best LinkedIn headlines, you could have recruiters and hiring managers lining up to interview you. Aside from your name and photo, LinkedIn headlines are the most visible profile sections, so you need to give yours the time and attention needed to ensure the best LinkedIn headlines you can produce. Here are ten actual LinkedIn headlines from real people to inspire you.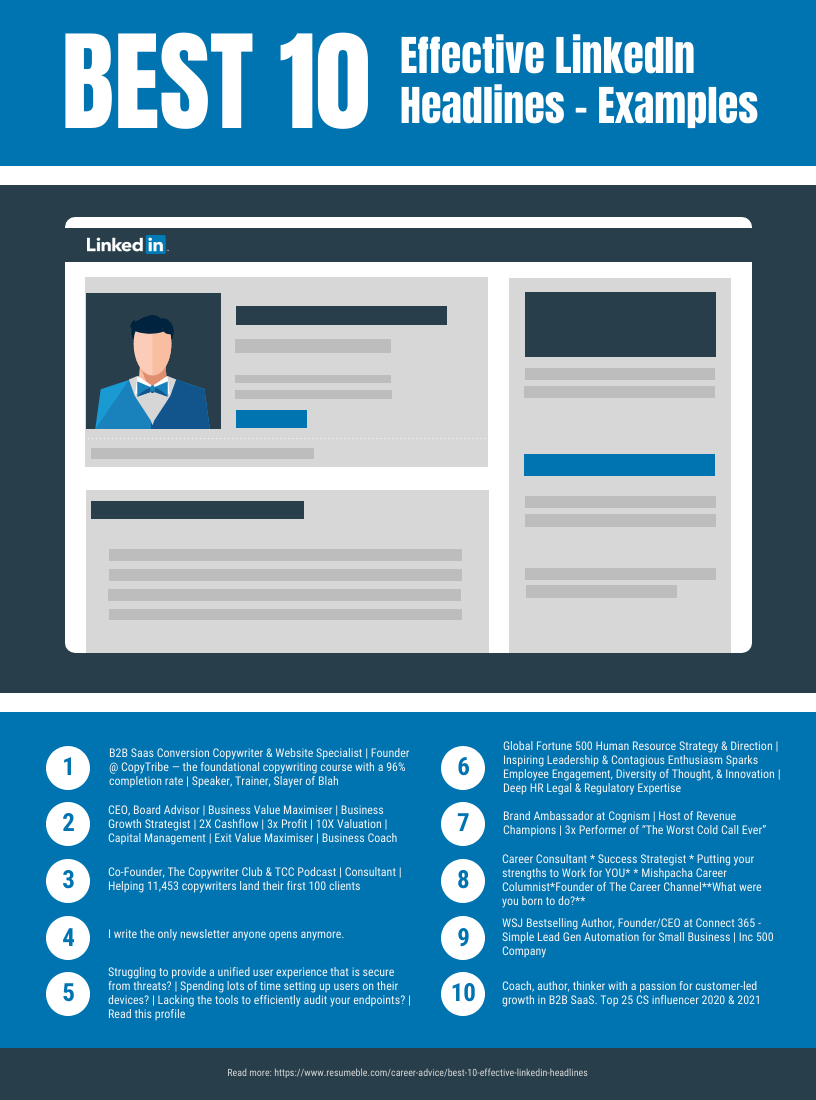 1. Michal Eisikowitz
B2B Saas Conversion Copywriter & Website Specialist | Founder @ CopyTribe — the foundational copywriting course with a 96% completion rate | Speaker, Trainer, Slayer of Blah
Why it works:
Eisikowitz's profile highlights her many capabilities in just a few short phrases, while simultaneously promoting her "FREE Freelancer Pricing Course." Reading her LinkedIn headline, it's immediately clear that she's an expert in her field.
2. Stefano Solferini
CEO, Board Advisor | Business Value Maximiser | Business Growth Strategist | 2X Cashflow | 3x Profit | 10X Valuation | Capital Management | Exit Value Maximiser | Business Coach
Why it works:
Solferini accompanies his credentials with some serious numbers that give potential clients a solid idea of what he can do. The fact that he's willing to use these hard numbers in his headline promises that he will deliver, giving readers a good reason to invest their time (and money) in him.
3. Kira Hug
Co-Founder, The Copywriter Club & TCC Podcast | Consultant | Helping 11,453 copywriters land their first 100 clients
Why it works:
Concise and to the point, Hug's headline showcases her most noteworthy credentials—a successful entrepreneur, podcaster, and consultant. Many recruiters will appreciate this no-nonsense approach, as it saves them from the guesswork.
4. Laura Belgray
I write the only newsletter anyone opens anymore.
Why it works:
Oozing with confidence, Belgray's headline zeroes in on her profile's main goal: to pique people's interest in her newsletter. Although it provides no information with regards to her profession, it possesses a unique appeal that makes readers want to learn more.
5. Matt Macnamara
Struggling to provide a unified user experience that is secure from threats? | Spending lots of time setting up users on their devices? | Lacking the tools to efficiently audit your endpoints? | Read this profile
Why it works:
Both Belgray's and Macnamara's LinkedIn headlines do not offer much in terms professional descriptions, but the latter's is unique in the sense that it immediately conveys what he does through a series of questions designed to engage and stir interest in his services.
6. Mandy Emory
Global Fortune 500 Human Resource Strategy & Direction | Inspiring Leadership & Contagious Enthusiasm Sparks Employee Engagement, Diversity of Thought, & Innovation | Deep HR Legal & Regulatory Expertise
Why it works:
Emory's headline maximizes character count. Although she risks losing the reader's attention with its length, she makes one the best LinkedIn headline examples by prominently showcasing her vast expertise and experience.
7. Ryan Reisert
Brand Ambassador at Cognism | Host of Revenue Champions | 3x Performer of "The Worst Cold Call Ever"
Why it works:
Reisert injects a bit of humor in his LinkedIn headline with the last line. Done right, humor can be a magnificent way to set your profile apart.
8. Shaina Keren
Career Consultant * Success Strategist * Putting your strengths to Work for YOU* * Mishpacha Career Columnist*Founder of The Career Channel**What were you born to do?**
Why it works:
Keren employs an approach that speaks directly to her readers. Here, she encourages "YOU" to engage with her by talking straight to "YOU" in her bio. It's an effective use of the pronoun, especially for Career Consultants like her, who usually work one-on-one with their clients.
9. Josh Turner
WSJ Bestselling Author, Founder/CEO at Connect 365 - Simple Lead Gen Automation for Small Business | Inc 500 Company
Why it works:
Turner places great emphasis on his achievements with their very visible placement in his headline. He begins by letting everybody know that he's a bestselling author, then closes it with the impressive credential that he owns an "Inc 500 Company." A hint of bragging doesn't hurt your profile—in fact, it can be useful as a LinkedIn headline for jobseekers.
10. Dave Jackson
Coach, author, thinker with a passion for customer-led growth in B2B SaaS. Top 25 CS influencer 2020 & 2021
Why it works:
Jackson adds emotional heft to his headline by stating his "passion." He then follows this up with a few substantial accomplishments. Though comprising only two lines, Jackson's blurb instantly expresses to readers what he brings to the table.
Elevate your LinkedIn profile with Resumeble
Resumeble offers LinkedIn write-up services so you won't have to worry about the right words to say in your profile. Let us help you with your profile's grammar, spelling, formatting, layout, branding, and even your use of keywords. Contact us today and let's work on making that vital first impression for your job hunting endeavors with the best LinkedIn headlines and more.
-

Check Your Resume Branding

-

Learn About Main Mistakes and How to Fix Them

-

Check if Your Resume is ATS-compliant

-

Get Your Analysis within 24 Hours or Less!
Get a free resume
review
Upload Resume