Job Search Guide: 7 Important Points
Landing the right job can be frustrating if you don't have a job-hunting strategy in place. Though it may seem like all you need to do is send out your resume and wait for the employer to call, it takes a lot more than that if you want to set yourself up for job hunting success. This job search guide gives you seven key points to aid you in your endeavor.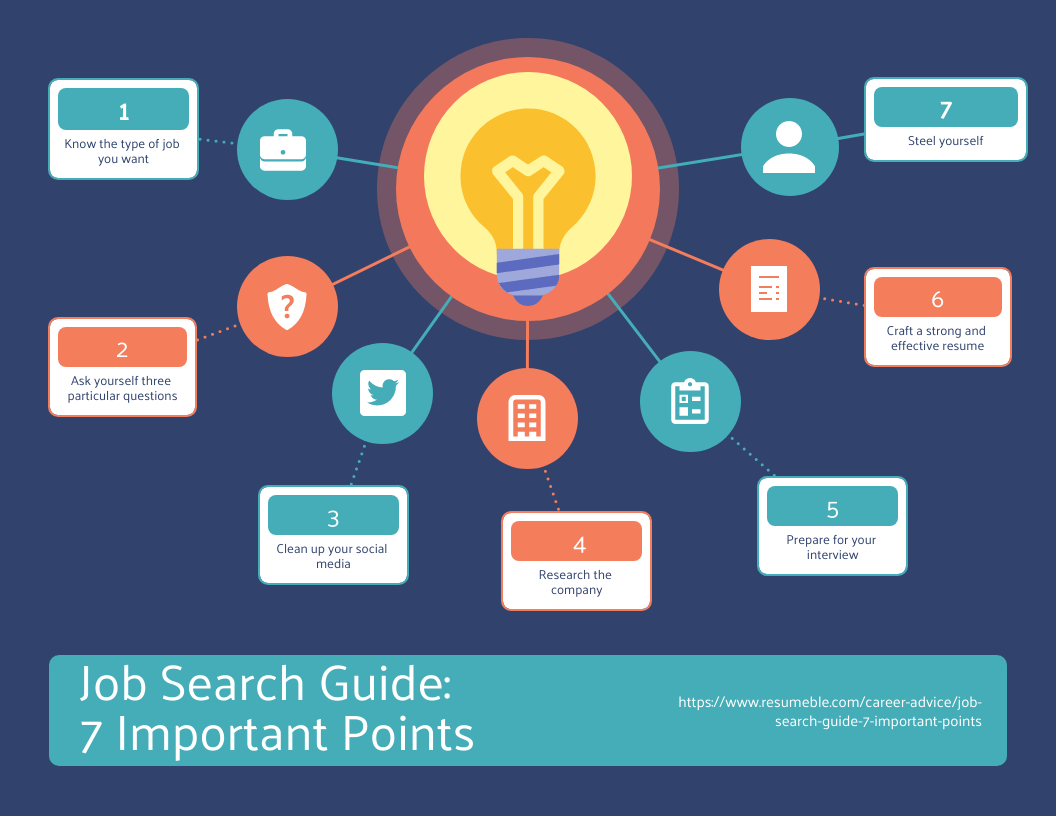 1. Know the type of job you want
When a job offer comes your way, it can be tempting to say yes right away, especially if you've been stuck in unemployment for some time. But what if it's the wrong kind of job for if you? You could end up saying yes to a position you don't intend to be in for the long term.
On how to start a job search: Avoid wasting your (and the company's) precious time by figuring out beforehand just what type of job you want. Do you want to work from home or in an office? Are you looking for a full-time position, or would a part-time job be better for your situation? Established company or startup? Morning or night shift hours? By being specific with how to search for a job, you'll be able to fine-tune your hunt.
2. Ask yourself three particular questions
Many job hunters begin how to search for a job based on their degree or previous work. Though there's nothing necessarily wrong with this, it could severely limit your choices, especially when it comes to finding jobs where a candidate's functions are broadly defined. Begin by asking yourself:
• What are my strongest attributes?
• What do I like about my work?
• What are my passions and interests?
By answering these job search guide questions, you'll have better insight into finding jobs that are suited to your skills and experiences.
3. Clean up your social media
Companies are increasingly researching the background of their strongest candidates on social media, looking for any red flags prior to hiring. Regarding how to search for a job, you'll want to delete inappropriate or offensive posts, or to save time, set your profile to private. Contact those who may have negative posts that involve you and have those removed. Likewise, Google yourself to see if you are tagged in any risky content.
4. Research the company
Important job search guide tip: Taking the time and effort to research a company and its background will only help your application. It also informs you if the workplace is ideal for your professional growth. Give the company website a thorough research, starting with the "About Us" page, and on to their mission and vision. Get a feel for their company culture and financial health.
5. Prepare for your interview
Practicing how to answer common interview questions will help you face the recruiter with confidence and positivity. Here are a few common job search guide interview questions to prepare for:
• "Can you tell me more about yourself?"
• "Why do you want to work here?"
• "What are your strengths and weaknesses?"
• "What do you know about the company?"
Your research about the company could prove helpful during the interview. Another important job search guide tip: Pay attention to your delivery, tone, and gestures when you practice. If you can show a high level of professionalism when answering interview questions, you boost your chances of landing the job significantly.
6. Craft a strong and effective resume
Many applicants fail to grasp the importance of a well-written resume, thus going about lazily with the process and ending up with a flat and boring application that has nowhere to go but the recycle bin.
Your third job search guide tip: If you want to stand out from the rest of the pack and grab a recruiter's attention, you need to take the time and effort necessary to ensure your resume is attractive, informative, easy to read, direct to the point, and pitch-perfect in terms of grammar and spelling.
In addition, your resume should also contain the right keywords related to your position and industry. Many companies now use applicant tracking systems (ATS) to filter resumes for qualified and non-qualified candidates. Look for prominent, industry-specific keywords in the job posting, and use them in your resume.
7. Steel yourself
When it comes to job hunting, there's always the chance that you will be passed over for someone else. Amidst all the challenges you may face, always remember that with tenacity, preparedness, and hard work, you will finally land the job you want. So keep at it, and never surrender until you reach your job search goals.
How to search for a job effectively? Work with Resumeble
Hopefully, this job search guide proves helpful. In the meantime, let Resumeble craft your resume for you so you can worry about your application's other important aspects. Choose from one of our resume writing packages and get in touch with us today!
-

Check Your Resume Branding

-

Learn About Main Mistakes and How to Fix Them

-

Check if Your Resume is ATS-compliant

-

Get Your Analysis within 24 Hours or Less!
Get a free resume
review
Upload Resume