How to Create a Better Linkedin Profile – Checklist
As the social platform of choice for professionals, LinkedIn has become an invaluable tool for both employers and employees to "see and be seen," connecting and bridging the gap between them in ways that are unprecedented. Needless to say, if you're on the hunt for a job, not having a LinkedIn profile could be hampering your chances of landing your dream career in more ways than one. But LinkedIn success requires more than having a profile alone, so here's a LinkedIn profile checklist for you to follow.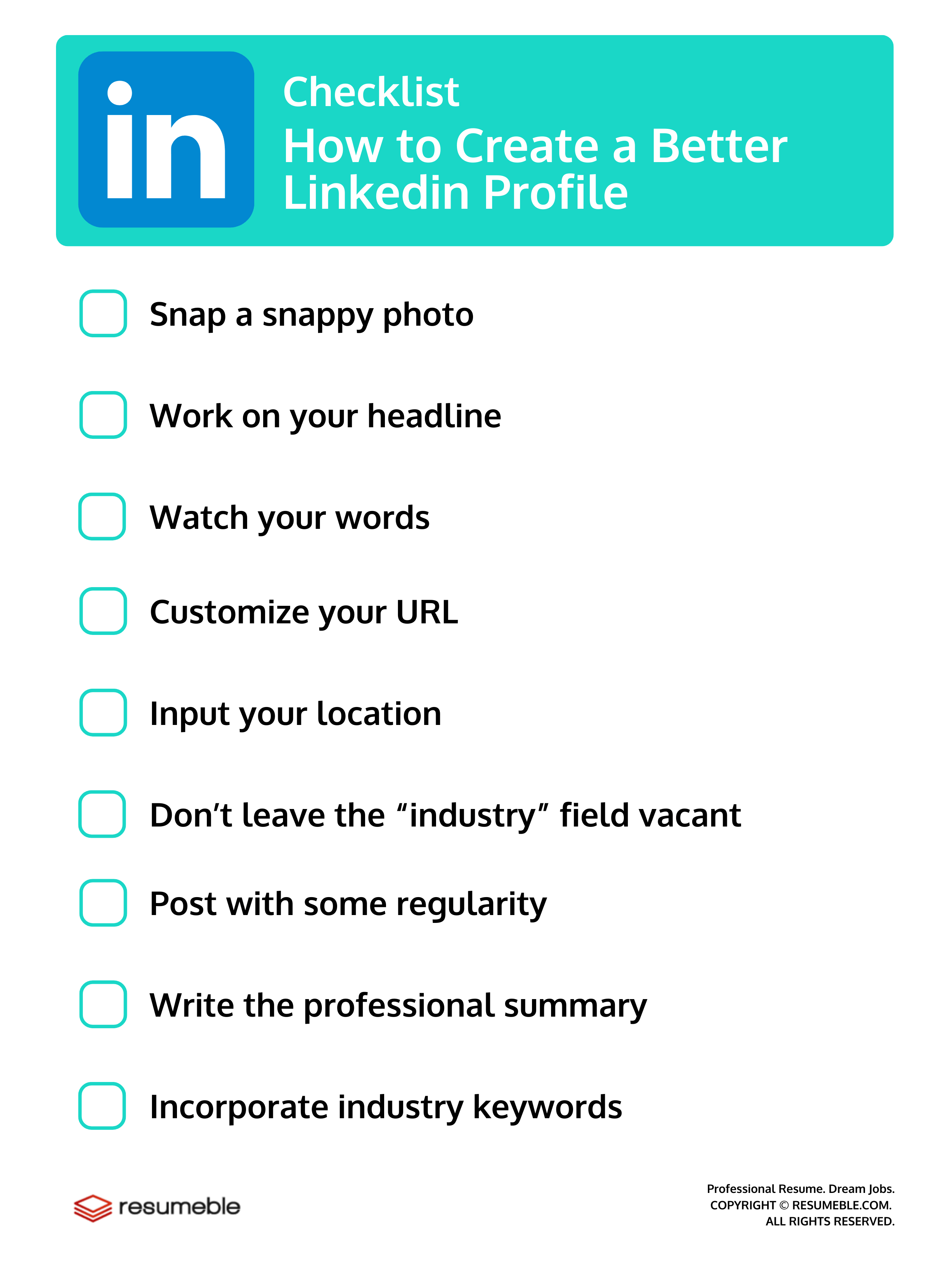 1. Snap a snappy photo
Reserve your selfies for your other social media profiles. The keyword for LinkedIn is "professional," so the photos that you choose to represent you should have you looking formal and well put together. Think of it like dressing up for a job interview—by looking sharp and snappy in your LinkedIn photo, you tell potential employers that you mean business.
For your first LinkedIn profile checklist, it goes without saying that you need invest in making your LinkedIn photo look professional, which means enlisting the services of a proper photographer. If you don't have the time nor the resources for this, you can schedule a photo session with a friend and borrow a good camera if you don't have one.
2. Work on your headline
Headlines are what reel people in, and when it is well-written, people will be more compelled to read the rest of your profile. There's no need to put your job title or company name, as these are readily viewable elsewhere in your profile. Instead, use your headline to differentiate yourself from other potential candidates. Use powerful adjectives, such as ambitious, go-getter, savvy, etc., to draw potential visitors in. Be straightforward, but do so in a formal and well-branded manner so you don't come off as irritating or unpleasant. Here are some great headline examples from actual LinkedIn users:
• Empowering People to Change Their Lives
• Career Match-Maker
• Talent Acquisition Leader
3. Watch your words
Use proper grammar and review your profile for any typo. Likewise, make sure you avoid using nicknames and other irrelevant and cutesy language—there's simply no space for that on LinkedIn. It is important to remember that formal words are ideal to use in the professional environment promoted by this professional social media site. If you think your language skills are in doubt, Resumeble offers LinkedIn write-up services to elevate your profile's quality into one that recruiters and hiring managers will notice. We can also help ensure that you meet all the LinkedIn profile checklist items that matter.
4. Customize your URL
LinkedIn offers a lot of personalization options, even giving you the power to change the URL to your liking. For formality's sake, it's best to use your name as your URL, like so:
• https://www.linkedin.com/in/robertfletcher
As you can see, a customized LinkedIn URL is a lot more pleasing to look at than a default URL, which mainly consists of a jumble of letters and numbers. Customizing makes your LinkedIn URL memorable, and since you'll be linking this URL to many of the professional documents you send out—including your resume—it becomes one of the easiest and most effective ways to make yourself stand out from the crowd. Wouldn't you rather have a pleasing and easy to remember LinkedIn URL than something that reads like a machine?
5. Input your location
If you've done a certain amount of job hunting in the past, you've probably come across postings that state "locals preferred" or "locals only." It's only natural for employers to want to hire local candidates, so if you have a target place to work in mind, it would be best to change your LinkedIn "Location" field correspondingly.
So say that you want to work in Dallas, TX—you will want to change your LinkedIn info to that location to make your profile more attractive to employers in that area. This can be very helpful to your job hunting efforts, especially when Dallas recruiters use LinkedIn's filter location feature to identify candidates in the locale, because your name is bound to appear in the pool.
6. Don't leave the "industry" field vacant
Another important LinkedIn tips 2021 to remember: just as it is with your "Location" field, you also have to input the accurate info in the blank space for "Industry." Again, this is to ensure that recruiters who filter their search results will find you.
That said, this is not as easy as it seems, as niche industries are not part of the menu. If you're having a hard time deciding which industry to use, you can check your profile views to see which industries are looking for a candidate like you, and update your info accordingly. You may have to do this from time to time, especially if your job applies to many industries.
7. Post with some regularity
Aside from verifying information, recruiters and hiring managers access the social media accounts of potential candidates to get a better picture of the individual's personality and if he or she will be an ideal fit for the company. This means aside from personal info, they will also be checking the type of content you post.
Keep in mind that LinkedIn is the professional's network, so only post high quality content that leaves a good impression on your site visitors. For your LinkedIn tips 2021: posting once a day can be enough to keep your profile active and engaged with your social network.
8. Write an informative and engaging professional summary
Your LinkedIn profile can act as your resume in more ways than one, and just like your actual resume, it also contains a summary section, which serves as a space to showcase your skills, achievements, and experience. Written well, you professional summary can be enough to convince a recruiter to schedule an interview with you. As you develop your LinkedIn summary, here are some things to keep in mind:
• Identify your biggest professional achievements and rework them into a short and concise sales pitch.
• Provide numbers and percentages that show the hiring manager that you performed well in your previous jobs.
• Sum up the value that you have to offer by identifying the benefits that they can get by hiring you.
It's worth mentioning that these are LinkedIn tips 2021 that you can apply to write your resume summary, so if you are still developing your resume, make sure to keep these in mind.
9. Incorporate industry keywords
Applying the right keywords will make it easier for employers to find you. Do a search for keywords that are likely to be used in your profession, and use them in your LinkedIn profile. It's important to use these keywords organically and within an acceptable frequency—too few and you might rank low in LinkedIn search results. Too much, and you risk alienating your visitors.
LinkedIn tips 2021 and beyond
In addition to this LinkedIn profile checklist article, feel free to browse our Career Advice blog for more tips on how to get the most out of LinkedIn and how to update LinkedIn profile, among other topics. If you need your resume done, we offer a package and separate resume writing services. Contact us today to learn more about our offerings.
-

Check Your Resume Branding

-

Learn About Main Mistakes and How to Fix Them

-

Check if Your Resume is ATS-compliant

-

Get Your Analysis within 24 Hours or Less!
Get a free resume
review
Upload Resume