What is a New Employee Welcome Kit?
Upon getting hired, new employees must go through an onboarding process to help them understand their responsibilities, as well as the company's culture and the environment they will be working in. A well-executed onboarding helps speed up the adjustment period for new hires so they can quickly become productive members of the organization. For this reason, an employee welcome kit—otherwise known as a welcome box or gift for new employees—is practically a necessity for any business organization.
Welcome gifts for new employees—what are they?
An employee welcome box/kit/gift is a pack that contains an assortment of items to help new hires immediately feel that they are valued members of their new teams. They provide new employees with the necessary tools for their newly given position, setting the stage for speedy acclimatization and productivity. A welcome kit usually contains:
• Welcome letter
• Employee handbook/s
• Office supplies and/or work-related tools (pens, notepads, headsets, etc.)
• Company paraphernalia (coffee mugs, water bottles, company uniform, etc.)
Some big companies even include wellness items, gadgets, apparel, and other enticements, such as motivational books, newsletters, etc. Different organizations offer different items in their welcome kit according to what they believe will boost their new hire's success in their new position.
Why companies have employee welcome kits
Below are some of the reasons why companies invest in a welcome kit or welcome package for new employees.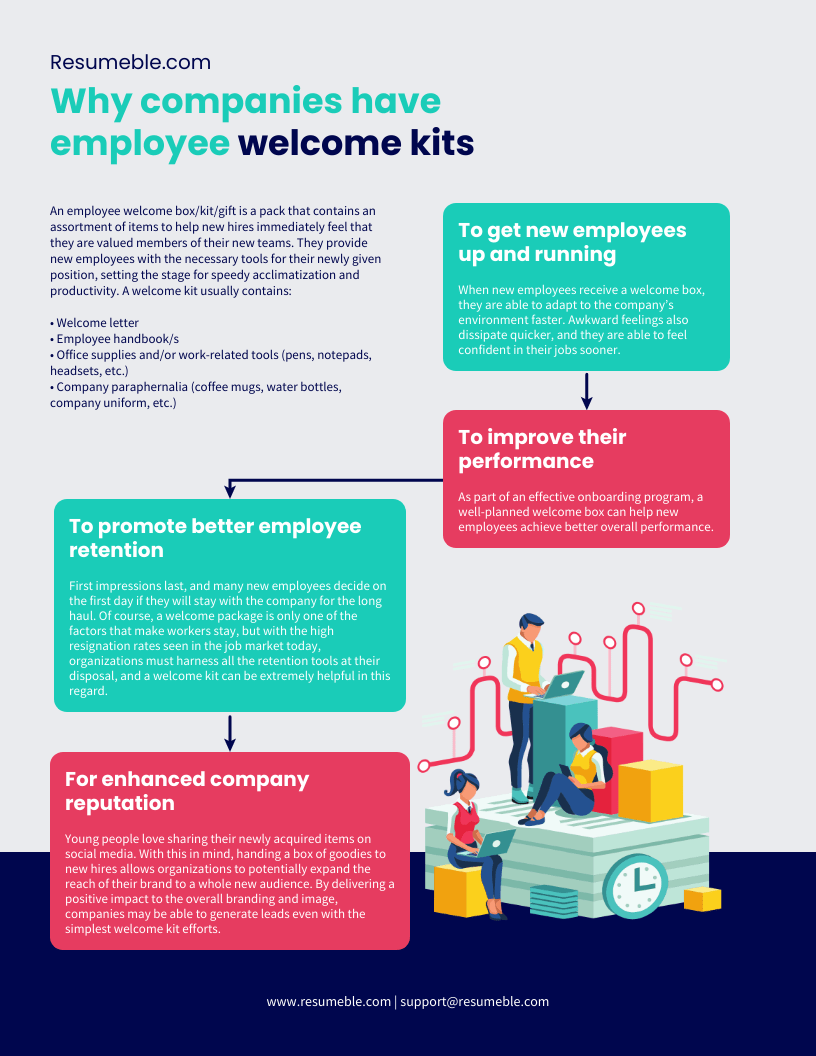 1. To get new employees up and running
When new employees receive a welcome box, they are able to adapt to the company's environment faster. Awkward feelings also dissipate quicker, and they are able to feel confident in their jobs sooner.
2. To improve their performance
As part of an effective onboarding program, a well-planned welcome box can help new employees achieve better overall performance.
3. To promote better employee retention
First impressions last, and many new employees decide on the first day if they will stay with the company for the long haul. Of course, a welcome package is only one of the factors that make workers stay, but with the high resignation rates seen in the job market today, organizations must harness all the retention tools at their disposal, and a welcome kit can be extremely helpful in this regard.
4. For enhanced company reputation
Young people love sharing their newly acquired items on social media. With this in mind, handing a box of goodies to new hires allows organizations to potentially expand the reach of their brand to a whole new audience. By delivering a positive impact to the overall branding and image, companies may be able to generate leads even with the simplest welcome kit efforts.
Planning an employee welcome box
Before an organization can decide on which items to include in their welcome gifts for new employees, a few considerations must first be taken into account.
• What does the new recruit need to know about their position?
• What does he/she need to know about the company culture?
• What tools will he/she need to perform their daily tasks and responsibilities?
• How can the company convey its value through the kit?
In every aspect, the new hire welcome kit should be an ideal representation of the organization's core values. With this in mind, here are three welcome pack types commonly used by many business organizations today.
• Basic kit – This kit prioritizes cost-effectiveness and usually includes a welcome letter, office supplies, beverage containers (mug and/or water bottle), and employee handbook.
• Standard kit – This kit adds a few goodies to the basic kit—usually in the form of snacks, stickers, apparel and gear.
• Premium kit – This kit not only comes with customized company items, but they may even be personalized specifically for the employee who will receive them, such as a handwritten welcome letter, premium branded products, premium treats and delicacies, and a personalized guide welcoming the new employee and introducing him/her to their new team or department.
A well-curated welcome pack adds to the excitement of the first days of work. There are virtually thousands of items to choose from, so any business has its work cut out for it when it comes to perfecting the welcome kits they plan to hand out to their new hires.
For organizations having trouble developing an ideal welcome kit, consultancy firms that specialize in onboarding can be a great resource for this goal.
Looking for a new job?
Of course, before employees can hand you a highly coveted bag of goodies and say, "Welcome to the office," you must first work on landing the job. And it all begins with having a top-caliber resume that will compel recruiters and hiring managers to contact you.
Resumeble offers an array of services that can aid you in your application, including resume writing, CV writing, cover letter writing, LinkedIn writeup, and more. We will even evaluate your current resume for free so you can identify your application's strongest and weakest points. Send us your resume today for a free, no-obligation evaluation, and let's get you started on your journey toward getting hired.
Get a free resume
review
Upload Resume