How to Choose the Best Core Competencies for a Resume?
With recruiters and employers taking only six seconds to read them, it's necessary for resumes to be written in a lean, clean, and concise manner.
One of the ways to create a lean resume—one that's completely devoid of fat or fluff—is to whittle away your core competencies to the best and most relevant for the job. But how exactly do you choose the best core competencies for resume? Read on to discover the steps to do so.
What are core competencies?
In a resume, core competencies represent skills and abilities acquired through education, training, experience, or practice that make you a good candidate for an open job position. These vary depending on the industry and should be selected based on the particular job you are applying for. For example, if you plan to work find work as an IT specialist, the core competencies section of your resume will likely include computer literacy, data management, hardware and software knowledge, and so on. Both hard and soft skills can be included in your resume core competencies.
Why are core competencies important?
These key professionals skills are a quick and efficient way to convince employers that you are qualified for the open job position. It's important to know how to incorporate them into your resume properly to inspire and encourage recruiters and hiring managers to want to learn more about you, and ultimately, contact you to schedule an interview.
It's also worth noting that many employers today use automated Applicant Tracking Systems (ATS) to scan resumes before they reach human eyes. With a properly written core competencies on resume, it will be easier for you to pass ATS scans and be shortlisted among potential candidates.
Choosing the best resume core competencies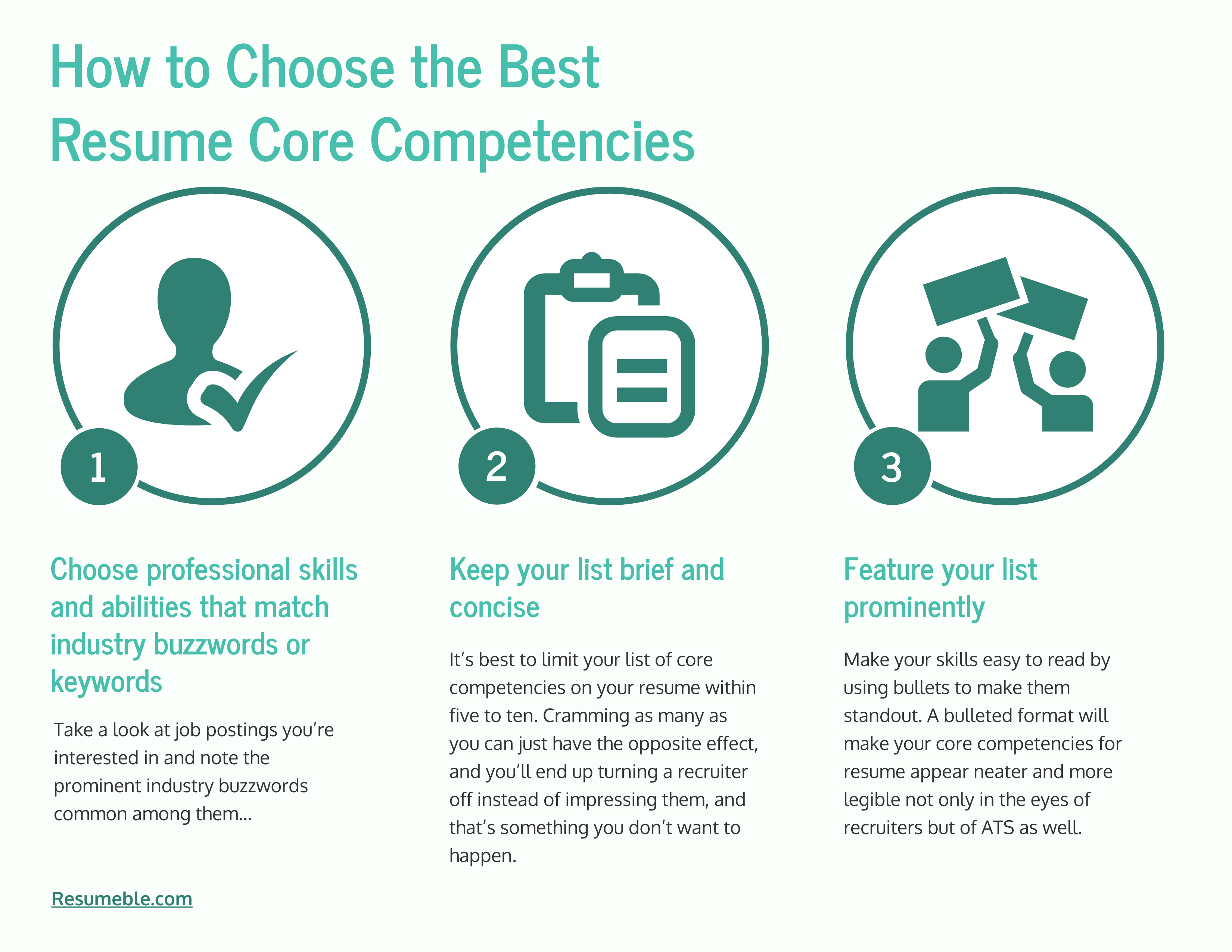 Ideally, your core competencies for resume should show both practical skills and knowledge fpr the kpb. Once you have identified your best qualities for the job, you need to feature them effectively. Here's how to do it:
1. Choose professional skills and abilities that match industry buzzwords or keywords
Take a look at job postings you're interested in and note the prominent industry buzzwords common among them. A job description for an accountant, for example, would list responsibilities such as spreadsheet proficiency, business know-how, financial training, mathematical reasoning, time management, etc. These buzzwords can provide you with a good idea of what core competencies are required for the job.
2. Keep your list brief and concise
It's best to limit your list of core competencies on resume within five to ten. Cramming as many as you can just have the opposite effect, and you'll end up turning a recruiter off instead of impressing them, and that's something you don't want to happen.
When listing your skills, elaborate on each of them with a brief description, but keep it to a sentence or two to conserve space. Here's an example of a list of core competencies for an admin staff job, along with the accompanying description:
Team player – able to contribute collaboratively, in addition to being responsible enough to complete tasks with minimal supervision
Communication skills – always seeking to communicate in positive ways, but willing to give constructive feedback when necessary
Results-oriented – willing to make the extra effort to ensure quality work is done and deadlines are met
And here are some examples for customer sales personnel:
Product knowledge – always ready with a clear insight into the products being sold
Communication skills - able to engage with customers and develop connections effectively
Forward-thinking – able to recognize opportunities and imagine new ideas for product selling
Be sure to review the particular job listing you're looking at, and follow the language used by the employer. This will help your resume overcome ATS scans in cases where these systems are in use.
3. Feature your list prominently
There are several ways to feature your skills prominently on your resume. Great places to position them to include above or below the summary of qualifications, and below the professional objective. Whichever placement you choose, make your skills easy to read by using bullets to make them standout. A bulleted format will make your core competencies for resume appear neater and more legible not only in the eyes of recruiters but of ATS as well.
Let Resumeble build your resume today
Resume writing is an art that requires both practice and skill. Market yourself to recruiters and potential employers in the best possible way by having our expert writers build your resume for you. Check out our list of different packages to suit your needs.
-

Check Your Resume Branding

-

Learn About Main Mistakes and How to Fix Them

-

Check if Your Resume is ATS-compliant

-

Get Your Analysis within 24 Hours or Less!
Get a free resume
review
Upload Resume