What is a resume writing workshop?
Resume writing doesn't always come easy, but it is a skill that can be learned with proper instruction.
One of the ways to hone your resume writing skills is by attending a resume writing workshop. So, what is a resume writing workshop, you may ask? It is a method of writing instruction that engages would-be resume writers with a structured set of lessons for the purpose of learning how to write this particularly important job application document effectively.
Your resume is your first point of contact with a potential employer, and you need it to leave a good impression immediately. To make the most progress with your resume write-up, you'll need guidance from a professional resume writer, along with tools and techniques to support your development. Attending a workshop is where you can acquire all these and more.
Six great reasons to attend a workshop on resume writing
For those who want to knock writing out of the ballpark, a resume writing workshop can be the ideal solution. Here are six great reasons to attend a workshop on resume writing for your own benefit.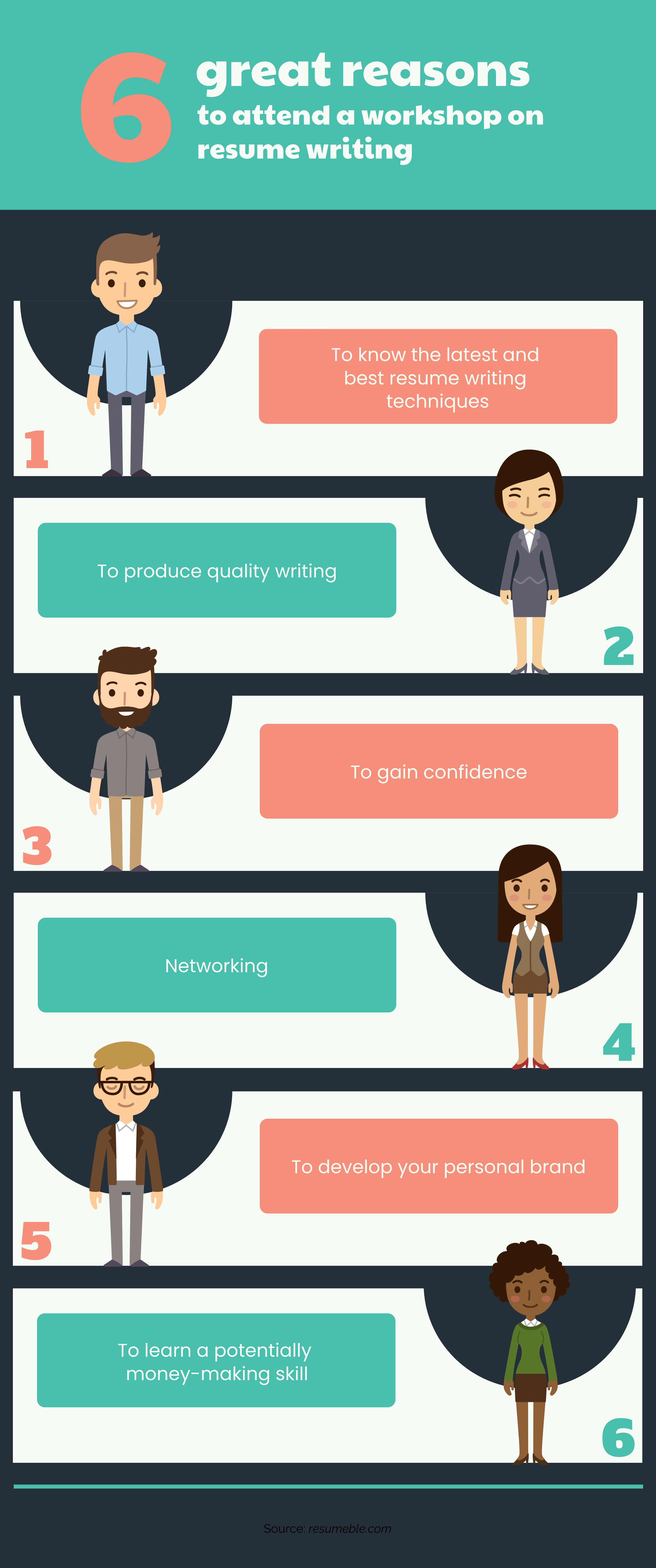 1. To know the latest and best resume writing techniques
Resumes evolve, and requirements change with the times. To know what current employers are looking for in a resume, you need to know the latest and best techniques in the field, and a resume writing workshop given by some of the most successful people in the industry is the way to make that happen.
2. To produce quality writing
Although there is no correlation between a person's ability to write a quality resume with his or her job performance, a well-written resume tells prospective employers that you pay close attention to the details of the work you produce. Any error in formatting, grammar, spelling, and punctuation can be viewed as carelessness. Attending a good resume workshop can be a great way to ensure the quality of your resume and convey a high level of meticulousness in your work—something that's favored by any employer in any industry.
3. To gain confidence
You may be able to write a good resume, but if you don't believe in your abilities, your mind will give you all kinds of excuses why your resume is never going to be good enough. Your resume is a reflection of your own confidence, but it can be challenging to present your skills and abilities in a way that radiates self-assuredness. A workshop on resume writing might just be the boost you need to be more confident about your efforts.
4. Networking
When you work on your own, it's easy to find yourself uninspired and in a rut. At this workshop, you'll be in the presence of people whose only goal is to help you succeed. Learning how the experts approach the art of resume writing can really help you make strides with your own writing tasks. But beyond that, workshops offer plenty of great opportunities for networking. Keep in mind that resume writers have plenty of connections in many industries, and that can open up possibilities for your own career.
5. To develop your personal brand
Nowadays, it's all about branding and marketing yourself in the best possible way, and this principle applies even to resume writing. Resume writing workshops can be a great way to learn about the employment world and gain knowledge on how to make your professional branding a strong job-search weapon.
6. To learn a potentially money-making skill
Looking to add to your monthly income? Turn your newfound talent for resume writing into a side gig! Whether you choose to be part of a team or strike out on your own, you can start earning money from resume writing almost immediately. Of course, before you announce your new services to the world, you'll need to develop a business plan for your side gig and see how it fits into your existing career. And make sure to set goals you want to achieve if you decide to push forward.
What if resume writing isn't really for you?
As mentioned, there isn't really a direct link between resume writing and one's ability to perform his or her job responsibilities, and many people will find that resume writing simply isn't their cup of tea. If this is you, there's no need to worry. Resumeble has got you covered.
Try Resumeble's resume writing services today
Resumeble has a pool of writers who will work with you one-on-one to develop a resume that will get your foot in the door. Choose from one of our affordable packages and give your career a head start it deserves.
-

Check Your Resume Branding

-

Learn About Main Mistakes and How to Fix Them

-

Check if Your Resume is ATS-compliant

-

Get Your Analysis within 24 Hours or Less!
Get a free resume
review
Upload Resume