When is the Best Time to Look for a Job?
The current global situation has unsettled the job market, with many businesses closing and even more people losing their jobs.
Whether you are desperately looking for work or currently not happy with the one you have, it's no secret that the COVID-19 pandemic has put a lot of pressure on businesses, making the process of knowing the best time to look for a job even more difficult. Resumeble encourages you to take heart, because despite the setbacks, there's still plenty of jobs for the taking, and you can be a great fit for one of them. Don't let the lack of opportunities get you down if you are serious about your job hunt.
When do companies hire the most? Recruitment trends throughout the year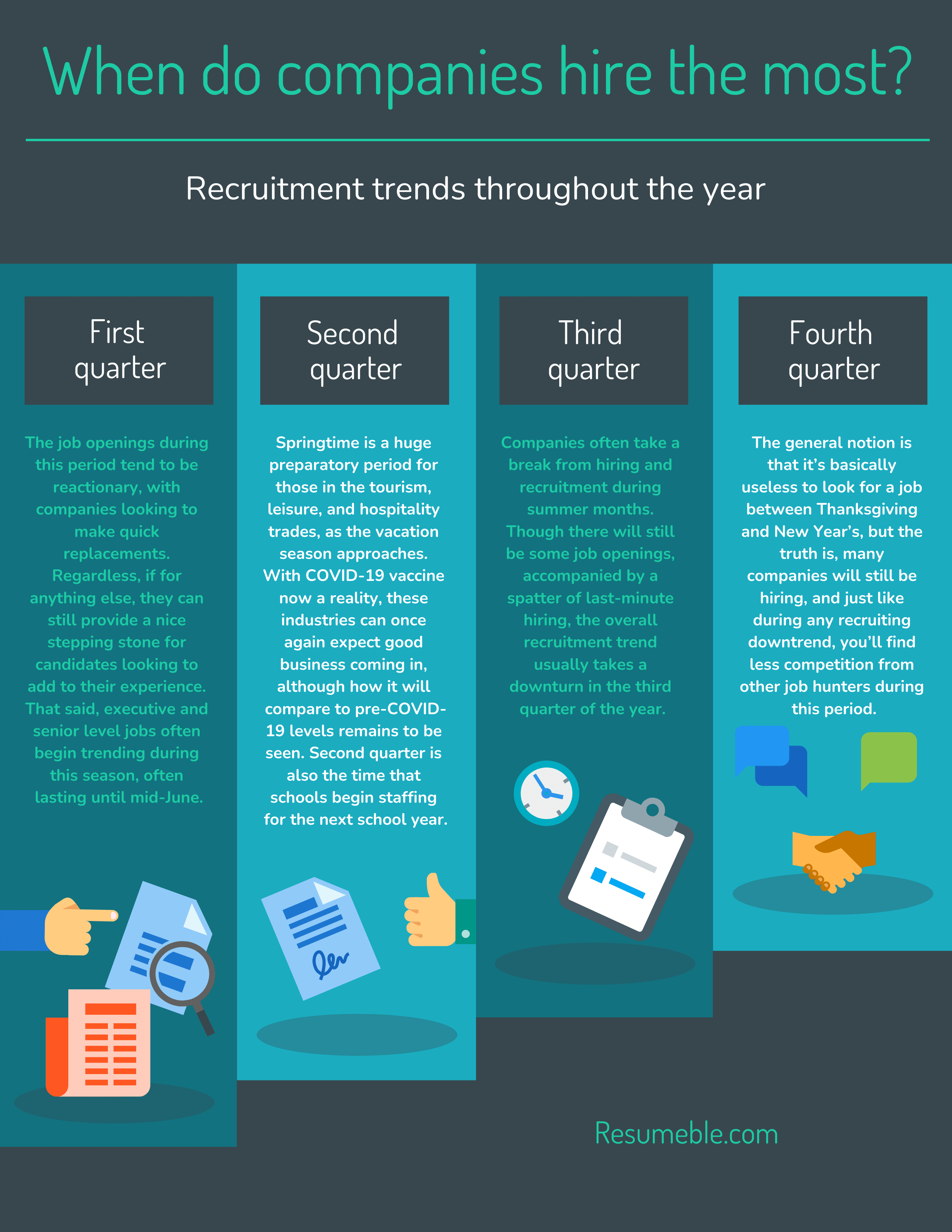 COVID-19 has certainly thrown a wrench into recruitment trends, but thankfully, many general principles still hold true. For those of you who want to know the best time to find a job, below is a description of recruitment trends to expect throughout the year's four quarters.
First quarter
The start of the year typically signals a spike in recruitment, as many employees tend to leave their jobs behind during the holidays. As a result, the first weeks of January usually represent a job hiring peak for many companies. An increase in the number of job adverts can be expected, as employers aim to fill positions left by outgoing staff seeking greener pastures anew.
Larger companies that are not immediately impacted by multiple leaving employees tend to put off hiring push between February and March.
The job openings during this period tend to be reactionary, with companies looking to make quick replacements. Regardless, if for anything else, they can still provide a nice stepping stone for candidates looking to add to their experience. That said, executive and senior-level jobs often begin trending during this season, often lasting until mid-June.
Second quarter
Springtime is a huge preparatory period for those in the tourism, leisure, and hospitality trades, as the vacation season approaches. With COVID-19 vaccine now a reality, these industries can once again expect good business coming in, although how it will compare to pre-COVID-19 levels remains to be seen. Second-quarter is also the time that schools begin staffing for the next school year.
According to the Bureau of Labor Statistics, April is when most open job positions are advertised. It's also when companies do the most hiring for the first half of the year. Construction is one other major sector on the upswing during this time, with the warm weather more conducive for building projects. The same principle applies to agriculture.
Entry-level jobs are also in strong demand during this quarter, with many companies looking to fill the staffing void before the year's second half begins.
Third quarter
Companies often take a break from hiring and recruitment during the summer months. Though there will still be some job openings, accompanied by a spattering of last-minute hiring, the overall recruitment trend usually takes a downturn in the third quarter of the year.
Just as job hiring takes a dive, so does job seeking. This can give determined applicants an advantage, as there's less competition in the market.
Though recruitment efforts take a slowdown overall, there's an increase in seasonal job hiring as the holidays start to roll around the corner. Most of these seasonal holiday jobs can be found in retail, logistics, and customer service.
Fourth quarter
Once managers and staff return from their respective summer vacations, hiring and recruitment startup ticking again, as organizations seek to fill any vacant positions before the flurry of the holiday season. September will be particularly busy, with things cooling down considerably by Thanksgiving.
The general notion is that it's basically useless to look for a job between Thanksgiving and New Year's, but the truth is, many companies will still be hiring, and just like during any recruiting downtrend, you'll find less competition from other job hunters during this period.
Even when pickings are sparse, it doesn't mean you should dial down the job hunt. Holiday events can be especially useful for networking, so when the holiday party invites roll in, be prepared to make contacts, take notes, strike up a few conversations, and collect business cards.
Get ready to get hired
Hopefully, getting to know these different recruitment trends help you answer the question, "When is the best time to look for a job?" While you're in between jobs, the best thing you can do is to prepare yourself for when the opportunity finally knocks. Hiring will pick up eventually, and you'll be in a better position to get hired when you're prepared. Think really hard about what you want from your career, and start laying down the groundwork for your path. When businesses and organizations start hiring again, you'll be ready and waiting.
Make yourself known
Put yourself first on the recruiter's mind by making a phone call, sending an email, or connecting via LinkedIn. The key is to be enthusiastic and professional in your interactions. You want a recruiter to like you so you'll be first in line for a future position. Avoid being generic in your conversations and emails. Tailor your message by researching recruiters and sending them a sincere, well-developed message.
Engage in professional development
If you have plenty of free time, you may want to improve your skills, knowledge, and experience to boost your desirability in the eyes of recruiters. Enroll in pieces of training, attend seminars, take online courses, or do your own learning. Even when you have meager finances, there are plenty of cost-effective ways to develop yourself professionally.
When the job market resumes its busy activity, you don't want to be caught with a weak, generic, and outdated resume. You never know when an opportunity will come up to meet with a potential employer. While in your downtime, make sure your application documents are up-to-date and ready to hand or send out to recruiters.
Work with Resumeble today
As you go about researching the best time to look for a job, let Resumeble help you take that first step toward career success. Our resume service has a pool of writers who will work with you one-on-one to help you craft a resume that recruiters are sure to notice. Send us your resume today for a free, no-obligation evaluation.
-

Check Your Resume Branding

-

Learn About Main Mistakes and How to Fix Them

-

Check if Your Resume is ATS-compliant

-

Get Your Analysis within 24 Hours or Less!
Get a free resume
review
Upload Resume