How Can Mistakes in a Resume Affect the Final HR Decision?
How many resumes have you sent out? One? Five? Ten? If you've been sending out multiple applications to numerous employers but still haven't gotten any reply, it may be time to take another look at possible resume mistakes you have committed.
The consequence of mistakes on your resume
Your resume serves as your professional representation, so you simply cannot afford to have any resume mistakes in your application. Depending on the degree of your mistake, there are three ways your application could be affected. You may either:
• leave a bad impression
• lose your chance of getting the job
• worst-case scenario, you could get blacklisted by a potential employer
Surveys reveal that a large percentage of employers consider resume mistakes as deal-breakers, and reason enough to not read the rest of the application. So if companies are not responding to you, there's a good chance that your resume contains one or more crucial errors.
9 most common resume mistakes to avoid
Make sure to look out for these common resume mistakes and correct them before sending out your application again. Awareness of these resume mistakes to avoid will boost your chances if earning a recruiter's approval and securing that elusive interview.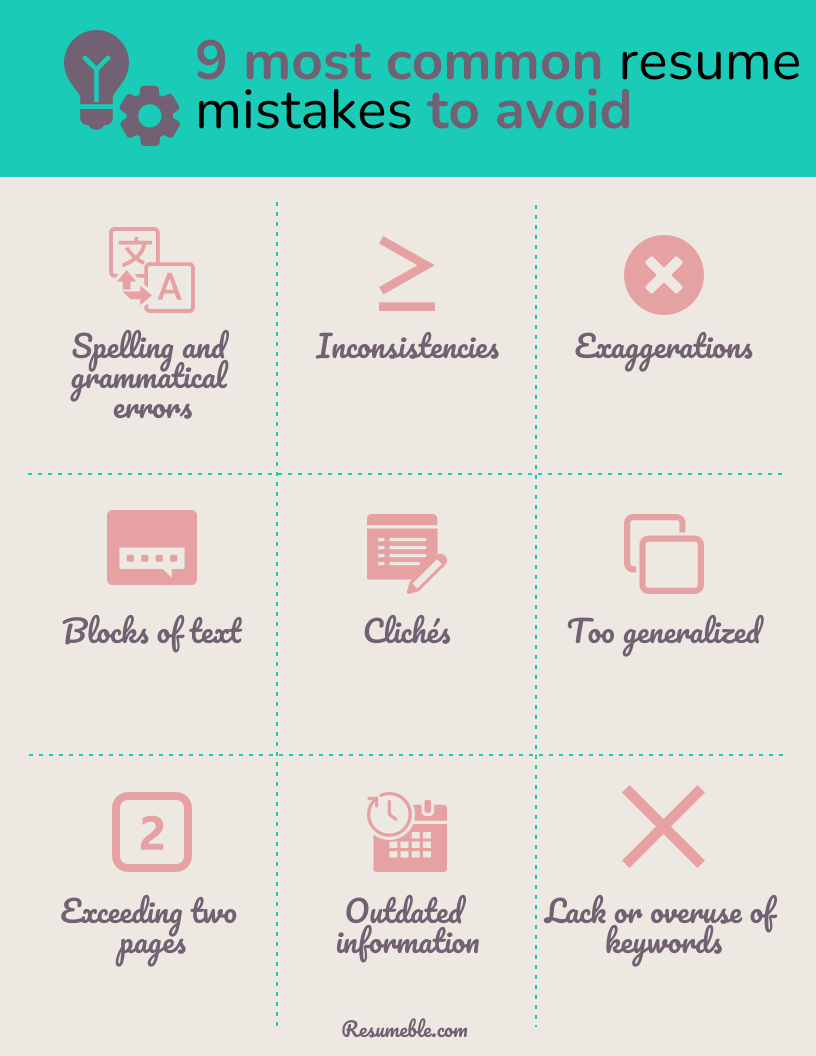 1. Spelling and grammatical errors
This is probably the most common of all resume mistakes, and definitely one that can easily be avoided simply by reviewing your application or having an English-proficient friend proofread your document for you. There are also online grammar and spelling checking tools you can use to ensure your resume is pitch-perfect and completely typo-free. And don't forget to proofread your resume before and after printing, because you never know what other errors you may find.
2. Inconsistencies
Many recruiters consider inconsistencies worse than typos. If the start and end dates of your employment history don't line up, or if there's some conflict between your resume and the information you post on social media platforms such as LinkedIn, you could raise red flags concerning your truthfulness and the legitimacy of the information you are presenting to recruiters. Other forms of inconsistencies include using fonts of different types and sizes, shifting verb tenses, and misaligned margins and spacing.
3. Exaggerations
Exaggerating or outright lying is just not the way to advance your career. It's easier now more than ever for potential employers to confirm the information on your resume, and if they catch you being dishonest, then you might as well kiss your chances of getting hired goodbye. Even if you somehow squeak through and get invited for an interview, you'll need to defend your resume, and the more you try to cover up your exaggerations, the more deceptive you'll appear to the interviewer. For your sake, always be forthcoming with the information you put in your resume.
4. Blocks of text
Recruiters and hiring managers only take an average of six seconds to scan a resume. This means you'll have to keep information minimal, so no solid blocks of text. Strike the right balance between text and white space to draw your reader to your most job-relevant skills, experiences, and accomplishments so they can immediately see that you are a qualified candidate.
5. Clichés
If you're still using tired terms like team-player, results-driven, go-getter, or self-motivated, then recruiters won't see how you stand out from the rest of the cookie-cut resumes saying the same things. In your summary statement, use fresh terms and keywords as best you can to relay to a prospective employer the value you offer as a potential employee.
6. Too generalized
Speaking of relaying your potential value, this can only happen if you tailor the content of your resume to the job and company in question. Tailoring your resume shows that you know the requirements of the position by heart. It also tells employers that you took the time to get to know the company, which only serves to impress potential employers.
To avoid common resume mistakes such as this, thoroughly read the job description and find a way to make your past work experiences show how you are a good fit for the role and company.
7. Exceeding two pages
Ideally, resumes should be no longer than one page—two at most. Make your resume too long and you only make it harder for the recruiter to figure out if you're a good candidate to interview.
If your resume exceeds two pages, get rid of some of the information until you have a one- or two-page resume that effectively highlights your personality, skills, and aspirations for your role. Focus on quality instead of quality, and you'll have a bigger chance of nabbing the recruiter's attention.
8. Outdated information
When was the last time you updated your resume? Ideally, you should update your document every six months—not only when you're applying for jobs. If you send out a resume with outdated information, you could give the impression that your qualifications are equally outdated. Make sure your resume contains your latest jobs, skills, achievements, and most importantly, your current contact information.
9. Lack or overuse of keywords
Recruiters are consciously looking for keywords that match those in the job description. These keywords are often related to the job qualifications, so if your resume is missing most if not all of them, you can basically rule out the idea that they'll want to contact you.
On the opposite side of the coin, overstuffing your resume with buzzwords is one of the biggest resume mistakes you can do, as it may cause recruiters to doubt whether you really possess all the necessary skills as you may claim in your resume. Use keywords sparingly and naturally in your application.
Write your resume with Resumeble
Your resume is your first chance to impress recruiters. Commit these resume mistakes, and it could be your last. Let Resumeble write your resume and enjoy our 60-day interview guarantee. Contact us today.
-

Check Your Resume Branding

-

Learn About Main Mistakes and How to Fix Them

-

Check if Your Resume is ATS-compliant

-

Get Your Analysis within 24 Hours or Less!
Get a free resume
review
Upload Resume