Resumeble Has Been Voted the Best ATS-friendly Resume Service
Our focus on quality resume writing, in-depth industry knowledge, and excellent customer service has paid off big. CareerCloud recently recognized Resumeble as the best ATS resume service, beating many other resume providers for recognition. The following review can be seen on the CareerCloud website:
RESUMEBLE - BEST FOR ATS OPTIMIZATION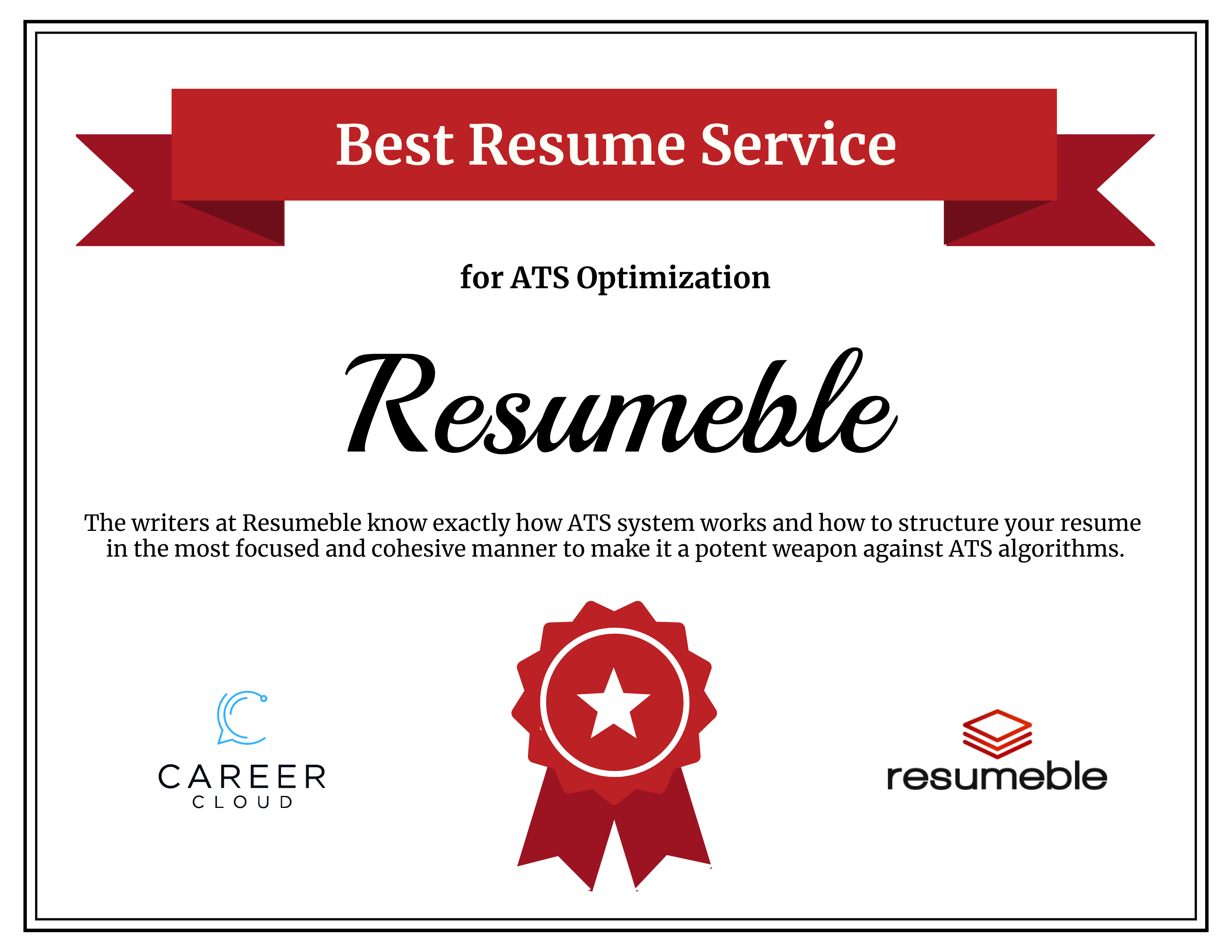 Resumeble features a consultancy approach to resume writing. This ensures direct interaction with your writer to deliver maximum value. According to Resumeble, hiring a professional to write or rewrite your resume offers four advantages that can make the difference between being one of the crowds or the applicant that stands out:
1) It saves time. Resumeble streamlines the writing process to help you stay ahead of other potential candidates;
2) It's stress-free. You don't need to worry about format, spelling, grammar, tone, keywords, or ATS optimization;
3) It gives you a second pair of eyes. No matter how good you are as a writer, it's always a good idea to have an expert review your resume; and
4) It makes your resume compelling.
One-size-fits-all doesn't work in the resume world. With your writer, you can develop a resume that targets your hiring audience and successfully represents your skills and experience. Or as they like to say at Resumeble, you'll master the art of "humblebrag."
Where It Excels
Applicant tracking systems (ATS) are here to stay. That being said, beating the ATS is key to getting your resume noticed. It's also a complicated task to accomplish. The writers at Resumeble know exactly how this system works and how to structure your resume in the most focused and cohesive manner to make it a potent weapon against ATS algorithms.
Resumeble delivers application documents that meet today's most stringent hiring standards, especially with regard to applicant tracking systems. We house a team of professional writers with expertise in a wide range of industries and markets. This ensures that your completed resume is customized specifically for the job, company, and industry you're applying to. Here are top reasons you should choose us to work on your resume.
1. Our method works
With most resume writing services, your point person is a sales rep who will collect all the necessary information from you and relay everything to one of their writers. More often than not, that first contact is going to be the last.
Our ATS resume service improves on this by letting you talk directly with your writer. Using a one-on-one consultancy approach, your writer will be with you all the way, communicating with you until you are confident with your resume.
2. Expert writers
Our ATS resume service has assembled a pool of writers with years of multi-industry experience to serve you. Needless to say, our writers know what to write and how to write. More than that, they know how to perform proper research, and what questions to ask you so they can create a resume that highlights your strengths and accomplishments in the best possible manner.
3. We guarantee our work
Our ATS resume service comes with an interview guarantee—you can expect to get a call from a potential employer within 60 days of receiving your completed resume. Otherwise, we'll rework your resume completely free of charge. We are committed to resolving any issue in the most constructive and cooperative manner.
4. High satisfaction rate
Our ATS-friendly resume service strives to live up to your expectations as a resume service you can trust. Our client's satisfaction is our topmost priority, and we do our best to help you get your foot in the door and land that elusive interview. We take on the hard work of perfecting your resume so you can focus on other aspects of your application.
5. Applicant tracking system? No problem!
Applicant tracking systems have become the brick wall that prevents many qualified applicants from getting called in for an interview. Our ATS resume service writers have a keen understanding of the inner workings of these systems, thus ensuring an ATS-friendly resume that will overcome ATS screenings and get shortlisted by recruiters.
Contact Resumeble today for an ATS-friendly resume
Elevate your application to new heights with the help of Resumeble's top-notch ATS-friendly resume writing services. Send us your resume today for a free, no-obligation evaluation.
-

Check Your Resume Branding

-

Learn About Main Mistakes and How to Fix Them

-

Check if Your Resume is ATS-compliant

-

Get Your Analysis within 24 Hours or Less!
Get a free resume
review
Upload Resume