How to Demonstrate Leadership Skills on Your Resume
Leadership skills are a prime asset in any workplace. Employers want to know that they can rely on their people to work well with others, as well as initiate and make decisions whenever the situation calls for it. In the working world, such abilities are more popularly known as leadership skills. Needless to say, if you're applying for a job, the effective incorporation of leadership skills for resume is a major consideration if you want to get hired quickly.
If you've done some dedicated job hunting, you may have noticed some of the keywords that companies use in their postings such as communication, team player, adaptable, creative, etc. These words relate to a person's leadership skills. But it's not enough to simply mention them on your resume. You have to prove to the company that you well-equipped to thrive and succeed in the position they are offering to you. Here are six tips from our professional resume writers on demonstrating your leadership skills on resume.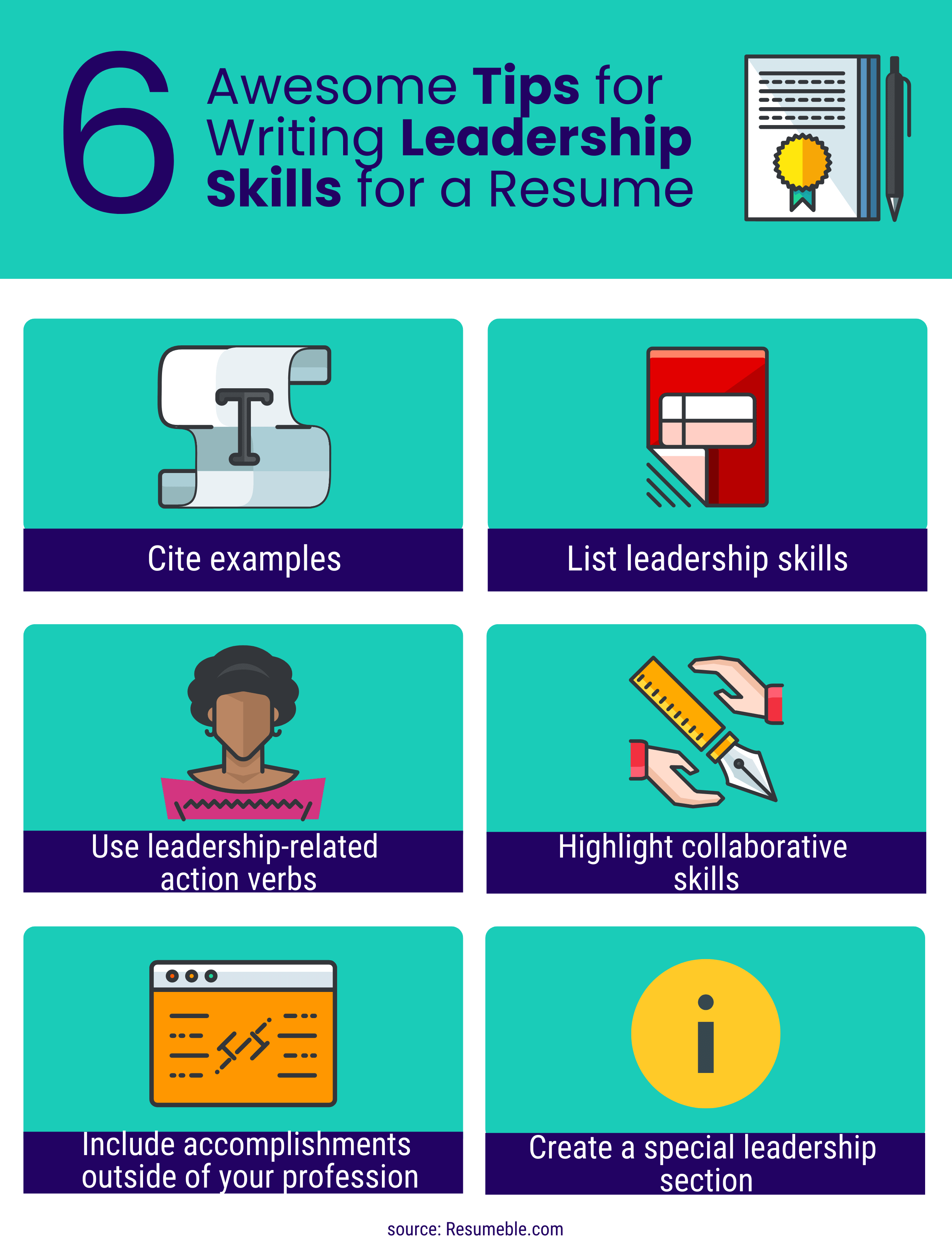 1. Cite examples
It's quite common for an applicant to simply state that they have leadership skills on resume, but if you want to stand out, you need to provide concrete examples of how you successfully applied your leadership skills in the past. Even if you were just an entry-level employee in your previous job, list any accomplishments helped by your input. Here are some samples:
Spearheaded major projects from conception to completion, resulting in improved 50% profits for the company.
Initiated conversation between administration and supplier to lower price acquisition of raw materials by 10 percent.
Coached new hires for quicker integration and assimilation to their respective teams, thereby reducing downtime by 30%.
When mentioning leadership skills for resume, make sure to use quantifiable results whenever possible. Employers appreciate statistics and hard numbers because it tells them that your efforts lead to specific metrics of success.
2. List leadership skills on resume based on the job description
The job posting can be a valuable source of the leadership skills that you must include in your resume. Companies are often very specific about what they want from potential hires, so comb over the job description carefully and develop your resume according to their criteria. Take note of important keywords, and make sure to include them in your leadership skills to put on resume. For instance, if the description mentions "delegating tasks," "adaptability," or "relationship building," try to incorporate these in an organic and natural manner to catch the attention of recruiters and hiring managers.
3. Use leadership-related action verbs
Take time to research action verbs that are associated with leadership, including advocated, assembled, campaigned, engaged, empowered, mobilized, enabled, and more. These words help reinforce your ability to lead. When listing responsibilities, make sure to begin your sentences with these leadership-related action verbs for a more impactful way on how to demonstrate leadership skills in resume.
4. Highlight collaborative skills
"A good leader is a good follower," as they say, and your resume needs to convey that you are someone who works well with a team just as you are good with leading. No employee stands alone in an organization, after all, so aside from listing formal management experience, make sure to show team accomplishments. The ability to communicate, delegate, and cooperate are essentials in any job, and you need to show that you are willing to work with a team just as you are ready to lead.
5. Include accomplishments outside of your profession
Even if you've never held a managerial position before, you could still possess plenty of leadership experience—perhaps outside of work. Take a good look at your hobbies and interests to see if you have held leadership roles and responsibilities in any of them. Maybe you're the president of a local book club. Or perhaps you've been the chair of a community committee. Experiences such as this help highlight your leadership abilities, while also giving the recruiter or hiring manager better insight into your personality.
6. Create a special leadership section
If you're applying for a leadership role, you may want to create a separate section for leadership skills on resume. This is a great way to bring better emphasis to your leadership skillsets while providing the recruiter or hiring manager with a better context of your capabilities. Give your separate section a specific title, such as "Leadership Experience" or "Leadership Roles," to call the reader's attention to it.
Looking to elevate your resume
It helps to have an expert's objective eye take a look at your resume and see how and where it can be improved, from incorporating good leadership skills for resume, to proper formatting, to ensuring that it is error-free, and more. Resumeble's highly experienced in-house writers have helped many applicants like you land their dream job. Let us help you develop your resume into an application that will draw recruiters and hiring managers like bees to honey. Upload your resume for a free, no-obligation analysis to know where you stand.
-

Check Your Resume Branding

-

Learn About Main Mistakes and How to Fix Them

-

Check if Your Resume is ATS-compliant

-

Get Your Analysis within 24 Hours or Less!
Get a free resume
review
Upload Resume