Best 10 Creative Resume Writing Ideas
Whether you're a recent college graduate or an experienced professional looking to forge a new career path, a resume is going to be a necessary tool for you to land your next job. But not just any resume—to stand out from the pack, you need an exceptionally unique and imaginative resume, especially if your specialty is in the creative fields such as photography, graphic design, animation, and the like. Here are some creative resume writing ideas, tips, and tricks to help you take your creative writing resume to another level.
What is a creative writing resume?
A creative writing resume uses both imagination and inspiration in order to showcase your skills in a unique way and differentiate yourself in a highly competitive job market. But since a resume is still essentially a formal document, your creative touches should still be grounded in professionalism. Use the creative resume writing ideas below to ensure your resume gets read by a potential employer and not tossed to the side.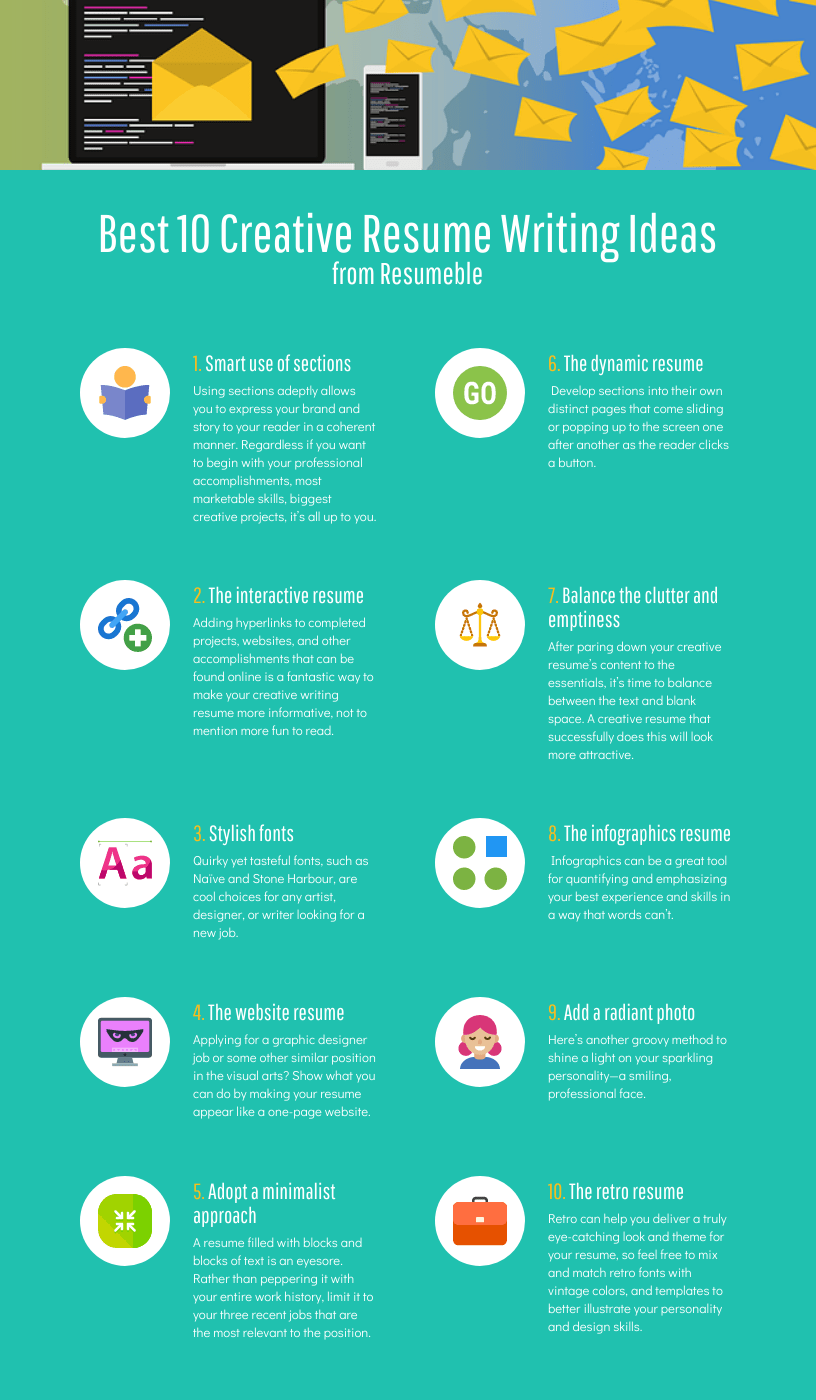 1. Smart use of sections
Using sections adeptly allows you to express your brand and story to your reader in a coherent manner. Regardless if you want to begin with your professional accomplishments, most marketable skills, biggest creative projects, it's all up to you. It all depends on what you want to say, and you can use sections to arrange the order in which to present your narrative.
2. The interactive resume
Adding hyperlinks to completed projects, websites, and other accomplishments that can be found online is a fantastic way to make your creative writing resume more informative, not to mention more fun to read. For example, say you did some freelance web developing for a certain startup, hyperlinking the website to the phrase "did freelance work for (name of company)" makes your resume feel more responsive, allowing recruiters and hiring managers to immediately check what you're talking about. Save your readers the trouble of searching for your work and they'll be sure to appreciate the thoughtfulness.
3. Stylish fonts
Choosing an out-of-the-box font for your creative writing resume is a terrific approach to showcase the uniqueness of your personality. Just make sure to use only one type of font for the entire document—you don't want your reader to think that you have multiple personalities, or worse, indecision. Quirky yet tasteful fonts, such as Naïve and Stone Harbour, are cool choices for any artist, designer, or writer looking for a new job.
4. The website resume
Applying for a graphic designer job or some other similar position in the visual arts? Show what you can do by making your resume appear like a one-page website. Add some personality to the header by making it look like a site's menu. Break up the page with alternating background colors for easy-to-view and more digestible sections. Incorporate a sleek, clean, and modern design. The better you apply your fine-tuned artistry to your resume, the better your chances of getting scheduled for an interview in your particular area of graphic design.
5. Adopt a minimalist approach
A resume filled with blocks and blocks of text is an eyesore. Rather than peppering it with your entire work history, limit it to your three recent jobs that are the most relevant to the position—there's no need to include that fast food job you took in college flipping burgers to pay for tuition. The same goes for education. If your major has nothing to do with the fashion design job you're applying for, then it's not going to be a qualifying factor in your application. Remember that in the creative field, it's your portfolio that gets your foot in the door, not your degree.
6. The dynamic resume
Emails allow you to send documents with movement and animation. Why not incorporate these into your resume? Develop sections into their own distinct pages that come sliding or popping up to the screen one after another as the reader clicks a button. This is one of those really cool creative resume writing ideas to capture the attention of any recruiter or hiring manager in the field of visual arts!
7. Balance the clutter and emptiness
After paring down your creative resume's content to the essentials, it's time to balance between the text and blank space. A creative resume that successfully does this will look more attractive, and the information easier to digest. It can also serve you well to use color blocks instead of white space on your resume since you are in the creative field. Use blocks of different colors to guide the eye, showcase important credentials, and evoke your reader's emotions.
8. The infographics resume
An infographic is a technique employed by website designers to make information easier to digest. That said, there's no reason you can't incorporate the style into your creative resume. Infographics can be a great tool for quantifying and emphasizing your best experience and skills in a way that words can't.
9. Add a radiant photo
Here's another groovy method to shine a light on your sparkling personality—a smiling, professional face. By including a photo, you let your reader see the human behind the resume. Your photo can be a small as a thumbprint or as big as a Facebook cover image. If you choose to go big, you can turn your photo into its own color block.
10. The retro resume
Retro is always in fashion, so if you have a favorite era in mind, think of how you can apply design elements from that period into your creative resume. Retro can help you deliver a truly eye-catching look and theme for your resume, so feel free to mix and match retro fonts with vintage colors, and templates to better illustrate your personality and design skills. The more unique and striking your resume, the harder it will be to ignore.
Additional creative resume tips
You're free to unleash your creative resume writing ideas, but that doesn't mean you can go wild with your designs. It still pays to use some tried-and-true techniques to make sure recruiters and hiring managers will be interested to read it. Here's what you should always keep in mind.
Quantify your achievements – rather than saying you "wrote website content for the company," try something like "I wrote over 500 articles for the company's blog post, resulting in 50% increase in daily traffic over the course of 2 years." By quantifying your successes, you let recruiters see how big of an impact you made at your previous job.
Write an error-free resume – as your professional representation, your resume should be free of errors, inaccuracies, inconsistencies, and fluff. This means no typos, wrong formats, irrelevant info, and vague sentences. Keep checking your resume for mistakes, and don't send it out until you're sure it's perfect.
Keep your resume lean and clean – your skills, work history, and level of accomplishments—these are really the only pieces of personal information that employers are looking for. Avoid making your resume too long and peppering it with unnecessary particulars. Again, make smart use of blank space.
Looking for professional help with your creative resume?
Our creative resume writing services can give you the help you need to elevate your resume to where it needs to be. Choose from one of our packages for your resume. Contact us for top-caliber creative resume writing services today!
-

Check Your Resume Branding

-

Learn About Main Mistakes and How to Fix Them

-

Check if Your Resume is ATS-compliant

-

Get Your Analysis within 24 Hours or Less!
Get a free resume
review
Upload Resume