Resume Writing Service vs. Resume Builder
Despite the many employment-related downturns and setbacks caused by the COVID-19 situation, the good news is that many organizations big and small still continue to hire, and as the world rebounds from the pandemic, it's safe to expect the hiring rates to increase even more. Speaking of hiring, how's your resume? If your self-made resume isn't getting the responses you're looking for, perhaps you're thinking of using a resume writing service or resume builder. But which one should you choose?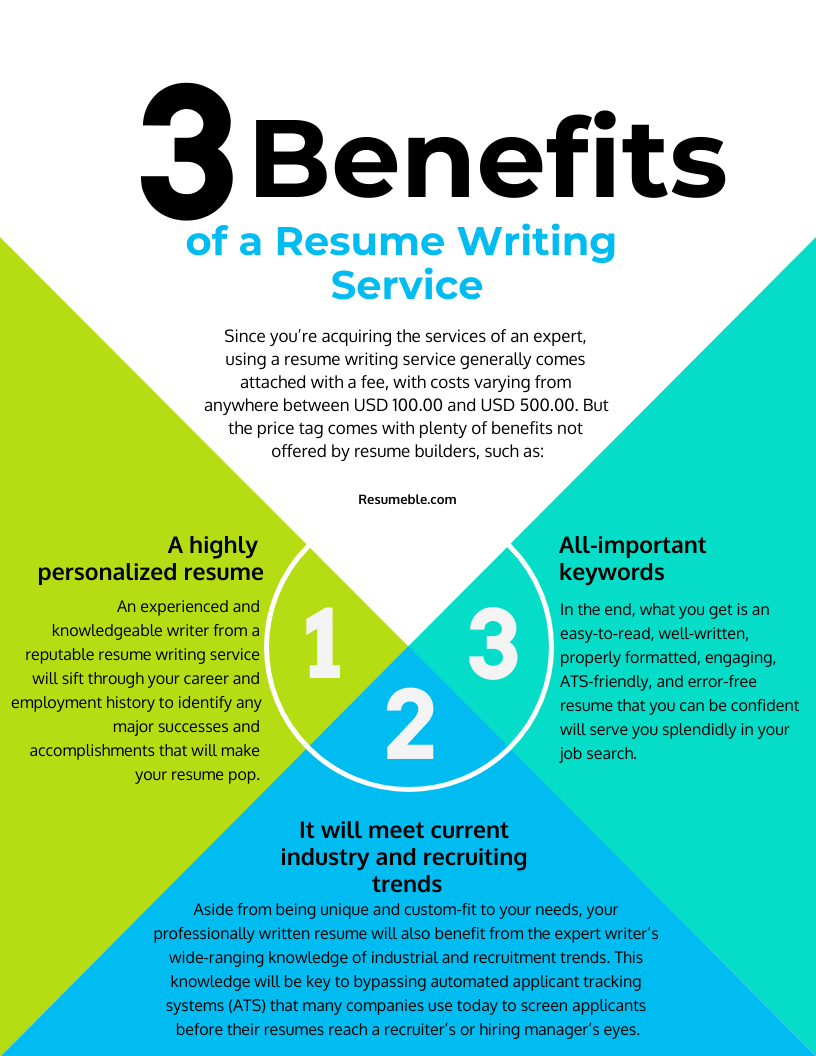 Resume builder
A resume builder is an online application that allows you to build your resume using templates, pre-written text, and other pre-existing formatting tools. Some of the more popular names include ResumeHelp, ResumeNow, and Zety, among others. Despite the many different options you can find on the web, the idea behind resume builders is pretty much the same—to equip you with all the tools you need to build your resume on your own.
Pros and cons of using a resume builder
Perhaps the biggest advantage of using a resume builder over a resume writing service is the affordability—some even allow you to craft your application completely free of charge. There's also the speed at which you can have a finished product. With a few clicks of a button, you can have a resume ready to send out to employers in a matter of minutes.
Granted, the benefit of speed and affordability seem unbeatable at first glance, but the adage 'you get what you pay for' often applies to these services. So what are the cons of using a resume-building app? First off, pre-made templates and text mean that you have few options in terms of customization. You may have to settle for what they have available, instead of having a resume that fully meets the requirements of your industry.
That's not to say that a resume builder can't work for you. If you're a gifted writer who's willing to put in the time and effort to turn out a high-quality resume, going with a resume-building app can be a great option. Otherwise, your resume will lack that 'unique' and 'impressive' quality that will help you stand out from the horde of applicants.
Resume writing service
Like what we offer here at Resumeble, a professional resume writing service provides that all-important 'human touch' to the resume-building process. You will have an actual person—an expert resume writer—develop your resume with you and guide you every step of the way to ensure that the finished product is pitch-perfect, high quality, professional, and unique. Not to mention, a resume writing service is guaranteed to incorporate best resume practices and meet your industry's most stringent hiring requirements.
Typically, when using a resume writing service, you get to talk to a representative who will interview you thoroughly, and then pass your information on to their in-house writer. Resumeble takes that one step further by partnering you directly with one of our writers with whom you will be in constant contact until you are satisfied with your resume.
Pros and cons of using a resume writing service
Since you're acquiring the services of an expert, using a resume writing service generally comes attached with a fee, with costs varying from anywhere between USD 100.00 and USD 500.00. But the price tag comes with plenty of benefits not offered by resume builders, such as:
A highly personalized resume
An experienced and knowledgeable writer from a reputable resume writing service will sift through your career and employment history to identify any major successes and accomplishments that will make your resume pop. Aside from highlighting your best qualifications, a professional writer will be able to express these in a way that would truly impress any recruiter or hiring manager reading it.
It will meet current industry and recruiting trends
Aside from being unique and custom-fit to your needs, your professionally written resume will also benefit from the expert writer's wide-ranging knowledge of industrial and recruitment trends. This knowledge will be key to bypassing automated applicant tracking systems (ATS) that many companies use today to screen applicants before their resumes reach a recruiter's or hiring manager's eyes.
All-important keywords
Speaking of ATS, your resume is also assured to contain keywords that these automated tools search for, so it will pass the screening process with flying colors. In the end, what you get is an easy-to-read, well-written, properly formatted, engaging, and error-free resume that you can be confident will serve you splendidly in your job search.
Is a resume writing service worth it?
There's really no right or wrong answer when it comes to deciding whether to go with a resume writing service or an app—it's all about which one you believe will deliver the ideal result, which is for you to get a call in the shortest time possible. A resume builder lets you create a proper-looking resume in a very small amount of time, but generally speaking, you can't rely on them to deliver to you a glowing resume where your credentials jump out of the page.
If you're looking to get hired real quickly, services like Resumeble offer a 60-day interview guarantee. You'll be hard-pressed to find such a solid offer from the many run-of-the-mill resume builders online.
And there's the issue of cost. Although a resume-building app is inarguably the cheaper choice upfront, a professionally written resume can actually help you command a bigger salary. You may have saved a few hundred dollars with a resume writing app, but over time, you may soon realize that you've lost more than you gained. That alone is an easy answer to the question, "Is a resume writing service worth it?"
Of course, not all resume writing services are the same, that's why you have to do your research on what a service is capable of. Lookup reports about the service, read customer reviews online, and most importantly, make sure to ask about their success rate, years of experience, and how well they know your industry. You need to do your due diligence to ensure that the money you lay down is well spent.
Have you made your decision yet?
The COVID-19 situation dealt a huge blow to many global economies, resulting in massive layoffs, high unemployment rates, and other challenges that make it harder for job seekers to land a job. As you prepare to reset your career, you're going to need all the help you can get. If you've decided that it's better off to use a professional resume writing service, Resumeble has three packages for you to choose from, along with other add-on services to meet your needs. Reach out today to learn how we can help you elevate your resume. Better yet, send us your current resume today for a free, no-obligation evaluation.
-

Check Your Resume Branding

-

Learn About Main Mistakes and How to Fix Them

-

Check if Your Resume is ATS-compliant

-

Get Your Analysis within 24 Hours or Less!
Get a free resume
review
Upload Resume