How to Create an Interactive Resume
Your resume serves as your first impression, business card, and marketing tool to potential employers. Needless to say, the document that you send out to them needs to appear attractive and visually engaging if you want to stand out from a sea of applicants. One of the ways to ensure that your resume will get noticed is to create an interactive resume. Learn more about this relatively new approach to resume writing below.
What is an interactive resume?
An interactive resume is a digital document that contains interactive elements such as links, graphics, animation, and even audio visual content. Contrary to the regular one-page paper-based resume, an interactive resume can be more engaging, more memorable, and more persuasive. When done right, an interactive resume accomplishes far more than what you can do with a traditional-style resume, as it allows you to showcase your skills, experience, capabilities, and accomplishments in a truly fresh, original, and inspired way.
6 tips to make the best interactive resume
The most important tip to remember when making an interactive resume is to think of your resume as a storytelling tool and not merely an application document. With this in mind, you'll be in a better mindset to develop an interactive resume, even when you have limited graphic design and/or web developing skills. Without further ado, here are six tips to make a resume as effective and exciting as it can be.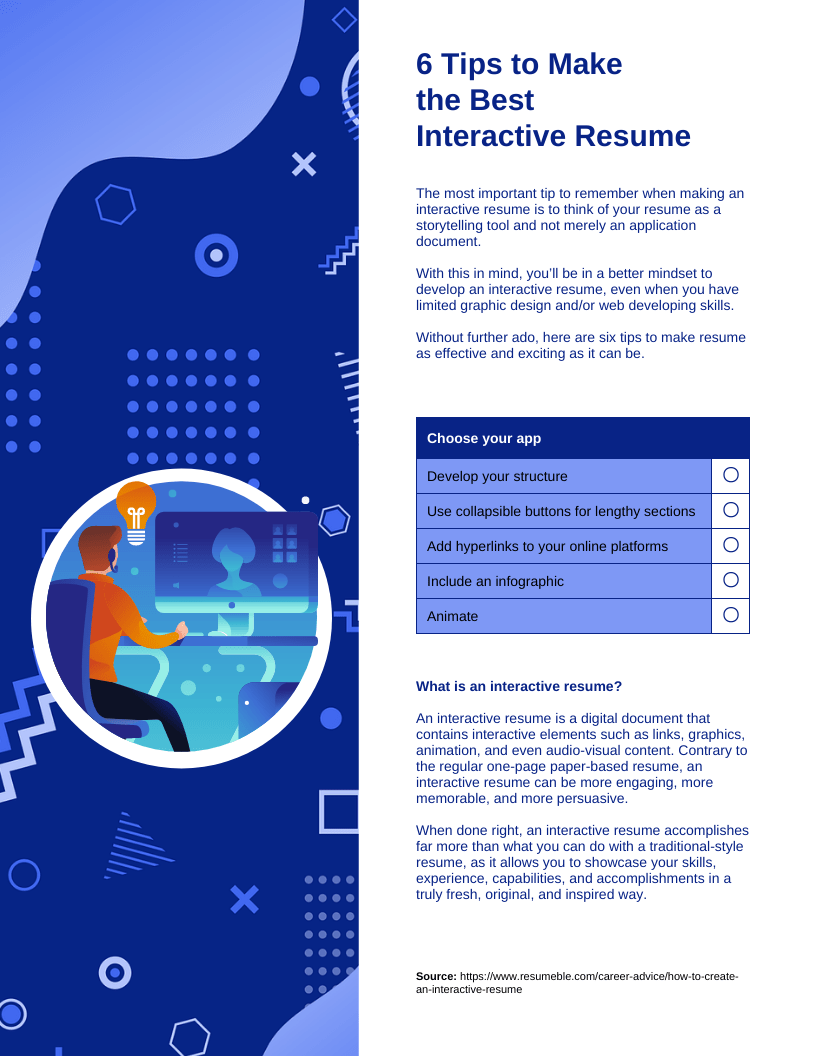 1. Choose your app
There are many apps to be found for both web and mobile devices to make your resume more interactive and awesome. Some of the more popular tools out there include Hiration, Visualize.me, Visual CV, and Behance, to name a few. These apps simplify the addition of many interactive features, that even a newbie will be able to craft an engaging and vibrant interactive digital resume in no time at all. Test these apps for yourself, and then take the time to learn the ins and outs of your tool of choice.
2. Develop your structure
Every story has a beginning, middle, and end—the same goes for your resume. That's why you need to plot out your structure before you even begin to develop your interactive application. It can help to view interactive templates for inspiration so that you can know where each section should go for optimal placement, but remember that your ultimate goal is to make a design that is truly your own.
3. Use collapsible buttons for lengthy sections
When you have a work history that counts more years than you have fingers, you can place it under a collapsible button so that you can save valuable space. Collapsible buttons are useful for when you think you could be overloading recruiters and hiring managers with too much information. Aside from experience, you can also use collapsible buttons on your education and achievements if you want to elaborate on them more than what the limited space allows.
4. Add hyperlinks to your online platforms
If you have a social media or online channel that contains your portfolio, you can add hyperlinks to their mentions to help your potential employer access them. This will save them time looking you up, and they are sure to appreciate the effort. Whether it's your LinkedIn profile, website, or email address, hyperlinks are an excellent way to enhance your interactive resume and make it easier for readers to learn more about you.
Some important tips when hyperlinking for best interactive resume—use a different color font to make the links easily identifiable. It can also help to underline, as this is the accepted universal format, making it simpler to understand that you've added links to your resume.
5. Include an infographic
Infographics use colored sections to present key information about your professional history. They can immediately make your resume more eye-catching, although you have to be careful and take a minimalist and conservative approach with the design and placement of info, otherwise you can end up making your resume harder to read and digest.
To make an infographic, start by making an outline on paper detailing all the information you want to include. Arrange the information and build your template, then customize and make the design your own.
6. Animate
If you're in the creative field, you're going to set yourself back from the competition if you don't animate your resume, which is the new standard for job searching in imaginative positions such as video editor, graphic designer, and layout artist. With animation, you will be able to impress potential employers with your video skills before you even walk in the door. As an add-on to your interactive application, animated videos are a great complement to your skills and experiences.
Aside from showing off your capabilities—proving that you can walk the walk—an animated resume is effective in capturing short attention spans. This can be especially helpful, considering that most recruiters today take only an average of six seconds to assess if a resume should be 'saved' or sent to the recycle bin.
That said, animation takes a bit of a learning curve, and should primarily be used for jobs in the creative fields. Otherwise, you're best using other methods of interactive resume writing. Especially if you're applying for a senior or executive job, or some other traditional-type position that requires a bit of formality, it may be best to stick to the tried-and-true resume format.
Want to make the best interactive resume possible?
Our writers have in-depth knowledge of best practices related to interactive resume writing, and can give you the help you need to elevate your resume to where it needs to be. Contact us for top-caliber interactive resume writing services today!
-

Check Your Resume Branding

-

Learn About Main Mistakes and How to Fix Them

-

Check if Your Resume is ATS-compliant

-

Get Your Analysis within 24 Hours or Less!
Get a free resume
review
Upload Resume