TOP-5 Benefits of Hiring LinkedIn Resume Writers
As your formal and professional representation, your LinkedIn profile needs to be written with top-caliber quality in mind. Otherwise, it won't be able to attract the right kind of attention. And if you can't get recruiters and potential employers to visit your profile and spur their interest, your job hunting pursuits are as good as over. That said, unless you're a bonafide wordsmith, writing an engaging LinkedIn resume is going to be easier said than done. And that's why you stand to benefit immensely from hiring LinkedIn resume writers.
What are the top five benefits of hiring a professional LinkedIn resume writer?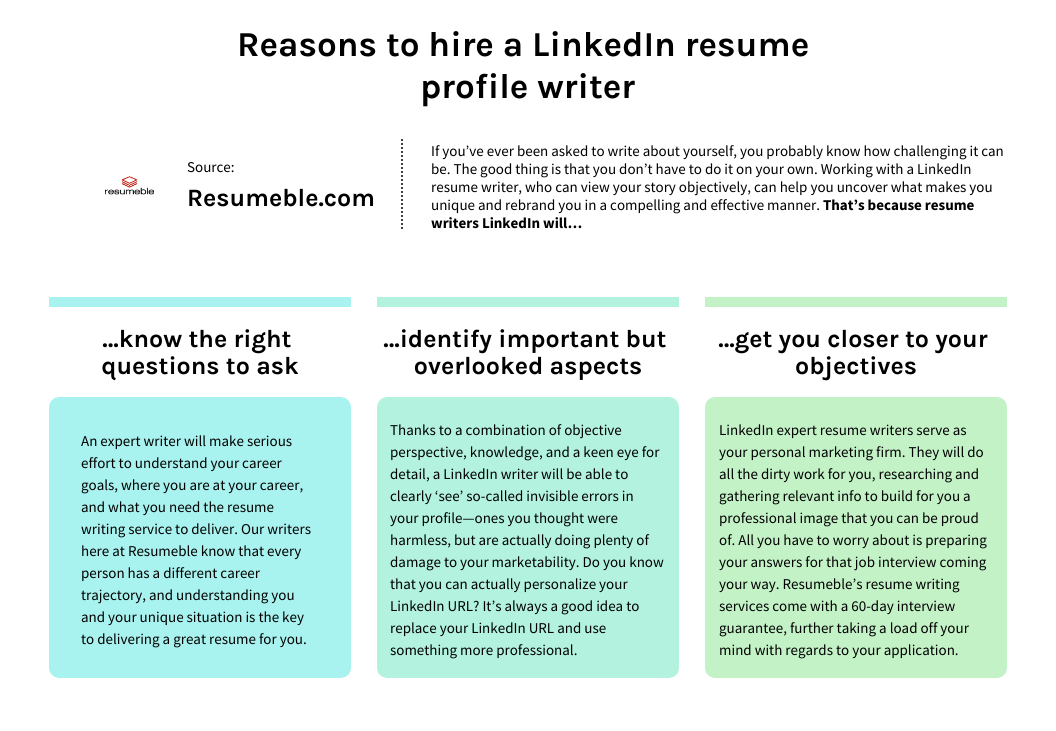 Not everyone is born a gifted writer, but everyone is going to need one from time to time. For sure, your LinkedIn profile is one of those instances where you could certainly use the services of an experienced scribe. If your profile is failing to catch the attention of your target employers, it may be time to invest in a professionally written LinkedIn profile.
LinkedIn resume writers are trained not only to highlight your qualifications in the best light possible but also to ensure that your resume contains the right keywords to guarantee that it will be found in search. With this in mind, it's time to discuss how hiring LinkedIn resume writers can be beneficial to you in more ways than one.
1. You will be easier to find
Believe it or not, recruiters and employers are actively seeking out exceptional talent on LinkedIn. Getting singled out among throngs of candidates like you can get you closer to finally landing your dream job. If you're not receiving messages in your inbox, or if your profile views are low, the lack of keywords could be the culprit.
Thanks to training and experience, professional resume writers LinkedIn will know what terms and phrases to use to match your industry, so anyone looking for your particular skillsets will find you quickly and easily. Simply put, you'll achieve better online visibility when you're partnered with the best LinkedIn resume writers, like the ones we have here at Resumeble.
2. You'll have your best qualifications put forward
As if picking your best achievements and contributions isn't hard enough, you also have to present them in a way that potential employers can see the value that you can bring to their organization. LinkedIn resume writers will find the perfect words to best describe and call attention to your list of skills and experiences.
If you don't know where to begin with your LinkedIn profile, then it's time to consider getting some help from expert LinkedIn resume writers. Recruiters and hiring managers will not only notice, but also appreciate LinkedIn accounts written expertly and professionally.
3. Your LinkedIn profile will be more unique
With so much competition, you can't afford to have a boring LinkedIn profile that will only get drowned in the sea of mediocre accounts out there. To stand out, your LinkedIn summary should market your strengths and match your skillsets to the job, and that can only happen when your LinkedIn profile is unique and well-written. An excellent LinkedIn profile resume captures the attention of recruiters and employers, sells your strongest skills and achievements, and describes in detail how you're the right candidate for the position. You won't have to worry about checking these boxes when you have professional resume writers LinkedIn optimizing your content for you.
4. You'll appear positively confident
We are all taught that it's wrong to brag, but how else would recruiters know what you're capable of if you don't show off your skills and qualifications? It's all about mastering the art of the 'humblebrag,' the method in which you can communicate your accomplishments in a confident and yet not an arrogant way.
If you find it difficult to talk about your achievements, LinkedIn expert resume writers will know how to sell your skills and qualifications so you'll become amiable to your reader instead of a turn-off.
5. You'll earn more
The cost of hiring LinkedIn resume writers—a few hundred dollars. The cost of writing your content on your own—zero. If upfront spending is your only consideration, it's a no-brainer. However, it's also worth considering the long-term implications.
Survey upon survey has proved that those who have their resume professionally done earn more than their do-it-yourself counterparts— up to 7 percent more, to be exact. Not only that, candidates who hire resume writers LinkedIn get hired faster, as their resumes are often more preferred by the recruiters and hiring managers who read them.
Save today, lose money later—that's what it all boils down to. If you're looking to maximize your salary, the easy answer is to have your LinkedIn profile handled by a skilled and experienced writer.
Reasons to hire a LinkedIn resume profile writer
If you've ever been asked to write about yourself, you probably know how challenging it can be. The good thing is that you don't have to do it on your own. Working with a LinkedIn resume writer, who can view your story objectively, can help you uncover what makes you unique and rebrand you in a compelling and effective manner. That's because resume writers LinkedIn will…
…know the right questions to ask
An expert writer will make serious effort to understand your career goals, where you are at your career, and what you need the resume writing service to deliver. Our writers here at Resumeble know that every person has a different career trajectory, and understanding you and your unique situation is the key to delivering a great resume for you.
…identify important but overlooked aspects
Thanks to a combination of objective perspective, knowledge, and a keen eye for detail, a LinkedIn writer will be able to clearly 'see' so-called invisible errors in your profile—ones you thought were harmless, but are actually doing plenty of damage to your marketability. For instance, do you know that you can actually personalize your LinkedIn URL? It's always a good idea to replace your LinkedIn URL and use something more professional, impactful and personal.
Anything that can give you a small advantage over the competition is a worthwhile undertaking, and expert writers like the ones we have at Resumeble are adept at identifying and correcting seemingly minor errors.
…get you closer to your objectives
LinkedIn expert resume writers serve as your personal marketing firm. They will do all the dirty work for you, researching and gathering relevant info to build for you a professional image that you can be proud of. All you have to worry about is preparing your answers for that job interview coming your way. Resumeble's resume writing services come with a 60-day interview guarantee, further taking a load off your mind with regards to your application.
Best of LinkedIn pro resume writers
You will have the best of LinkedIn pro resume writers when you work with Resumeble. We offer LinkedIn write-up services to make your profile shine. Contact us today.
-

Check Your Resume Branding

-

Learn About Main Mistakes and How to Fix Them

-

Check if Your Resume is ATS-compliant

-

Get Your Analysis within 24 Hours or Less!
Get a free resume
review
Upload Resume