An Executive Resume that Works: TOP 5 Tips
It can't be stated enough—having a stand-out resume containing all the relevant components that recruiters are looking for is necessary to securing that elusive interview and landing your next job. A rock-solid resume is even more critical if you're looking to get hired for an executive or managerial position. That said, crafting an executive resume requires a more laser-focused, more tailored approach, so if you want to nab that top-ranking job, here are five best tips to develop a resume suited for it.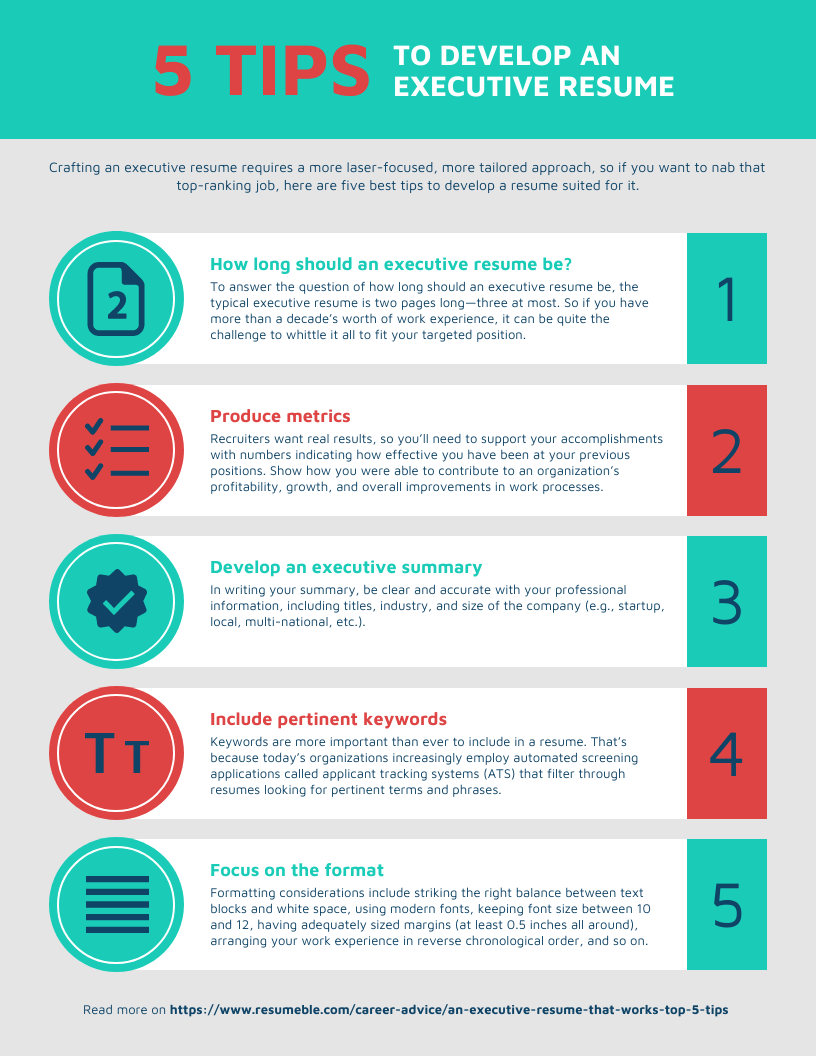 1. How long should an executive resume be?
When writing your C-level resume, taking the less is more approach is going to be crucial. A lengthy resume that simply lists all of your past positions is of no use to recruiters and hiring managers because they do not have the time to review everything. This means you have to cherry-pick your professional skills and experience to the most relevant ones for the executive job you're looking to land.
To answer the question of how long should an executive resume be, the typical executive resume is two pages long—three at most. So if you have more than a decade's worth of work experience, it can be quite the challenge to whittle it all to fit your targeted position. To help with this, try to find a couple of similar job positions online, then highlight the qualifications that match yours. Use those key elements as your foundation for your executive manager resume.
2. Produce metrics
Recruiters want real, measurable results, so you'll need to support your accomplishments with numbers indicating how effective you have been at your previous positions. Show how you were able to contribute to an organization's profitability, growth, expansion, and overall improvements in work processes. Most important of all, express these numbers into easy-to-read bullet points that get straight to the point. Here are some examples:
• Managed up to 100 employees.
• Handled department budget amounting to USD 4 million.
• Directed a 10-person team of technicians to leverage proactive maintenance, resulting in 78% fewer back jobs and 65% fewer issues and tickets to resolve, thereby bolstering sales from USD 5.2 million to USD 15 million.
Note how these sentences begin with active verbs. Using active verbs as opposed to the passive voice (e.g., "I was tasked with," "was responsible for…") helps put the focus on how you accomplished certain tasks or achievements. This allows recruiters and hiring managers to "see" your actual contributions and responsibilities.
If you're having trouble structuring your bullet points, don't hesitate to consult with top executive resume writers like the ones we have here at Resumeble to ensure your resume is on the right track.
3. Develop an executive summary
The resume is quite possibly the one professional document where you are actually expected to brag about yourself. That said, the summary section is hands down the one section in your executive resume that's going to require your serious wordsmith skills in order for you to properly showcase the qualities that make you the ideal candidate.
Since you're applying for an executive position, you need to be even more straightforward with what the organization can expect from you, along with the value that you bring to the table. The executive summary's placement at the top of the resume means it occupies precious real estate, so you need to give it enough time and attention so you can effectively explain your relevant skills, experiences, achievements, and qualifications in three to five brief sentences. Not only that, your statements should be well-developed if you want to grab the recruiter's attention and convince them to read the rest of your application document.
In writing your summary, be clear and accurate with your professional information, including titles, industry, and size of the company (e.g., startup, local, multi-national, etc.). You will also want to include the scope of your responsibilities, whether (e.g., city-wide, county-wide, statewide, national, global, etc.). Set the tone by offering your best accomplishments first. This may include awards, recognitions, advanced degrees, special certifications, and the like.
4. Include pertinent keywords
Keywords are more important than ever to include in a resume. That's because today's organizations increasingly employ automated screening applications called applicant tracking systems (ATS) that filter through resumes looking for pertinent terms and phrases. ATS does this to significantly reduce the volume of sent applications down to only the most qualified ones. For this reason, your resume should contain all the right keywords if you want it to qualify in the "eyes" of an ATS.
But more than just to pass ATS screenings, keywords should still be placed in your resume to assure recruiters and hiring managers that you are worthy of the executive position they are offering. Given that most of the HR people who will be reading your resume will only take a few seconds to scan your entire application, having keywords makes your executive resume stand out from all other applicants.
So how do you know which keywords to use? The job posting will make a great starting point, as it should contain keywords that you can incorporate into your resume. You may also try similar job listings to figure out the top terms and phrases to use for your particular job and industry.
5. Focus on the format
Executive resume formatting is one of the most important aspects of writing a resume for operation executive. With the proper executive resume format, your document will look attractive, easy to read, and organized. Formatting considerations include striking the right balance between text blocks and white space, using modern fonts, keeping font size between 10 and 12, having adequately sized margins (at least 0.5 inches all around), arranging your work experience in reverse chronological order, and so on.
Indeed, these are just a sampling of the many considerations of writing a resume suited for a managerial or executive position. If all these sound overwhelming, you can always choose to hire top executive resume writers like ours at Resumeble for your resume writing needs.
In need of top executive resume writers?
Resumeble's pool of top executive resume writers has helped turn many applicants into the plum managerial candidates that organizations are looking for. If your resume for operation executive is not getting the attention it deserves, our resume writing service provides you with the guarantee that you will get called in for an interview within 60 days of completing your order. Let us help you be more precise with how long should an executive resume be. Get in touch with us today and see the difference that we can make to your job hunting efforts.
-

Check Your Resume Branding

-

Learn About Main Mistakes and How to Fix Them

-

Check if Your Resume is ATS-compliant

-

Get Your Analysis within 24 Hours or Less!
Get a free resume
review
Upload Resume