Importance of Using Action Verbs and Power Words in a Resume
Companies today are particularly observant of the way applicants use action verbs for resume.

Based on clients who use our free, no-obligation resume evaluation, we have observed that too many applicants simply list their job responsibilities in their resume. Though there's nothing intrinsically wrong with this, it does make the sentences and descriptions boring. And if there's one thing that our resume writing professionals understand, it's that nobody likes to read a boring resume.
So take a closer look at your resume. Do you write your sentences like these?
Responsible for manning reception desk…
Duties included processing cash payments…
Provided assistance to human resources manager in…
If your resume contains any of the phrases in bold, you could inadvertently be destroying your chances of getting shortlisted for an interview. Using weak words like the examples here, you can come off as unskilled, inexperienced, and not really interested in chasing after the job. What you need to do is replace your weak phrases with action verbs and resume power words.
What are action verbs and power words?
The phrase examples above are weak because they tend to "water down" your abilities somewhat. Not to mention, they can also make your sentences unnecessarily longer and harder to understand. Action verbs for resume are simply ways to improve the way you convey your qualifications for a stronger impression.
Action verbs and resume power words, as their names suggest, are words that express active action and power. In the context of your resume, they help clarify your skills, experiences, and accomplishments, and ultimately make your resume sound more confident. Examples of good action verbs for resume include:
Evaluated loan applications for accuracy.
Facilitated workshops and training sessions for project teams
Demonstrated 97% efficiency with Agile Workflows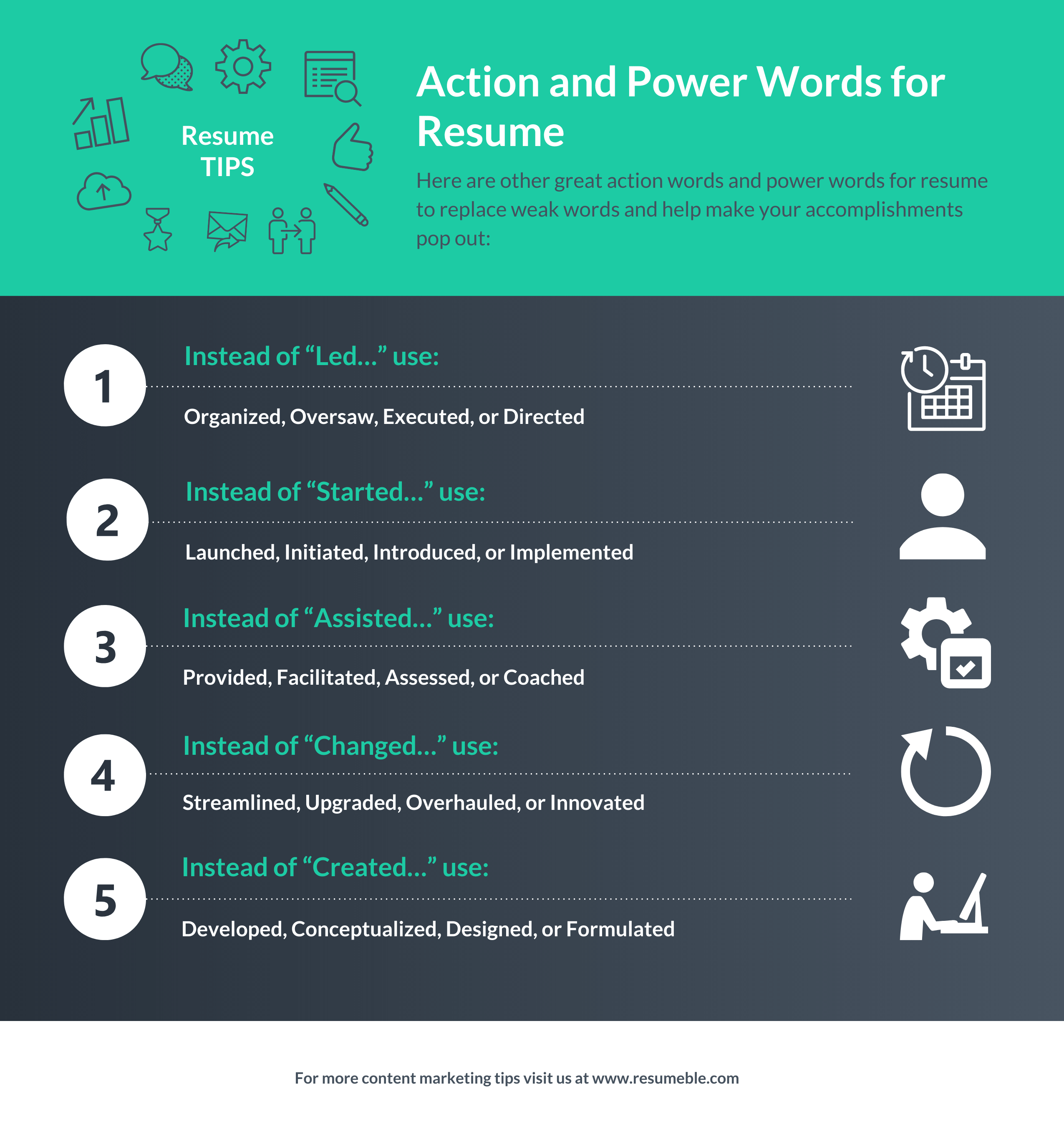 Here are other great action words and power words for resume to replace weak words and help make your accomplishments pop out:
Instead of "Led…" use: Organized, Oversaw, Executed, or Directed
Instead of "Started…" use: Launched, Initiated, Introduced, or Implemented
Instead of "Assisted…" use: Provided, Facilitated, Assessed, or Coached
Instead of "Changed…" use: Streamlined, Upgraded, Overhauled, or Innovated
Instead of "Created…" use: Developed, Conceptualized, Designed, or Formulated
Why use action verbs and power words in your resume?
Since your resume basically requires you to distill all your qualifications down to one page, you have to make every effort to maximize the effectiveness of your descriptions and sentences. Action words and power words help make these descriptions come alive, as opposed to appearing bland and boring. They help make your resume deliver the most impact, and in the process, convince the reader that you are the best candidate for the job.
Benefits of using action verbs and power words in your resume
Action words and power words are more than just persuasive language tools. Their other immediate benefits include:
An easier to read the resume
It seems that recruiters and hiring managers are spending less and less time reading resumes. Now, it's down to an average of six seconds. If your resume can't give them what they want within that short span of time, there's only one place your resume is going—the trash bin.
Action verbs and power words deliver instant information so that readers can easily see what they want to see on your resume. They also make your descriptions more uniform, so sentences flow better from one point to the next. This will encourage readers to spend more time finding out more about your skills and abilities.
A better "picture" for recruiters and hiring managers
Action verbs and power words better illustrate your transferrable skills to employers, because they allow the reader to visualize you doing the work. The power of suggestion inherent in action words helps people picture you in the role as you describe your tasks.
A standout application
Too many applicants make the common mistake of using passive voice in their resume. Imagine yourself as a recruiter sifting through a pile of documents using tired and boring phrases like "worked for," "responsible for," etc., then suddenly, your resume comes along, well-written, and smartly using action verbs and power words. For sure, you're going to want to read more of that resume, and other readers will, too.
With better descriptions for your abilities and achievements, you immediately distinguish yourself from the fray of lazy applicants who use generic words that lull readers to sleep. This can give you the competitive edge you need to attract and sustain a recruiter's attention.
Improved chances against ATS systems
Applicant tracking systems (ATS) are getting smarter by the day. These artificial intelligence-powered systems are actively on the lookout for specific action verbs, resume adjectives, and keywords, screening applications so that employers will only have to choose from highly qualified candidates. By including definitive resume adjectives, verbs, and keywords, you boost your chances of beating the ATS and having your application read by human eyes.
Have your resume written by our professionals
Do away with struggling to find the right resume words to use. Our expert writers at Resumeble can craft for you a resume that will stand out in the eyes of your potential employers. Get in touch with us today.
-

Check Your Resume Branding

-

Learn About Main Mistakes and How to Fix Them

-

Check if Your Resume is ATS-compliant

-

Get Your Analysis within 24 Hours or Less!
Get a free resume
review
Upload Resume