6 Important Rules for Resume Writing from Resumeble
A good resume can be the difference between getting a call from a recruiter and not. Send out a high-quality resume, and potential employers will be lining up to offer you a job. Sure, you may know the basics of resume writing, but if you fail to follow the most important rules for writing a resume, your application won't likely catch the attention of recruiters, and you could stay unemployed longer than you wish to be.
If you've already sent out your resume and somehow you're not getting the responses you expect, perhaps it's time to take another look at your application and see which among the six critical rules for writing a resume you may have violated.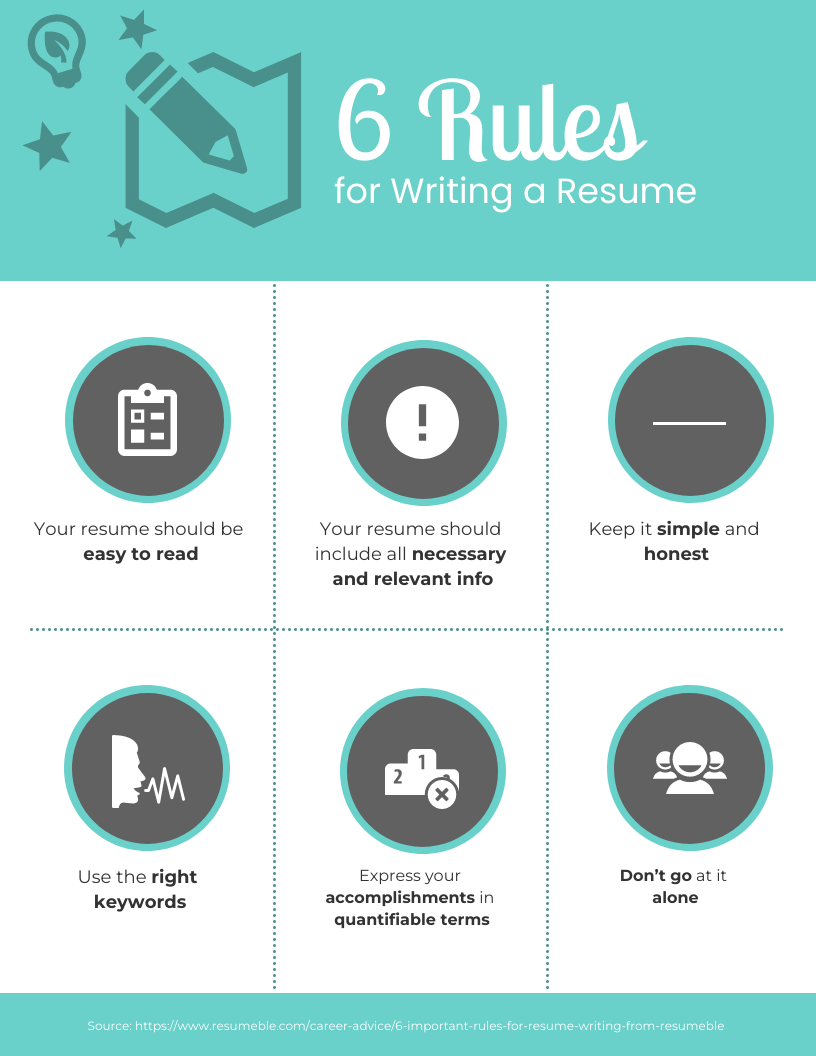 Rule #1: Your resume should be easy to read
Your resume serves as your professional representation, which means it has to have a "pleasing personality," so to speak. Formal wording, easy to read and understand, plus a modern, appealing format—these are the qualities that your resume should possess. As one of the most important rules for writing a resume, here are some tips on how to format your resume for easy reading.
• Use the Harvard format – use the paragraph form for your roles and responsibilities, and bullets for your achievement statements.
• Make each section distinct – most resumes have five major sections (Contact Info, Summary/Objective, Work Experience, Skills, and Education). While every resume is different, you need to organize your resume depending on the role you are applying for and where you stand in your career.
• Avoid fancy and informal words and formatting – keep the content of your resume formal and professional. Otherwise, recruiters will think that you are not treating your application seriously, and will be inclined to return the favor.
Rule #2: Your resume should include all necessary and relevant info
The resume you write should adequately represent your relevant skills and accomplishments, and it all begins by making sure it contains all the basic elements. So when it comes to resume writing rules and guidelines, your application should always include:
Contact info – Placed at the topmost portion of your resume, this section should include your full name, address, email, phone number, and LinkedIn link.
Relevant work experience – Start with your most recent job, and arrange the rest of your work experiences in reverse chronological order. If you have glaring gaps in your employment record, you may want to write a functional resume instead.
Relevant skills – As much as possible, you want your skills to match the requirements stated in the job posting. This is the best way to make it appear that you are highly qualified for the job in the eyes of both recruiters and automated applicant tracking systems (ATS)—the latter of which is being widely used by organizations today to screen resume applications.
Relevant certifications, accolades, and/or academic degrees – Including your significant achievements will help your resume stand out from the sea of applicants that are vying for the position same as you.
Rule #3: Keep it simple and honest
It can be tempting to overstate your accomplishments on your resume to make recruiters and hiring managers to notice you. The thing you have to remember is that in the digital age, it's easier for employers to verify the information you've written in your application. If they decide to look you up on Google or contact your previous associates and references, you certainly don't want them to find out that you have not been completely forthcoming in your resume.
So when it comes to rules for writing a resume, keep your resume simple and straightforward, and make sure each piece of info is accurate. Don't let yourself get carried away. Keep these considerations in mind and your resume will likely be more focused, free of any discrepancy, and more compelling.
Rule #4: Use the right keywords
It can't be stated enough in rules for resume writing—your resume should contain the right keywords if you want it to pass the standards of an ATS. To know the right keywords to use, go over the job description carefully, and try to make a list of the key terms used. These unique words and phrases tend to be industry- and job-specific qualifications, skills, and terms. Some will involve certifications, degrees, job titles, and the like. Incorporating these words into your resume's sections will increase your chances of being shortlisted as a potential candidate.
Rule #5: Express your accomplishments in quantifiable terms
As universal rules for resume writing will tell you, numbers give your resume credibility and accompanying your roles and responsibilities with hard, solid results make you a more valuable candidate in the eyes of recruiters and potential employers. So whenever possible, add percentages and dollars to your achievements to give them more informative detail and weight. Below are some examples of quantified bullet points on a resume.
• Achieved 75% year-over-year sales growth through well-planned marketing campaigns
• Launched a workplace initiative that yielded a 48% in productivity and 56% reduction in downtime
• Managed a staff of 10 team members that brought a 46% increase in profits from the previous calendar year
Rule #6: Don't go at it alone
Even the best writers want to have someone else evaluate their work for them. By having someone else look over your resume, you will have a pair of objective eyes who can see what you could be doing wrong with your application. You can have a friend or family member with a writing background assess your resume for you, or you can have a professional resume writing service like Resumeble provide you with a free, no-obligation resume evaluation.
Resumeble knows all the rules for resume writing
Should you feel that resume writing skills are not up to the task, Resumeble is here to help. Our pool of talented and capable resume writers will work with you to develop an effective resume that delivers results. Contact us for more info about our services.
-

Check Your Resume Branding

-

Learn About Main Mistakes and How to Fix Them

-

Check if Your Resume is ATS-compliant

-

Get Your Analysis within 24 Hours or Less!
Get a free resume
review
Upload Resume