What are TOP skills to include on a CV?
Skills are an integral part of any curriculum vitae (CV). They tell potential employers whether you are an ideal candidate for the job, and not only that, they are also key to passing the dreaded applicant tracking system (ATS) increasingly used by many companies today to screen applicants. Suffice to say, if you want to stand out from the rest of the pack, you not only need to narrow down your list of skills for CV to the ones that employees want to see, you must also effectively express how you've put your skills for CV to good use.
So what are the best skills to put on a CV?
Employers usually give interested applicants all the information they need in the job posting, so make sure you comb over the company advertisement carefully. With that in mind, below are the skills that employers deem most important to have.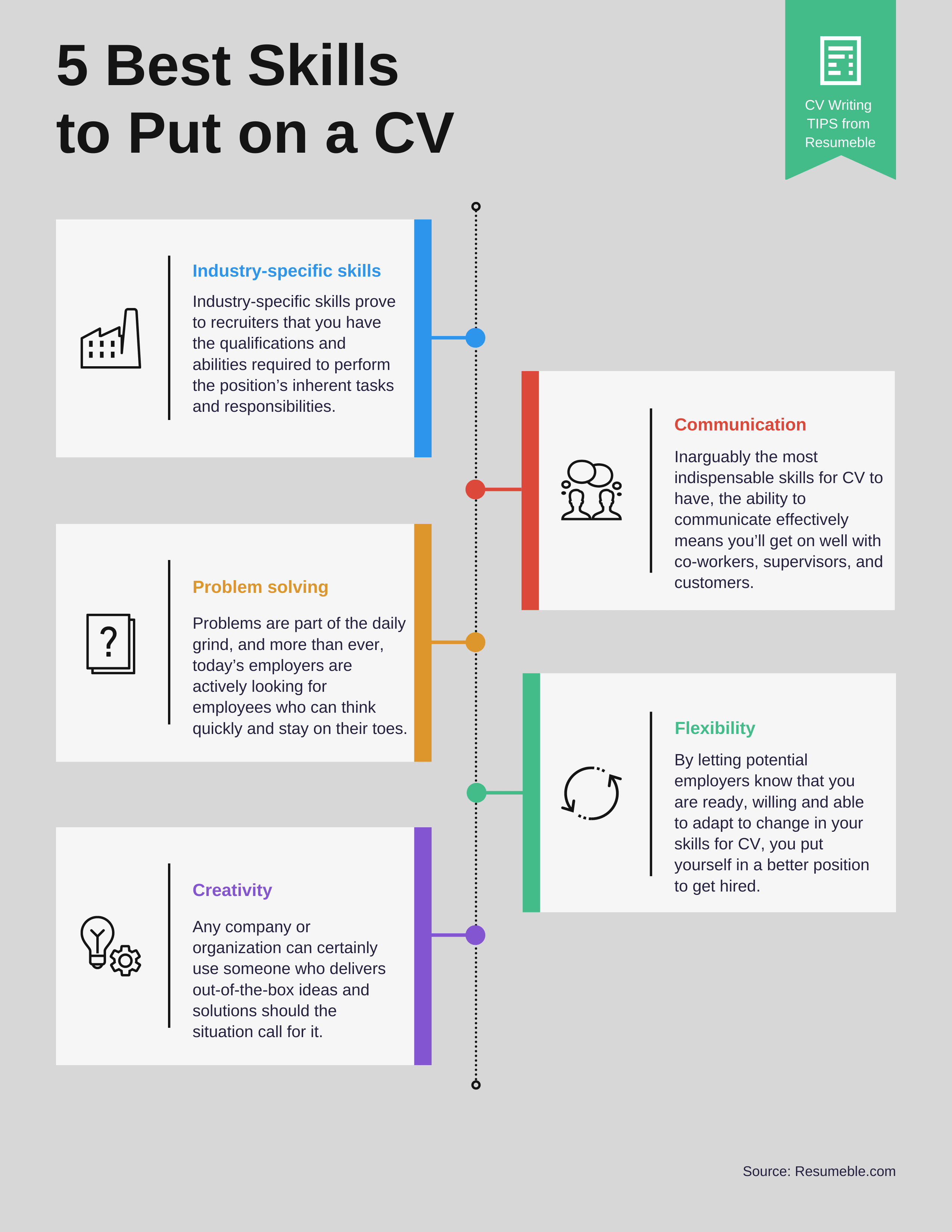 1. Industry-specific skills
Every job in every industry calls for a particular set of skills. For instance, an IT job will require proficiency in computers and programming languages, while customer service necessitates communication, persuasive speaking, and so on. Industry-specific skills, also known as hard or technical skills, must always be part of your skills to put on a CV, because they prove to recruiters that you have the qualifications and abilities required to perform the position's inherent tasks and responsibilities. Some of the most in-demand industry-specific skills today include computer programming, accounting, data analysis, and SEO.
2. Communication
Inarguably the most indispensable skills for CV to have, the ability to communicate effectively means you'll get on well with co-workers, supervisors, and customers. Good communicators are also good listeners who can convey and share their ideas convincingly and assertively while being respectful of other people's perspectives.
3. Problem solving
A knack for solving problems and making decisive actions is a huge asset in a modern employee's skills for CV, especially for those who work as part of a team or large organization. Problems are part of the daily grind, and more than ever, today's employers are actively looking for employees who can think quickly and stay on their toes.
4. Flexibility
Situations can change drastically at work—added responsibilities, new tools and systems, new teams, and so on. By letting potential employers know that you are ready, willing, and able to adapt to change and new situations easily in your skills for CV, you put yourself in a better position to get hired.
5. Creativity
Business environments large and small are becoming increasingly competitive, and any company or organization can certainly use someone who delivers out-of-the-box ideas and solutions should the situation call for it.
How to describe skills on your CV
These days, being highly skilled means very little unless you can convey those skills on your CV in the best way possible. Here's how to ensure the quality of your skills for CV are noticed.
1. Show how you put your skills to good use – cite examples at your previous work where your skills helped the company achieve desired results. It helps if you can convey your accomplishments in a quantifiable manner.
Example:
Communication skills – encouraged the team to start using automated systems, resulting in a 50 percent productivity increase.
2. Use strong, descriptive words – passive phrases such as "responsible for" or "duties included" make an applicant come off as inexperienced or lacking the drive to succeed. Use action verbs and power words for a stronger, more convincing impression.
Example:
Flexibility – self-taught use of new office software to begin company projects up and running.
Let Resumeble take care of your CV for you
Hiring a professional CV writing service is worth its weight in gold. A CV written by an expert will possess everything that will entice an employer to make that call and schedule that interview. With Resumeble in charge, you wouldn't have to worry about your list of skills for CV. Take advantage of Resumeble's 60-day interview guarantee. Learn more about our CV writing service today by clicking on this link.
3 frequently asked questions (FAQs) about CV writing
1. How do you go about choosing the best skills for CV?
Each skill that you list down should add value to your application. Start by carefully reviewing the job posting, then tailor or CV to the sills that recruiters have outlined. That said, every skill that you include in your CV should be one that you possess. Never include a skill that you don't have for the intention of hitting the keywords. You certainly don't want to be found out later that you've been less than forthcoming with the info on your CV.
2. Should you send out your CV even if you don't meet all the required skills?
It depends upon the skill in question. If it's a hard or industry-specific skill that you're missing, you might not even get past ATS systems. However, employers can be more forgiving about soft skills, as these can be learned and developed over time.
3. How long should a CV be?
Unless you have had a lengthy career, it is best to keep your CV to just one to two pages long. This is true for most applicants with less than five years of relevant experience. The exception is if you are applying for a research or academic position.
-

Check Your Resume Branding

-

Learn About Main Mistakes and How to Fix Them

-

Check if Your Resume is ATS-compliant

-

Get Your Analysis within 24 Hours or Less!
Get a free resume
review
Upload Resume