Top 10 Overused Words to Avoid on a Resume
With every passing year, it seems as if employers are taking shorter and shorter time to review the contents of an applicant's resume. It's easy to imagine that one of the reasons is because they're wary of reading the same words and phrases used by one applicant after another. How long do you think before you grow tired of reading words over and over again like "team player," "responsible for," or "proven ability?" Needless to say, if you want to stand out in the crowded job market, you have to work to make your resume sound fresh and exciting. It all starts by avoiding overused resume words.
The top 10 tired and overused words and phrases to avoid on your resume
As your biggest opportunity to land a good first impression, you have to make every word count. This means you must carefully curate the terms and phrases in your resume to ensure you nab the recruiter's attention and convince them to interview you. And that's why it helps to know which words to avoid and which ones to include, and basically secure your chances of meeting a recruiter face to face.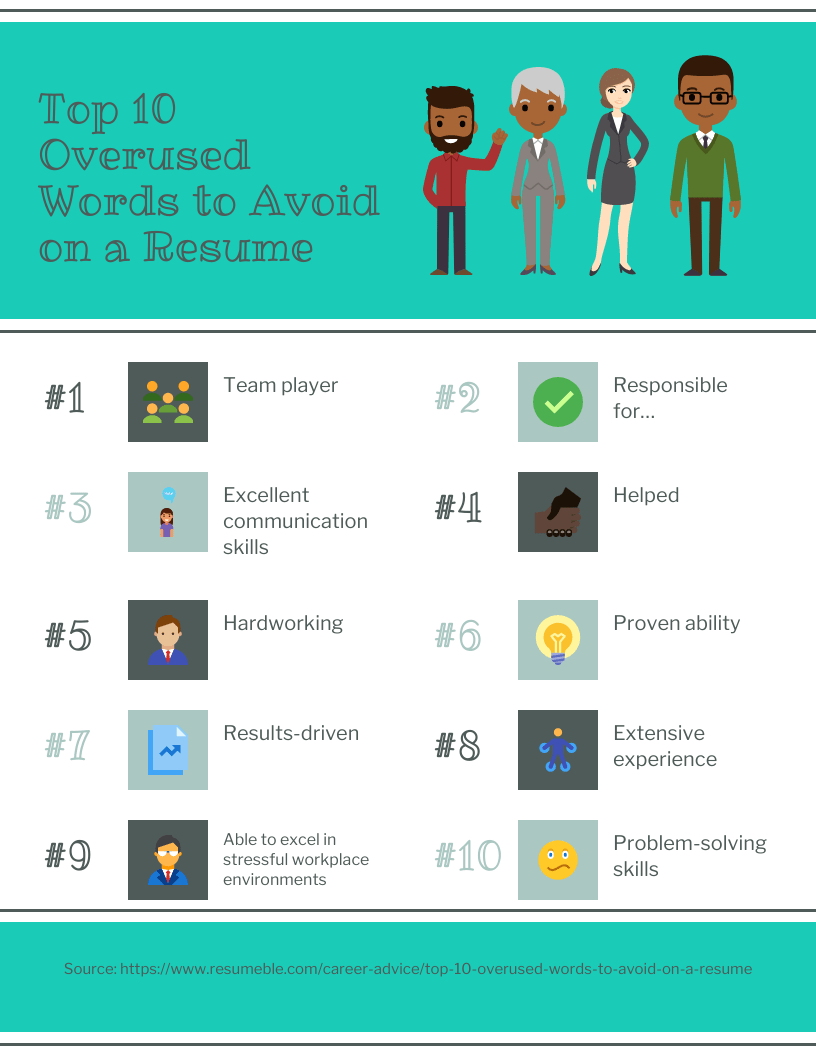 1. Team player
Almost everyone with a bit of work history can claim to be a team player. It's a soft skill that is already expected of any applicant, but hard to prove on paper. Besides, a recruiter or hiring manager can know more about your ability to work well with others during your interview.
What to use instead
Replace it with action verbs like "collaborated," "cooperated," or "co-functioned," and apply them to bullet points that highlight your achievements.
2. Responsible for…
Overused resume words like these make you sound dull and uninspired. Most of all, it makes you appear as if you aren't in control of your actions. Being "responsible for" a duty implies that your work was something that you did involuntarily, so to speak.
What to use instead
Turn this boring phrase into something more decisive with better words like "led," "managed," "initiated," or "launched."
3. Excellent communication skills
Like being a "team player," your communication skills will be put to the test during your interview, so there's really no need to mention these overused phrases in resume.
What to use instead
If the ability to speak accurately, clearly, and as intended is a requirement of the job, your resume will read better if you can describe your communication skills with a tad more specificity. Here are some examples of conveying the effectiveness of your spoken word.
• Empathic listener and persuasive speaker
• Exemplary presentation and negotiation skills
• Confident, articulate, and exceptional in written and verbal communication
4. Helped
Just like "responsible for," "helped" is one of those overused resume words that make recruiters cringe, because it makes an employee sound reactive rather than proactive. Helping or assisting in something indicates that you simply contributed to a success, but it doesn't really say anything about the amount of effort you put in.
What to use instead
Robust verbs like "directed" or "spearheaded" are much more powerful alternative resume words that are not overused. In addition, instead of mentioning that you "helped" achieve a company's overarching goal, focus on your actual contributions to the task and how your work was instrumental in achieving said goal. Here are some sample statements:
• Supervised development of marketing plan that yielded 20 percent YOY increase in profits
• Contacted 500 leads in one week via emails and cold calls, yielding 75 percent conversion rate and helping the company exceed June 2019 monthly sales targets by 64 percent.
5. Hardworking
Hands down one of the most overused resume words and phrases out there—anyone can claim to be a hard worker on their resume, but your statements will be more convincing if you provide detailed descriptions of how an employer benefitted from your extra efforts.
What to use instead
If you really are a hard worker, you can back up that claim with actual data. Here are a few ideas of what you can say:
• Logged average of 3 hours of overtime work in August 2020 to speed up completion of massive public roadway project
• Volunteered to work additional hours every end of month to help meet company's monthly inventory goals
6. Proven ability
Resumes can't actually provide proof, so it's best to avoid terms like "proven." How to handle overused resume words like these? To make your accomplishments more believable, try substituting these clichés with quantifiable results that include hard numbers and percentages.
7. Results-driven
As an employee, it's practically expected that you delivered results. Again, you'll produce a bigger impact by detailing the results you've achieved with numbers and metrics.
8. Extensive experience
Aside from being one of the most overused resume words, "extensive experience" is also overly generic. Besides, you already have your experience section to show your work history. Avoid using this term and you'll have more space for more important topics in your application.
9. Able to excel in stressful workplace environments
This phrase isn't really that deflated, but you should use it with care. If your objective is to demonstrate your decision-making and adaptability, make sure to accompany it with market knowledge, industry-specific proficiency, and/or real measurable achievements.
10. Problem-solving skills
An important soft skill to have, but you have to be more specific—find an actual situation in your work history in which your problem-solving skills were put to good use.
Resumeble knows how to handle overused resume words
Work with Resumeble to elevate your resume to where it needs to be. With in-depth industry knowledge, we can help you avoid all the pitfalls of resume writing, such as overused resume words, grammatical errors, and more. Send us your resume today for a free, no-obligation evaluation.
-

Check Your Resume Branding

-

Learn About Main Mistakes and How to Fix Them

-

Check if Your Resume is ATS-compliant

-

Get Your Analysis within 24 Hours or Less!
Get a free resume
review
Upload Resume