The Best Ways to Start Writing a Cover Letter
A cover letter serves as the cherry on top of the proverbial cake that is your resume. Done properly, it can be the perfect complement to a well-written application document, and open up more opportunities for your career. And just like your resume, you need to start your cover letter with a strong statement that captures the attention of the readers and engages them. Here are three tips on how to start a cover letter with aplomb.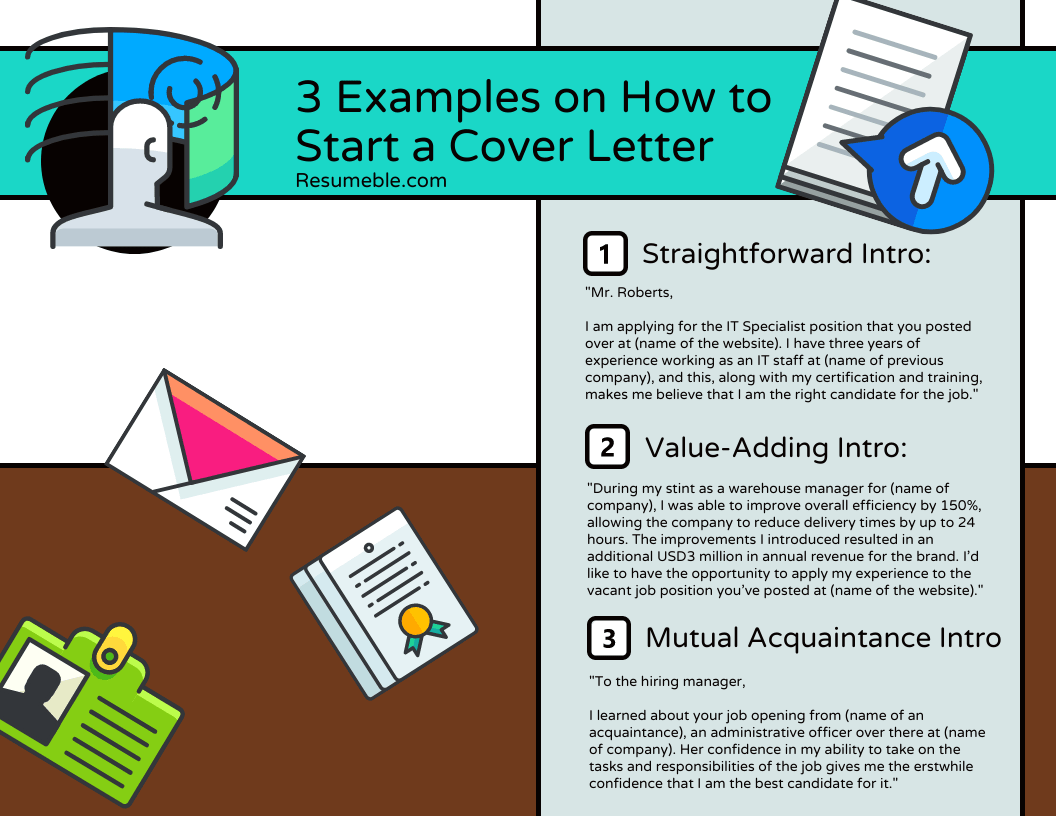 1. Strike a straightforward tone
If you've done your research on resume writing, you may very well know that HR people take only seconds to scan and judge a resume if it's worth keeping, so there's no room for little off-topic zigzags with your message. In your application sentences, you need to immediately and effectively convey that you are the best candidate for the job, and that can only happen when you're direct and specific with your cover letter from the very beginning.
In your cover letter start-up, introduce yourself, the position you're applying for, and the skills and experience that make you a qualified candidate. This straightforward approach is something that many recruiters appreciate because it shows that you value their time, which in turn can result in a favorable response.
Example of a straightforward intro:
Mr. Roberts,
I am applying for the IT Specialist position that you posted over at (name of the website). I have three years of experience working as an IT staff at (name of previous company), and this, along with my certification and training, makes me believe that I am the right candidate for the job.
2. Deliver a value-adding message
Another great tip on how to start a cover letter is to show them what you bring to the table. Potential employers want to know how you can add value to the company, and your cover letter's first paragraph offers a great opportunity for that.
But before you write your value-adding statement, do your research on the company and its goals to see how you can apply your skills, experiences and achievements to help them reach their targets.
Example of a value-adding intro:
Dear recruiter,
During my stint as a warehouse manager for (name of company), I was able to improve overall efficiency by 150%, allowing the company to reduce delivery times by up to 24 hours. The improvements I introduced resulted in an additional USD3 million in annual revenue for the brand. I'd like to have the opportunity to apply my experience and knowhow in warehouse management to the vacant job position you've posted at (name of the website).
3. Emphasize a mutual acquaintance
A name drop in a cover letter can serve as a great introduction, especially if that person is in good standing with the company. So if the job was referred to you by such a person, make sure you mention their name in your cover letter's opening statement. A common friend can pique a recruiter's interest and keep their attention to the rest of your letter.
Example of a mutual acquaintance intro:
To the hiring manager,
I learned about your job opening from (name of an acquaintance), an administrative officer over there at (name of company). Her confidence in my ability to take on the tasks and responsibilities of the job gives me the erstwhile confidence that I am the best candidate for it.
Do you have more questions about cover letter start up?
We would be glad to answer any of your inquiries related to cover letter and resume writing. Feel free to contact us here so you can worry no more about how to write a strong opening statement for your cover letter. Better yet, send us your resume for a free, no-obligation evaluation to turn your application into a high-caliber document that will make you stand out to recruiters and hiring managers.
3 frequently asked questions about cover letter writing
How long should a cover letter be?
It's enough if the body itself takes up about half of the letter page. That should be sufficient space for three paragraphs, which is the most number of paragraphs you should strive for.
Cover letter writing is just not my forte, what can I do?
You can have your cover letter professionally written by one of our writers here at Resumeble. Our writer will work with you one on one to help you develop a cover letter that accurately represents what you have to say, while also serving as the perfect introduction to your resume.
How much does it cost to have my cover letter professionally written?
Resumeble's cover letter writing service costs USD99.00 for cover letter writing. What's more, we offer add-on services to further boost your cover letter's appeal, such as resume writing and LinkedIn write-up. Don't hesitate to reach out to us to learn more.
-

Check Your Resume Branding

-

Learn About Main Mistakes and How to Fix Them

-

Check if Your Resume is ATS-compliant

-

Get Your Analysis within 24 Hours or Less!
Get a free resume
review
Upload Resume