Benefits of Using a LinkedIn Profile Analysis Service
If you consider yourself a professional and you're not on LinkedIn, you're missing out on a lot of opportunities to further your career.
A LinkedIn profile basically serves as an online resume, and as your representation in the digital realm, you need to make sure it's impressive enough to attract the right kind of attention. It all starts with a LinkedIn profile analysis, a professional form of LinkedIn profile help.
First things first—do you even have a LinkedIn profile?
Many people believe that LinkedIn is only for companies and firms. However, this is a huge misconception. As an extremely powerful business tool, it's also great way for individuals to network and prospect. Take a look at these mind-blowing statistics:
LinkedIn has more than 706 million users, spread over 200 countries and territories around the world
The average income of a LinkedIn user currently stands at $46,644 per year, way above the national US median of $33,706
49% of LinkedIn users earn at least $75,000 per year
Linked in has over 17 million opinion leaders and 10 million C-Level executives
41% of millionaires use LinkedIn
LinkedIn has over 30 million companies posting over 20 million open job listings on the site
The platform sees 100 million job applications each month
More than 95% of recruiters and hiring managers use LinkedIn with regularity
Clearly, LinkedIn can be useful not only to companies, but also individual users, especially those who are looking for a job or looking to give their career a boost.
However, it is not enough to simply have an existing LinkedIn profile. More than anything, you need to put in the work to ensure every inch of your profile makes you look awesome. And the best way to guarantee this is to have your profile undergo a LinkedIn Profile analysis.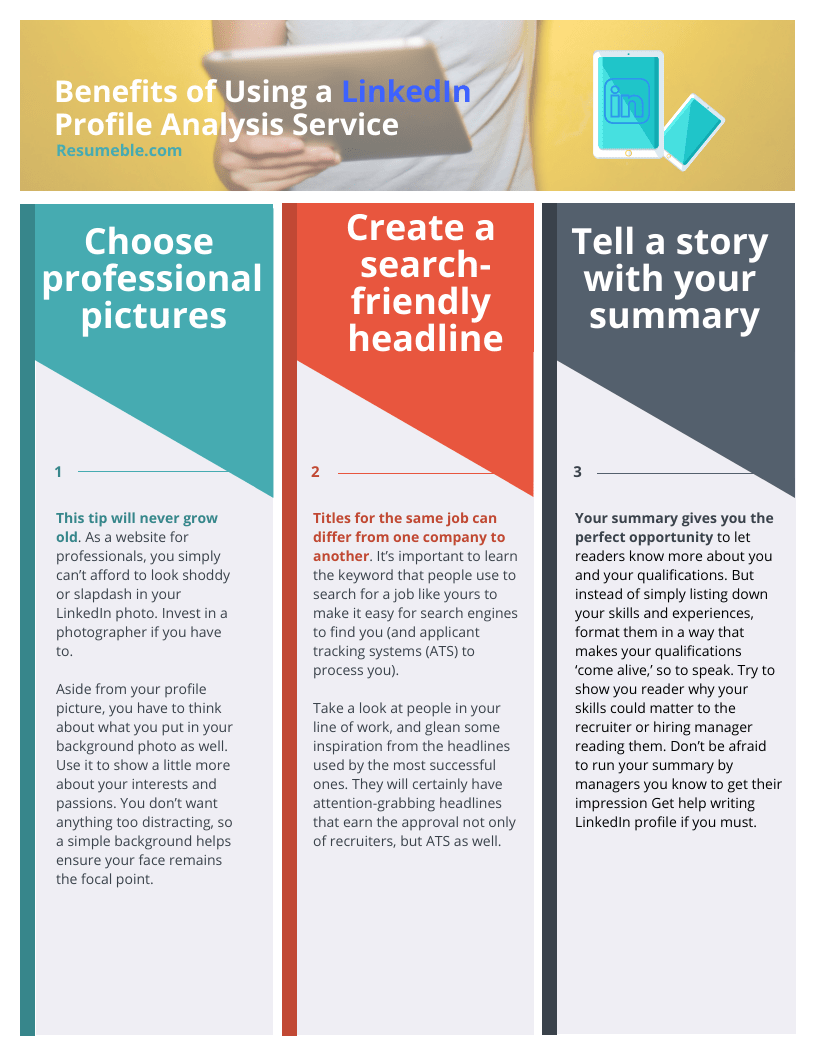 What is a LinkedIn Profile analysis?
A LinkedIn profile analysis is a powerful LinkedIn profile help tool that lets you build a glowing personal brand on LinkedIn. As a method of data collection and evaluation, a LinkedIn profile analysis can provide you with a quantifiable way to measure the effectiveness of your strategies so you can tweak them to deliver the results you want. With the help of a LinkedIin Profile analysis service like the one we offer here on Resumeble, you will know what is working for you, where are your critical points of engagement, and how you can attract more eyes to your 'online resume.'
How does our LinkedIn Profile analysis work?
Our LinkedIn analyst can help with LinkedIn profile including:
grammar and spelling
layout and formatting
keyword optimization
After we have completed our analysis, we will then provide you with a detailed feedback based on the four pillars of LinkedIn success—namely: exposure, targeting, message, and impact.
With our LinkedIn profile analysis service, you can improve your LinkedIn profile standing to grow your network, stand out from the crowd, and find better job offers.
What are the benefits of using a LinkedIn Profile analysis service?
Better prospects
Effective networking can attract and connect you to ideal prospects, and that can only happen by building your brand image strategically and purposefully. A LinkedIn profile help analysis can make that happen.
Better understanding of your audience
Knowing exactly what makes your audience tick is key to having an impressive LinkedIn presence. A strong LinkedIn data analysis can give you more insight into your audience, letting you know what they want to see in your profile, along with any important information that your profile could be missing. If you post content on LinkedIn, analytics help with LinkedIn profile can allow you to identify which type of content attracts the most clicks, encourages the most views, etc.
Visibility
Developing a strong LinkedIn presence enhances your credibility and establishes your brand. When LinkedIn profile analysis is done right, you'll show up higher in searches, not only on LinkedIn but on search engines as well.
Tips for a better LinkedIn profile in 2021
Trends come and go, and LinkedIn profile strategies follow the same principle. If you want to build up your LinkedIn profile in 2021, here's what you need to do:
Choose professional-looking pictures
This tip will never grow old. As a website for professionals, you simply can't afford to look shoddy or slapdash in your LinkedIn photo. Invest in a photographer if you have to.
Aside from your profile picture, you have to think about what you put in your background photo as well. Use it to show a little more about your interests and passions. You don't want anything too distracting, so a simple background helps ensure your face remains the focal point.
Create a search-friendly headline
Titles for the same job can differ from one company to another. It's important to learn the keyword that people use to search for a job like yours to make it easy for search engines to find you (and applicant tracking systems (ATS) to process you). Take a look at people in your line of work, and glean some inspiration from the headlines used by the most successful ones. They will certainly have attention-grabbing headlines that earn the approval not only of recruiters, but ATS as well.
Tell a story with your summary
Your summary gives you the perfect opportunity to let readers know more about you and your qualifications. But instead of simply listing down your skills and experiences, format them in a way that makes your qualifications 'come alive,' so to speak. Try to show you reader why your skills could matter to the recruiter or hiring manager reading them. Don't be afraid to run your summary by managers you know to get their impression Get help writing LinkedIn profile if you must.
Get professional help with LinkedIn profile
Ready to work on your LinkedIn profile? Our LinkedIn profile analysis services will not only give you a glowing LinkedIn presence but also ensure that it supports and complements the information in your resume and job application form. We also provide help writing LinkedIn profile. Find out more about our LinkedIn profile help services today.
-

Check Your Resume Branding

-

Learn About Main Mistakes and How to Fix Them

-

Check if Your Resume is ATS-compliant

-

Get Your Analysis within 24 Hours or Less!
Get a free resume
review
Upload Resume