How to Write a Perfect Career Change Resume
Life can be full of twists and turns, and sometimes, these unexpected surprises can suddenly derail the career path you've worked so hard to carve out for yourself. Whether it's a recession in your industry, a major life upheaval, or you simply losing passion and interest in your job, perhaps circumstances are making you seriously think of a career change right now. But is your resume up to the task? To help you write an effective career change resume, Resumeble offers you these eight essential tips.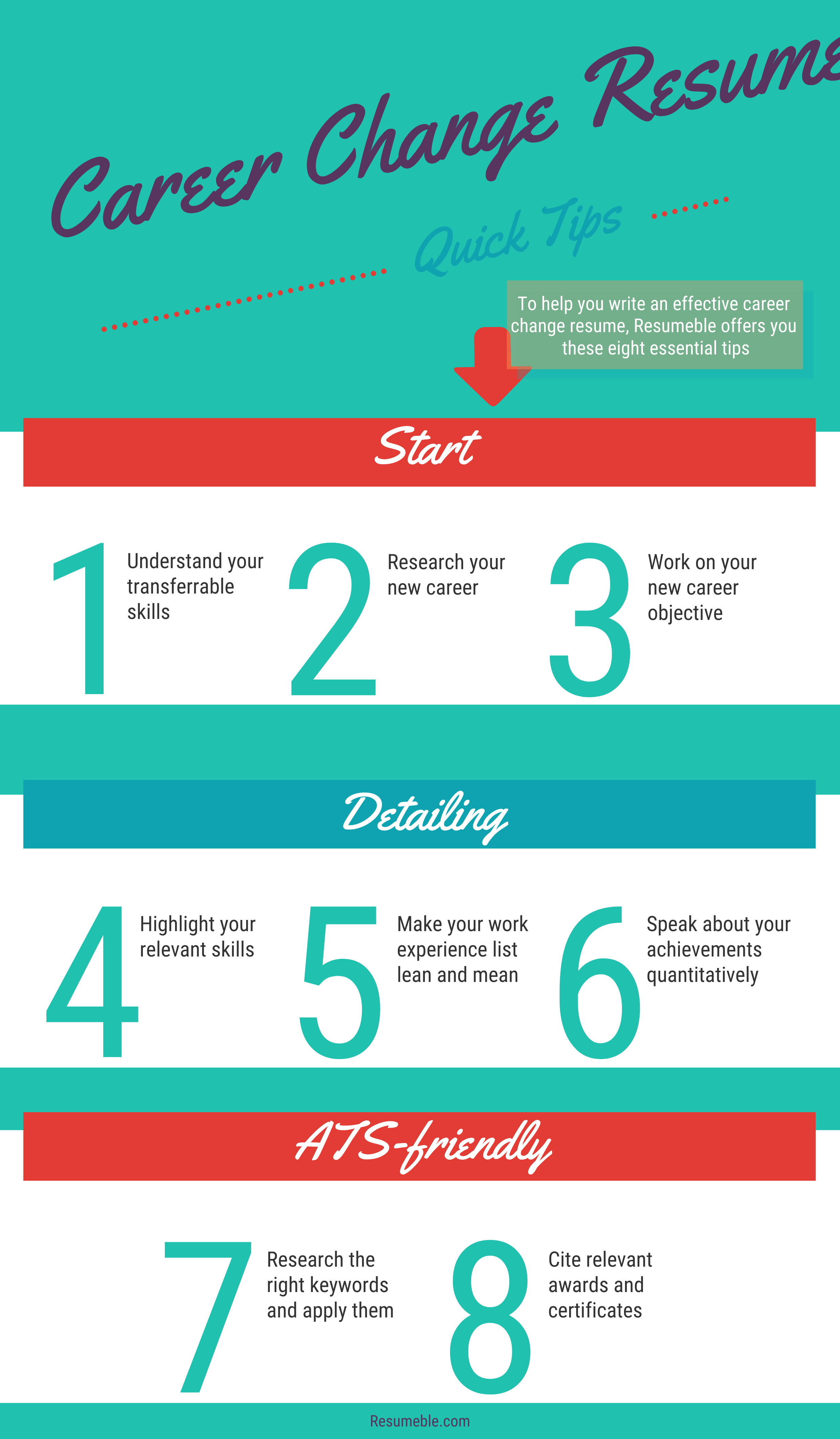 1. Understand your transferrable skills
Transferrable skills are the abilities and expertise that you have from your old job that can be used in your new one. If you are ready to take the leap toward a new career, it's time to identify which of your skills may be transferrable. Compare job requirements, and understand what you have to offer. It can help to make a list of the skills you've learned or acquired over the years to make it easier to find the ones that will match the required qualifications of your new chosen path. These matches will serve as the foundation of your career change resume.
For instance, if you're making the shift from teaching to sales, examples of transferrable skills between these two careers include:
• An agreeable personality
• effective communication
• ability to make strong presentations and retain attention
Even skills acquired outside of your profession—from your volunteerism to your after-hours passion and hobbies—can be transferrable and included in your resume for a career change.
2. Research your new career
You can't just blindly send your career change resume out to employers hoping someone will hire you. You first need to get to know the new job you'll be applying for, inside and out. Comb over the details of the job listing, and reach out to recruiters and HR managers for clarification in case there's anything you don't understand about the responsibilities and terms of the job.
3. Work on your new career objective
Do you remember how you developed the career objective for your previous job? You have to repeat the process again for this one. Your new career objective may not be easily obvious as it represents a new direction in life for you, so you may have to work doubly hard to develop it this time around.
As a guide, introduce yourself with your most powerful trait, followed by two or three skills, then wrap it up with your professional goals, as well as the goals that you could help the company achieve should they choose you for the position.
You career objective is represented in your resume summary for career change. Including one is essential for anyone changing careers, because it immediately explains to recruiters why your skillsets may differ from everybody else applying for the job. As the tone-setter for the rest of your resume, use your career change resume summary statement to bring the focus to your transferrable skills and qualifications and take some attention away from your work experience, which may mostly be irrelevant.
4. Highlight your relevant skills
With your transferrable skills identified, it's time to showcase them and make sure they are one of the first things that recruiters will see on your resume for career change. The best place for your transferrable skills is immediately after the Career Objective/Professional Summary section described above.
By providing potential employers with a quick overview of your relevant credentials in your Skills section, you can convince them that you are qualified to handle the role. This is especially important since the rest of your skills and experience may be completely unrelated to the job, and if you don't list your transferrable skills upfront, your resume will likely be skipped over for someone more qualified.
5. Make your work experience list lean and mean
Just as it is with your skills, you need to trim the fat on you work experience list and pare it down to the most relevant ones for the job. Recruiters and hiring managers will likely find your Work Experience section irritating and unbearable to read if you fluff it up with every job you've held just for the sake of it. Not all of them will add value or improve your chances of getting hired, so get rid of the unnecessary ones to keep your resume laser-focused. Only include those with responsibilities that may be transferred to your potential new role.
For example, if you are a tradesman looking to foray into the world of computers, it may not be necessary to expand on your basic computer knowledge. Depending on the job, all you may need to do is highlight your problem-solving and analytical abilities. If you want to turn a hobby into a career, all you may have to do is showcase your achievements in that particular hobby.
6. Speak about your achievements quantitatively
Recruiters love seeing hard numbers and statistics on a resume, as these make it easier to see if an applicant made a positive impact in a previous job. So make sure you accompany accomplishments in terms of percentages, ratios, and proportions to immediately convey the value you can bring to your new company. Here are some examples:
• Reduced data processing time by 25% as in-house IT technician
• Met and exceeded target quota over a 12-month period, bringing in $500,000 in total profit for a startup company
• Conducted regular monthly seminars that improved employee retention by 75%
• Scored a 99% satisfaction rating in six months of employment as company sales representatives
7. Research the right keywords and apply them
Companies big and small now employ what's called an applicant tracking system (ATS)—automated machines that screen resumes before they're seen by recruiters and hiring managers. The way these systems work is that they "read" resumes in search of keywords and phrases to ensure that an applicant meets the qualifications of the job.
To beat ATS, you need to make sure your resume uses the right keywords and phrases, and the way to do this is to review the job post carefully, taking note of terms and phrases used, especially those in the skill and experience requirements. By incorporating these words in your career change resume naturally and organically, you increase the chances of your resume passing not only an ATS screen but the scrutiny of recruiters and HR managers as well.
8. Cite relevant awards and certificates
Citations in and outside of work can provide recruiters a better picture of your ability to succeed with your given responsibilities. Awards and accolades from your previous work experience are good, but you can also use those given to you by the community and other governing organizations.
Let Resumeble work on your resume for career change today
Resumeble can help you tackle the challenging task of writing resumes for career change. With the help of one of our expert resume writers, you'll be better equipped to deliver a resume that will be worthy of a potential employer's attention. Let us help you with all of your resume concerns so you can get your foot in the door toward a new career. We can even help you write a career change cover letter and other application documents you may need. Send us your resume today for a free, no-obligation evaluation today.
-

Check Your Resume Branding

-

Learn About Main Mistakes and How to Fix Them

-

Check if Your Resume is ATS-compliant

-

Get Your Analysis within 24 Hours or Less!
Get a free resume
review
Upload Resume