How to Write a Job Offer Letter?
Receiving a job offer is an exciting time for any applicant, but it must be written well to avoid confusion and ensure a favorable response.
A job offer letter is a formal document that officially declares an employer's intention to hire a candidate. It includes a lot of specifics about the position, including work hours, salary, benefits, and any requirements will need to submit before he or she can start at work. Depending on how it is written, an applicant may respond with acceptance, reply with negotiated terms, or reject the offer entirely.
To boost the chances of a candidate accepting your job offer, here are some important tips from online resume writing service. Resumeble, to keep in mind, on how to write a job offer letter.
Make a verbal offer first
It's a good idea to phone the applicant and extend a verbal offer before sending your formal job letter to the individual in question. This helps build better rapport with the applicant as it makes the offer more personal. Additionally, it also allows you to gauge their interest in the job. If the potential hire reacts positively to your verbal job offer, you may then inform them to expect an official job offer letter on their email soon.
Provide a descriptive subject line
Make sure your subject line clearly states what your email is about. You can say (name of company) Job Offer or Job Offer from (name of company), or some other similar variation. Keep your subject line under 50 characters as best you can for brevity.
What should your job offer letter include?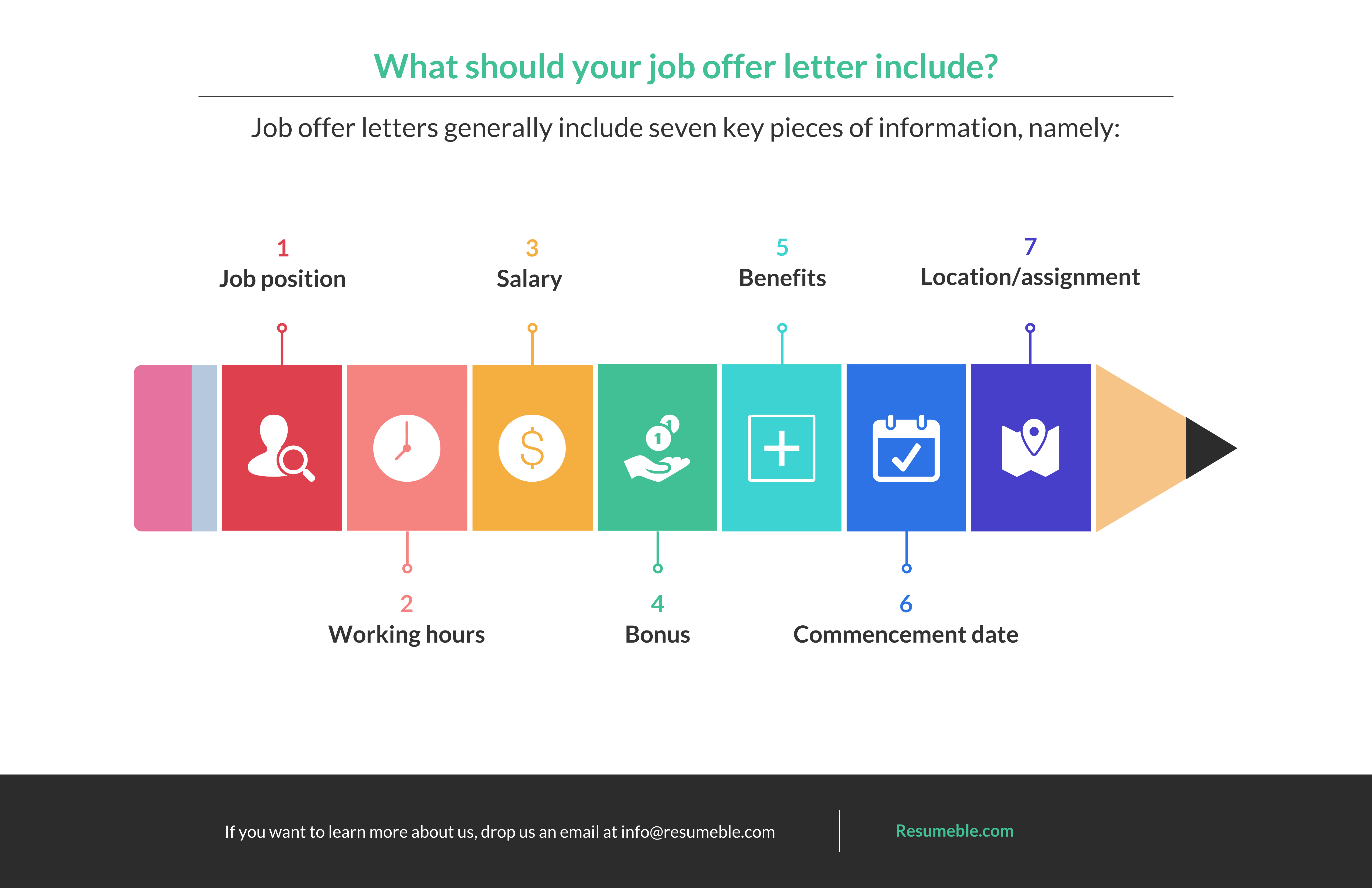 Job offer letters generally include seven key pieces of information, namely:
• Job position
• Working hours
• Salary
• Bonus
• Benefits
• Commencement date
• Location/assignment
Of course, different industries and companies will have different specifics in their job offer letter. You will also need to factor in the type of working arrangement into your letter, whether you're writing a full-time or part-time job offer letter, intern job offer letter, etc. Generally speaking though, as long as your job offer letter contains the items listed above, it will read perfectly fine. But since we're here to learn how to write a job offer letter better, here are variations to take note of depending on the type you're writing:
Official job offer letter – your letter should contain all of the listed items above, along with additional details, such as contract terms and compensation packages. You may also send your job offer letter via postal mail for added formality.
Non-official job offer letter – a non-official job offer is often shorter than the official type, and contains only basic information such as job position, salary, working hours, and commencement date.
Part-time job offer letter – if you are hiring an applicant for part-time work, your letter will need to elaborate more on the hours and salary terms, because these are the aspects of work that part-time jobs largely depend on. If the potential-hire will not have access to company-sponsored benefits or isn't permitted to use their job offer letter as proof of income as per company policy for part-time employees, you will need to indicate this clearly in your job offer letter.
Intern job offer letter – an intern job offer letter will be similar in form and structure to the official job offer letter, with the addition of specific details pertinent to the internship, such as the start and end date of the internship program, and whether the internship is paid or unpaid.
Now's the time to wait
A candidate may need some time to think the offer through, so don't ask for an urgent response. Instead, let them know that you'd like them to give you an answer within a reasonable timeframe, like say, three to five working days. Be prepared for the reply to include a request for higher pay or better benefits.
Applying for a job? Let Resumeble help
Resumeble's professional resume writing service is a great way to ensure your resume opens the door for your chosen career path. Our 60-day interview guarantee is our way of proving to you that we're with you until you achieve the results you want from our services. Let's work on your resume today.
-

Check Your Resume Branding

-

Learn About Main Mistakes and How to Fix Them

-

Check if Your Resume is ATS-compliant

-

Get Your Analysis within 24 Hours or Less!
Get a free resume
review
Upload Resume