How to Decline a Job Offer
Wondering how to decline a job offer? Though it's difficult, for your sake, you must learn how to turn down a job offer properly.
You spend a lot of time preparing yourself to get hired, but what if the job offer leaves much to be desired? Perhaps the salary is too low. Or maybe the responsibilities are a far cry from what they advertised. Or what if someone you suddenly learn that you'll be working with someone you seriously dislike? For these possibilities and more, knowing how to turn down a job offer can be a real lifesaver. Here's a short guide on how to do it from Resumeble.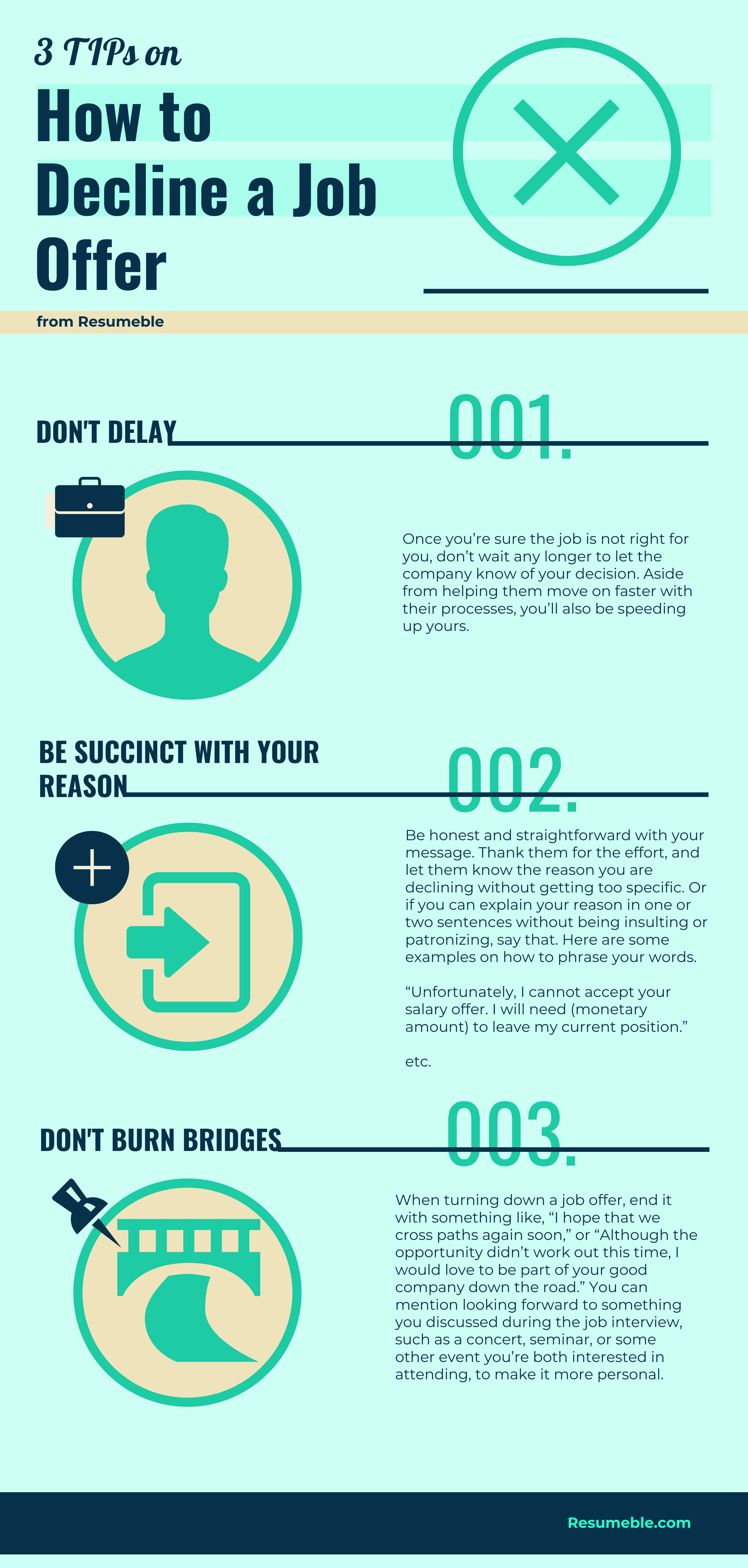 Don't delay
Once you're sure the job is not right for you, don't wait any longer to let the company know of your decision. Aside from helping them move on faster with their processes, you'll also be speeding up yours.
Be succinct with your reason
Let the hiring manager know why you're declining the position. It's the cordial thing to do, after they considered you for the job. That said, there's no need to put the company down, like saying how the salary falls short of your talents, or how an offer from another company is so much better than the one they're handing to you. It's enough to say something like, "Thank you for considering me, but after some contemplation, I've decided to decline and wait for a role that is more aligned with my career goals."
Be honest and straightforward with your message. Thank them for the effort, and let them know the reason you are declining without getting too specific. Or if you can explain your reason in one or two sentences without being insulting or patronizing, say that. Here are some examples on how to phrase your words.
"Unfortunately, I cannot accept your salary offer. I will need (monetary amount) to leave my current position."
"It was only during our last conversation that a fully understood the roles and responsibilities of the position, and have decided it's not for me."
"I have carefully considered the possibility of relocating, but have decided that this is an inopportune time for me to move."
Don't burn bridges
When turning down a job offer, end it with something like, "I hope that we cross paths again soon," or "Although the opportunity didn't work out this time, I would love to be part of your good company down the road." You can mention looking forward something you discussed during the job interview, such as a concert, seminar or some other event you're both interested in attending, to make it more personal.
How to decline a job offer for specific situations (with examples)
Different situations call for different approaches. Here are some of the common reasons people refuse a job offer, along with examples on how to do so in a polite and respectful manner.
How to decline a job offer due to salary – you can try asking for more and negotiating, making sure to let them know about the value that you bring to the table. If they refuse, maintain a tone of gratitude while saying no, never forgetting to let the recruiter know that you appreciate their efforts.
Example: "Thank you very much for offering me the role, but after careful consideration, I've accepted a position with another company that's able to meet my target salary."
How to decline a job offer due to a better offer – if your reason for refusing the job offer is because you've accepted another job, simply state that you've accepted a position from another company because they were able to accommodate certain requests or requirements. Avoid making comparisons.
Example: "Thank you for considering me for the job, but I'm afraid I am accepting an offer from (name of company), as they are allowing me to work flexible hours."
How to decline a job offer you already accepted – make sure you haven't signed an employment contract yet, otherwise, you could be legally compelled to stay at your job. You can provide a brief explanation, or you can indicate that it's a private matter. Either way, let the recruiter know that it was a hard decision to make.
Example: "Thank you so much for offering me this position. Unfortunately, due to unforeseen circumstances, I must respectfully turn down the job offer I have previously accepted."
How to decline a job offer due to long commute – getting to and from work should not be the most demanding part of your work day. Otherwise, you'll arrive at your job exhausted and irritable. If the commute to your new job is beyond reasonable, politely refuse and explain your reason briefly.
Example: "I really appreciate the offer, but the commute is a major issue for me. I respectfully decline, and have decided to stay with my current employer."
Land the right job offer with the right resume
A well-written resume is your first step toward a job offer that you can't refuse. Let our professional resume writers here at Resumeble serve you with our exceptional expertise and experience today.
Get a free resume
review
Upload Resume