The Ultimate Guide on How to Write a Resume in 2020
A resume needs to adapt with the times. Resume standards change frequently, and what may work a few years ago may no longer work today.
Here are probably the most important among the resume tips 2020 you'll read (and here's the updated resume writing Tips 2021) — keep your resume updated every three to six months, because some achievements can be hard to remember when you're writing your resume in a rush. It can be especially important to revisit your resume now more than ever, because jobs have been volatile during the Covid-19 pandemic. Should your current situation compel you to forge a new career path this 2020, here are a few other best resume writing tips 2020 to ensure your resume stands out in the eyes of recruiters this year.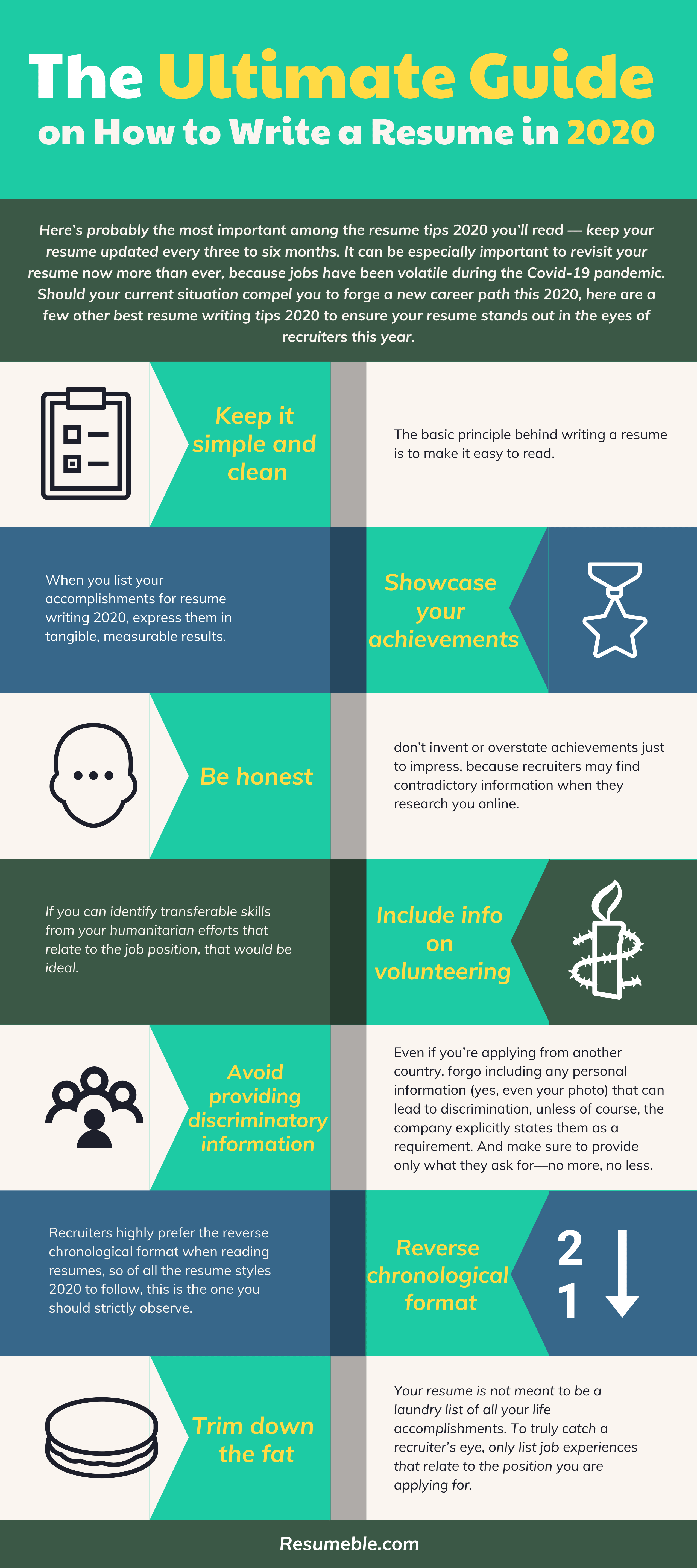 Keep it simple and clean
The basic principle behind writing a resume is to make it easy to read. A resume is a formal document, so always use high quality white paper, and print your resume with black text only. The best fonts to use for resume writing tips 2020 include Calibri, Cambria, Garamond, and Georgia. Avoid passé fonts like Times New Roman and Arial, as many recruiters consider them tiring to look at. And keep the size between 10 and 12 for legibility. Paragraphs should always be single-spaced. As for the side margins, one-inch on both sides is the accepted standard for resume writing in 2020.
Showcase your achievements in a quantifiable manner
When you list your accomplishments for resume writing 2020, express them in tangible, measurable results. Hiring managers love seeing numbers and figures in a resume, so much so that it's one of the top 2020 resume trends to keep mind. For instance, if you were a responsible for training new employees at your old job, don't just say that you were in charge of breaking in the company's new hires—append your list with specific details like how your training improved their productivity. Maybe you can even include some numbers on how the company profited from your service if you can obtain the info.
Be honest
Nowadays, it's so easy to look up a person's history on the Internet. So here's another one of those best tips on resume writing 2020—don't invent or overstate achievements just to impress, because recruiters may find contradictory information when they research you online. If you get caught in a lie, you may not only lose your chances of getting hired, you could also get blacklisted, sending your dream job even more out of your reach.
Include info on volunteering and social work experiences
Modern HR people want to see a three-dimensional picture of the candidates they are looking to hire, and though it's not a requirement per se, listing any volunteering and social work experience in your resume allows them to see that you are being proactive in making the world a better place. If you can identify transferable skills from your humanitarian efforts that relate to the job position, that would be ideal.
Avoid providing discriminatory personal information
It used to be fairly common for companies outside of the US and other Western territories to require applicants to include gender, nationality, height, weight, date of birth, marital status, and other personal information on their resume. But the world is increasingly catching up with the Western method. Even if you're applying from another country, forgo including any personal information (yes, even your photo) that can lead to discrimination, unless of course, the company explicitly states them as a requirement. And make sure to provide only what they ask for—no more, no less.
Follow the reverse chronological order format
Recruiters prioritize more recent accomplishments than those from years before, so even if you won Employee of the Year Award ten years ago, don't list it before your current or most recent job, just because you're prouder of that past accomplishment. Recruiters highly prefer the reverse chronological format when reading resumes, so of all the resume styles 2020 to follow, this is the one you should strictly observe.
Trim down the fat
Your resume is not meant to be a laundry list of all your life accomplishments. To truly catch a recruiter's eye, only list job experiences that relate to the position you are applying for. Don't hesitate to get in touch with the company to get a better understanding of what they want to see in a candidate. It helps to identify the exact skillsets that the position requires so you can purposefully make your work examples leaner and less 'fatty,' so to speak. And as you write your resume, limit it to two pages max—one page if you're applying for an American or Canadian job.
Need more tips on resume writing 2020?
Resumeble's Career Advice section is a great resource of useful resume writing tips 2020. If you need help with your resume, our expert writers can turn your resume into what recruiters and hiring managers are looking for. Use our resume writing services today and enjoy our 60-day interview guarantee.
-

Check Your Resume Branding

-

Learn About Main Mistakes and How to Fix Them

-

Check if Your Resume is ATS-compliant

-

Get Your Analysis within 24 Hours or Less!
Get a free resume
review
Upload Resume