How to Write a CV in South Africa
South Africa is a melting pot of African and European cultures, with many of the western norms being widely understood and accepted by the majority of the population despite the country still being primarily influenced by North African and native values. As such, it can be confusing which type of CV format South Africa to send to employers. Resumeble sets the record straight by teaching you how to write a CV in South Africa with the steps, tips, and guides below.
Essential tips on how to write a CV in South Africa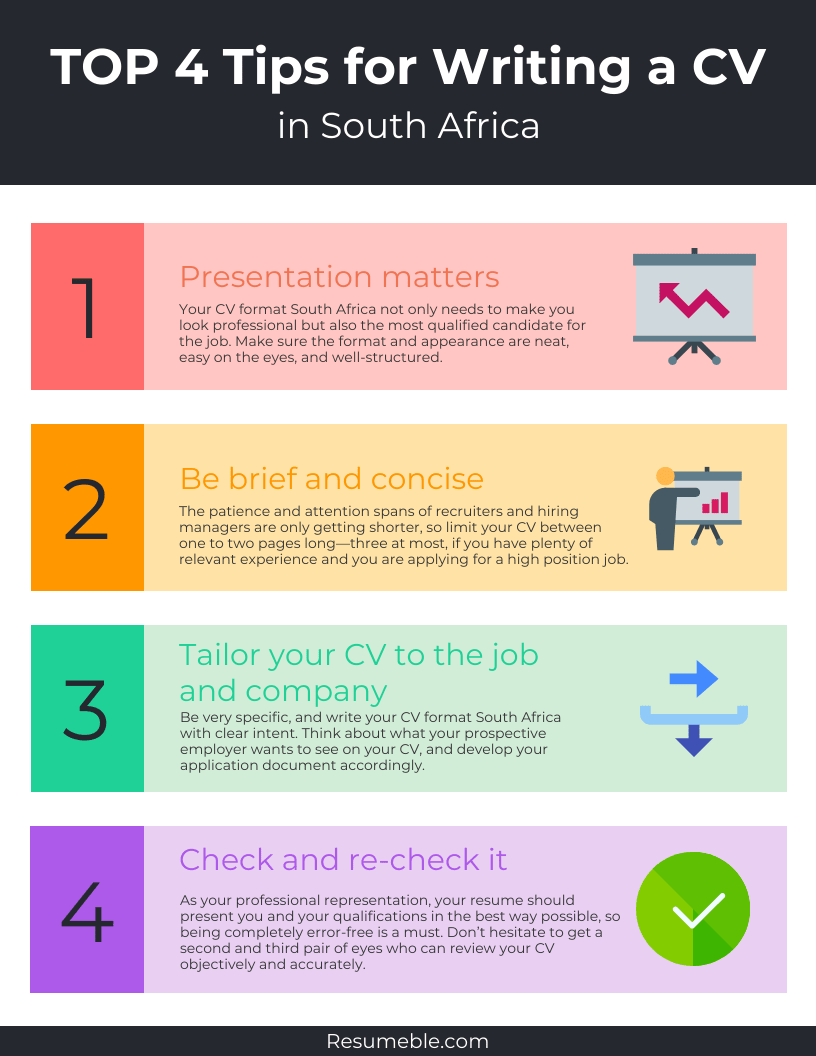 There are a few tips to keep in mind as you develop your CV format Africa. Following them can help increase your chances of landing that elusive interview and get your foot in the door toward a meaningful career in this developing country. Use the following tips on how to write a CV in South Africa when you begin developing your application.
Presentation matters - Your CV format South Africa not only needs to make you look professional but also the most qualified candidate for the job. Make sure the format and appearance are neat, easy on the eyes, and well-structured.
Be brief and concise – The patience and attention spans of recruiters and hiring managers are only getting shorter, so limit your CV between one to two pages long—three at most, if you have plenty of relevant experience and you are applying for a high position job.
Tailor your CV to the job and company – Job titles, skills, work experience, certifications—every bit of information that you write on your resume must be relevant to the job and company you're applying for. Don't use wordings that are too general or vague. Be very specific, and write your CV format South Africa with clear intent. Think about what your prospective employer wants to see on your CV, and develop your application document accordingly.
Check and re-check for errors, then check again – It goes without saying that your CV needs to be pitch-perfect in every way, from grammar to spelling, to formatting, to word choice and the rest. As your professional representation, your resume should present you and your qualifications in the best way possible, so being completely error-free is a must. Don't hesitate to get a second and third pair of eyes who can review your CV objectively and accurately.
Mistakes to avoid when writing a CV for South Africa
Just as there are things that you must do, there are also things that you must not do with regards to how to write a CV in South Africa so your CV stays on the hiring manager's desk instead of being sent to the trash bin. These include:
Lying on your CV – Thanks to the Internet, it's so easy nowadays for recruiters to research an applicant's background and learn if you aren't being completely forthcoming with the information you put on your CV. Lying about anything on your CV can deal with major setbacks to your application, so avoid it at all costs.
Sending an old CV – Sending out an old CV sends a message that you don't care about the quality of your work. For professionalism's sake, you need to update your CV every six months or every time you earn a major achievement both in your career and personal life.
Being informal – Everything about your CV format South Africa—wording, format, appearance, etc.—should be formal. This means using only black and white colors, conservative fonts, and traditional formatting. Even when you're applying for a creative job such as a graphic designer or art director, it's best to be on the safe side and turn down being outrageous with your CV.
Writing overly long paragraphs – Keep your paragraphs short. Use bullets whenever possible. You want your CV entries to be easy to understand, and lengthy paragraphs only serve to make the information harder to digest. If this sounds too limiting, don't worry—you can always elaborate on your cover letter for CV South Africa.
Including too much personal information – South Africa follows many of the Western world's policies and practices on discrimination, so don't include a photo unless it's requested, and don't include anything that can be used to discriminate against you, such as race, age, sex, marital status, disability, etc.
Too much irrelevant info – Customizing and keeping your CV format South Africa clear and concise means that you have to keep all of the details relevant to the job in question. Don't include any skill or experience that fails to add value to the job position you're applying for.
Essential ingredients of an outstanding CV
There are bad CVs, there are good CVs, and there are great CVs. The difference between them lies in the quality of the "ingredients" that you put in. With this in mind, here are the essentials of an outstanding CV in South Africa.
Name and contact details
The header of your CV should consist of your name, telephone number, and email. Make sure the email you provide is business-like—don't use any funny or odd-sounding address. Include a link to your LinkedIn profile if you have it.
Jerry Butler
Financial Analyst
+97-545-6217
linkedin.com/in/jerrybutler
Profile summary
Your CV's profile summary serves as your introduction, so you need to make it as engaging and value-adding as can be. Work on writing three to four sentences stating your most relevant skills, biggest achievements, and goals for yourself and for the company. Here's an example:
I am a highly motivated bank teller with a proven track record in the local financial industry. I am adept at processing cash transfers and withdrawals, updating end-of-day cash positions, and monitoring vault and deliverables processes. I pride myself on being an out-of-the-box problem solver with excellent organizational skills. I look forward to utilizing and developing my skills further with your company while ensuring to meet the challenges and deadlines put upon me.
Work history
When listing work history in your CV in South Africa, arrange them in reverse chronological order, starting with the most recent. Only include work experiences that are relevant to the job you are applying for. This means that you don't have to need to include that fast food job you took back in college—unless there are skills that you learned from there that can be useful in your potential new job. Here is an example:
Wi Spa, 2700 Wilshire Blvd, Los Angeles, CA
Assistant Manager
January 2020 – July 2021
• Ensured safety of clients and patrons; resolved guest concerns
• Supervised and trained six massage therapists on spa policies and rules
• Developed and maintained schedules for therapists and clients
• Assisted manager in overall spa operations
Skills
Make sure to review the job posting carefully, then identify your specific skills as the job demands them. Present your skills in a quantifiable manner—meaning— you should accompany each item with an example of how you applied that particular skill to achieve success in your previous tasks and responsibilities. Here are a couple of examples:
• Leadership – coordinated and managed a team of graphic designers to complete a major website for a Fortune 1000 company in a span of two months.
• Drive to succeed – promoted to manager within six months of onboarding.
Education
Again, you should only include an education history that's relevant to the job you are applying for. No need to include primary or secondary education, unless the job posting requires proof that you are a high school graduate. It can also be helpful to add a bullet or two to display any special academic achievements if you have them. Here is an example:
2005 MA in International Studies
The University of Texas at Austin, Austin, TX
• 3.6 GPA
Order your CV for South Africa from Resumeble
Worry no more about CV format South Africa by having Resumeble build your CV for you. We have highly experienced and knowledgeable professional CV writers in South Africa (Resumeble) who will work with you one-on-one to craft a CV that will get noticed by recruiters and secure for you that elusive interview.
Aside from writing a CV South Africa, we can also help with a cover letter for CV South Africa, a LinkedIn profile write-up, and more. Get in touch with our CV writing service South Africa (Resumeble) today to learn more about our services.
-

Check Your Resume Branding

-

Learn About Main Mistakes and How to Fix Them

-

Check if Your Resume is ATS-compliant

-

Get Your Analysis within 24 Hours or Less!
Get a free resume
review
Upload Resume