How to Make a CV NZ (New Zealand)
With a population of just under five million people, it's safe to say that New Zealand badly needs an infusion of skilled workers from other countries if it wants to be competitive in the global market. If you have skills, experience, or qualifications that employees in New Zealand are looking for, then it goes without saying that you shouldn't hesitate to try your luck and send your CV to a New Zealand company today. Resumeble shares with you some key NZ CV format tips so you will know how to make a CV NZ that will succeed in the country's local job market.
Not in NZ yet? Build that resume now!
If you're still in the planning stage of moving to New Zealand to find work, it is highly recommended that you develop your resume before heading here. Moving can add a lot of stress, and you don't want the burden of writing your NZ CV format to add to that. For your peace of mind, get the task of writing your NZ CV format done early. Once you have the file on hand, editing it will be easy, even if you end up applying for a variety of job roles.
How long should your CV NZ be?
Although the one-page-resume rule still applies in New Zealand, its application isn't as strict as, say, the US or the UK, or even Australia. Kiwi employers want to get a feel of how well-rounded you are as a potential employee, so it wouldn't hurt to write a CV NZ that's two to three pages long. In fact, it's highly recommended that you do so. Just be sure that every piece of information you put in your CV adds value and is relevant to the job position.
Best ways to showcase your work experience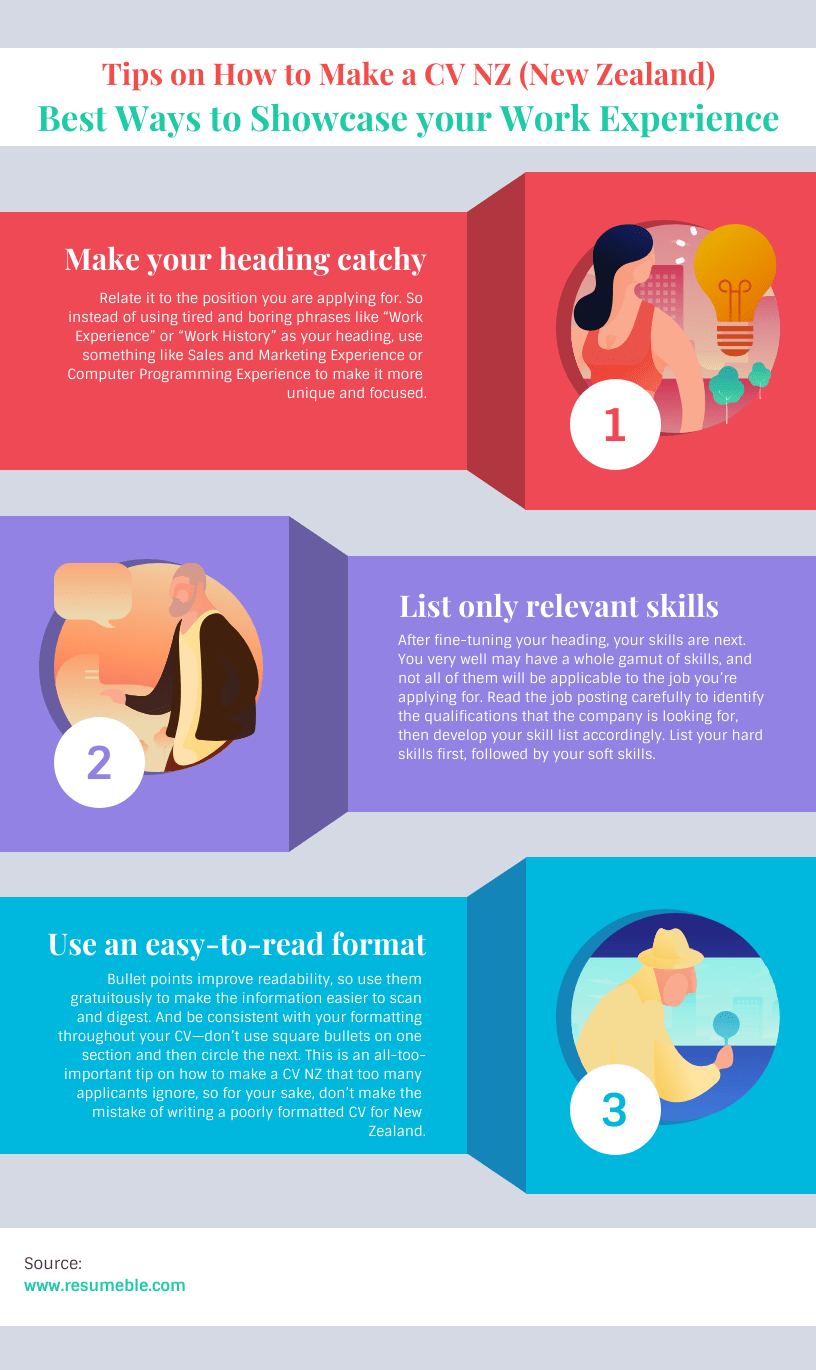 Put yourself in the shoes of a recruiter and imagine having to review hundreds of resumes each day. To speed up the task you would probably end up scanning the document and look for words that pop out, not really reading every word of it. If you want your CV NZ to get noticed, then you have to be careful with how to write a CV NZ, especially the work experience section, because it's the section that most employers are interested in. Here's how you grab their attention:
1. Make your heading catchy – Relate it to the position you are applying for. So instead of using tired and boring phrases like "Work Experience" or "Work History" as your heading, use something like Sales and Marketing Experience or Computer Programming Experience to make it more unique and focused.
2. List only relevant skills – After fine-tuning your heading, your skills are next. You very well may have a whole gamut of skills, and not all of them will be applicable to the job you're applying for. Read the job posting carefully to identify the qualifications that the company is looking for, then develop your skill list accordingly. List your hard skills first, followed by your soft skills.
3. Use an easy-to-read format – Bullet points improve readability, so use them gratuitously to make the information easier to scan and digest. And be consistent with your formatting throughout your CV—don't use square bullets on one section and then circle the next. This is an all-too-important tip on how to make a CV NZ that too many applicants ignore, so for your sake, don't make the mistake of writing a poorly formatted CV for New Zealand.
Here's an example of how to write an item in your work experience section:
Wang Mart Korean Grocery, San Francisco, CA
Store Manager
April 2016 – December 2021
• Supervised and trained six retail personnel on store rules and policies that led to a 20 percent increase in satisfaction among both personnel and customers
• Managed monthly budgets, helping the company save USD 5 million on overhead costs
• Dealt with customer queries and complaints, resulting in 99 percent approval rating on Yelp
Stork Winery
Retail Manager
September 2013 – March 2016
• Oversaw pricing and inventory of entire stock, thereby reducing overstock by 25 percent
• Maintained financial records, ensuring accurate tax filings three years in a row.
• Prepared weekly work schedules for and managed 10+ employees, scheduled deliveries, and enforced company policy.
Formatting tips
A CV NZ filled to the brim with text can be a huge turn-off. Don't make your NZ CV appear like a page from a dense novel. Rather, you should strike the perfect balance between white space and black space to make your CV easier on the eyes. As for other formatting tips, here are some takeaways to keep in mind:
1. Header – Your CV header should include your full name, contact number, and email address. There's no need to include your physical address in your CV, unless it's specified in the job posting. As for your email, make sure it's formal and business-type. If you have a LinkedIn profile, include it. Here's an example of how to write your NZ CV header:
Gerard Smith
Data Analyst
+93-987-6324
linkedin.com/in/gerardsmith
2. Professional Summary – Your header should be followed directly by a professional summary that identifies your most relevant skills, most impressive achievements, and your biggest professional goals not only for yourself but for the company as well. Here's an example:
Driven sales professional with a proven track record in the automotive industry. My biggest assets are my tenacity, well-honed negotiating skills, and a genuine concern for the total satisfaction of my clients. I take my responsibilities seriously and ensure I meet and exceed the expectations of my work. I look forward to harnessing and further evolving my sales know-how with your company while tackling the challenges of the job head-on—all in pursuit of supporting the company's short- and long-term goals.
3. Skills and Experience – You want your potential employer to immediately see that you are qualified for the job, so place your most relevant skills and experience at the top of your NZ CV format, immediately after your professional summary.
4. Education – As with your skills and experience, you should only list your education history that's relevant to the job applied for. This means you can skip including your primary and secondary education unless required by your potential employer. In addition, make sure to add any special academic accomplishments if you have them.
2006 – AB Economics
University of Massachusetts Amherst
• Faculty Merit Award for Academic Activities
• Dean's List
• Distinguished Scholar Award
References – References, otherwise known in New Zealand as "referees," are professionals who can speak positively about you. Needless to say, the referees that you put on your NZ CV format should not be family and friends, as their opinions of you can appear biased to a recruiter. Referees can be past employers and mentors who can put in a good word for you and recommend you to a potential employer. Include the name of the referee, their professional designation, the name of the company/institution they work for, and their contact information. Their phone number and email address should suffice. Remember to add the country code to the phone number if your referees are from outside of New Zealand. Here are a couple of examples:
Reference #1:
Lindsey Fonseca
National Sales Director
Ford Thailand
+66 524-444-6452
Reference #2:
Sam Joseph
Math Instructor
Chulalongkorn University
+66 524-444-6343
Work with Resumeble on your CV for NZ
You don't have to worry about how your CV format NZ will appear when you have Resumeble on your side. We have highly experienced and knowledgeable professional CV writers who will work with you one-on-one on how to make a CV NZ that will get noticed by recruiters and secure for you that elusive interview.
Aside from knowing how to write a CV NZ, we can also help with cover letter for CV South Africa, LinkedIn profile write-up, and more. Get in touch with our team today to learn more about our services.
-

Check Your Resume Branding

-

Learn About Main Mistakes and How to Fix Them

-

Check if Your Resume is ATS-compliant

-

Get Your Analysis within 24 Hours or Less!
Get a free resume
review
Upload Resume