What is the Current CV Format in Nigeria?
Writing a curriculum vitae (CV) requires precision and persistence. Needless to say, you need to put your best foot forward when developing your CV, especially if you're planning to find work in a country like Nigeria, where competition among applicants is tough. Want to know the CV format in Nigeria? Resumeble teaches you how to write a CV in Nigeria to improve your chances of getting hired as soon as possible.
5 Top tips on how to write a CV in Nigeria
The fact that your CV serves as your first impression to recruiters and hiring managers should give you all the more reason to ensure yours is a high-quality one that promotes all your best qualifications in the best way possible. With this in mind, here are five tips on how to write a CV in Nigeria that you can be proud of.
1. Have your biodata ready
Nigerian employers prefer having a biodata that they can quickly scan for the applicant's personal info, so make sure to attach a biodata along with your CV format in Nigeria. A biodata typically contains the same set of information as a CV, but may also include a photo and physical attributes (height, weight, skin color, hair color, etc.). Some of the information that needs to be filled up in a bio-data include: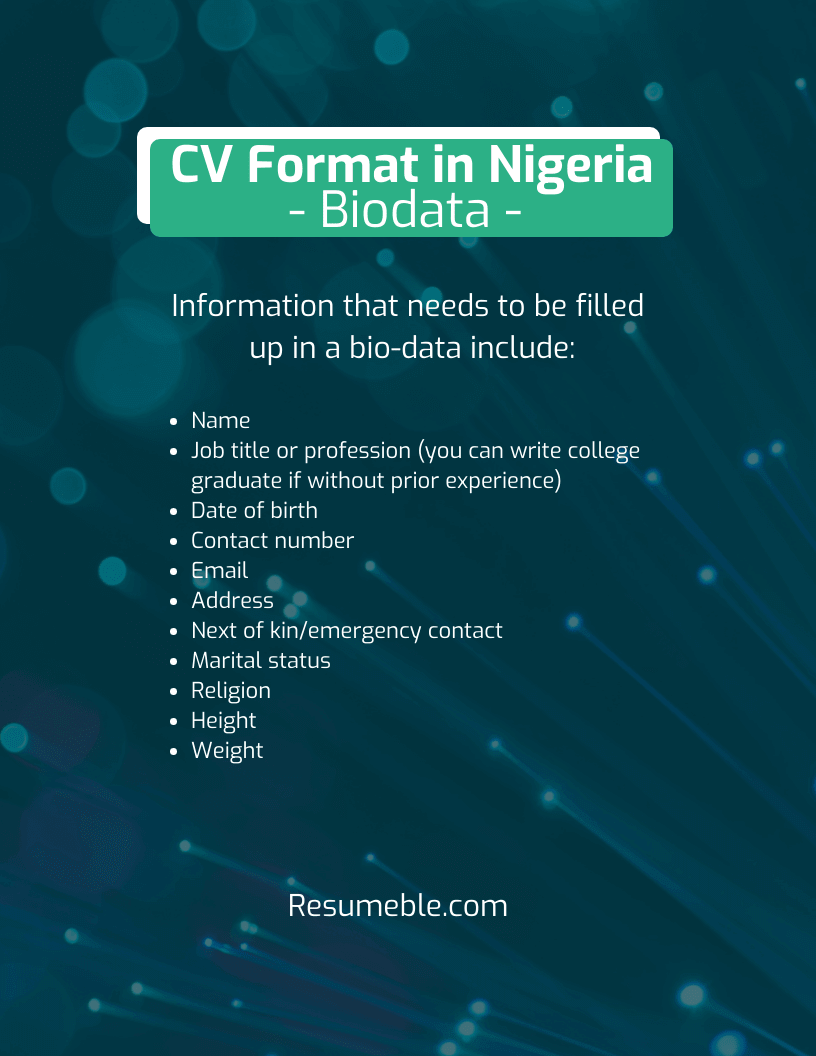 Name
Job title or profession (you can write college graduate if without prior experience)
Date of birth
Contact number
Email
Address
Next of kin/emergency contact
Marital status
Religion
Height
Weight
You can purchase a bio datasheet from a good bookstore or you can print one using a template online.
2. Work on your professional objective and summary
Open your CV format in Nigeria with an effective professional objective. Basically, your CV objective should clearly and concisely state your professional goals—for yourself as well as for the company. Make your CV objective both powerful and convincing as you can. Here are a couple of examples.
Example 1:
To secure an administrative staff in your good company to expand my learnings, skills, and knowledge while helping the organization achieve its targets. I am an enthusiastic and competent administrative assistant with two years of experience in the retail industry. I am skilled at preparing documentation, handling correspondence, and managing communications between staff. I am proactive, highly organized, and dedicated to providing timely and accurate administrative support to office managers.
Example 2:
I am a Mechanical Engineering graduate with practical experience using C++ and AutoCAD. I have a strong foundation of engineering knowledge demonstrated through a 3.5 GPA and attendance in honors courses. My other strengths include leadership and communication. I look forward to utilizing all of my acquired skills and experiences to furthering your company's goals, as stated in your mission "To be the leading engineering and construction company."
If you're having trouble developing a CV objective that works, Resumeble offers CV writing services in the current CV format in Nigeria so you don't have to worry about this aspect of your application.
3. Showcase your experience
Unlike in many countries where you have to distill your work experience list to only the most relevant ones, many recruiters in Nigeria will be more impressed by candidates with plenty of experience, so feel free to list all of your high-quality work experiences on your CV format in Nigeria. The emphasis here should be placed on "high quality"—too short or questionable work experiences should not be included, as these could reduce your chances of getting interviewed, much less getting hired.
When listing your experience, make sure to include the name of the company or companies that hired you, along with your job title/designation, length of service, and duties performed. You don't have to include the company address unless you are from outside of Nigeria looking to work in the country as an ex-pat. Also follow the reverse chronological sequence, starting with your most recent job to your oldest. It's okay to list your current job if you are still employed, just make sure to use present tense in your verbs for your present position.
Example 1:
Helicon Industrials - Office Administrator
2011 – 2020
Processed weekly payroll of 200-plus employees
Managed leave filings, loans, and other processes related to staff wages and benefits.
Answering incoming calls in a professional manner.
Example 2:
Nigeria Bank for Commerce and Industry - Bank Teller II
2009 – 2011
Balanced ATMs, Teller Cash Dispensers/Recyclers often totaling more than $100,000
Processed counter transactions for customers including deposits, withdrawals, loan payments, and more, averaging 25 transactions per hour.
Respond to customer account inquiries
Of course, if you are a recent graduate, you are not going to have any work experience to speak of. This means that you have to follow the CV format for fresh graduates in Nigeria.
4. Highlight your accomplishments
The accomplishments you post on your CV format in Nigeria should be truly exceptional, so don't include any loyalty awards, participation trophies, or any other mediocre feats. If you truly want to stand out, your accomplishments should be at least about the following:
Breaking a record
Receiving a prestigious award
Surpassing a high target
Great success and acclaim in a certain task
Achievements should have a lasting impression on those who read your Nigeria CV format, and be special enough to convince them that you can deliver on the job should they choose to hire you. When writing your accomplishments, make sure each one answers two questions: "What did I do?" and "What was the result?" Don't forget to express your results in a quantifiable manner. Here are some examples:
Implemented a new manufacturing system for the company, reducing downtime by 35%.
Rewrote the company's inventory process, resulting in 10% overhead cost savings for the company.
Developed a new hiring program that improved employee retention by 50%.
5. Pick only the best referees
Referees or character witnesses are people who can attest to your behalf and speak positively about you. Needless to say, the people you pick as referees should not be family members, as prospective employers will see them as biased. That said, choose someone with whom you have had a good working relationship, and who would be willing to give a positive and sympathetic reference about you. Of course, you need to inform them beforehand that you will be using them as a referee in your Nigeria CV format so they will not be surprised by a call from a potential employer and answer questions about you unprepared.
More tips for writing a CV for the Nigerian job market
Finding a job is already difficult as it is, and you certainly don't want the task of how to write a CV in Nigeria to add to your problems. To make the process easier, here are some fast tips.
Use a contemporary and legible font—avoid using obsolete fonts like Times New Roman, as these will make you appear out-of-touch with the times.
Use simple, easy-to-understand words. Be clear and concise with your statements.
Focus on attributes that add value to the company you're applying to—provide measurable results.
Make sure that every piece of information is factual and accurate. Don't lie on your CV.
Keep your CV two to three pages long—bio-data included. If you're applying for a high position job, it's possible to go over the three-page limit.
Let Resumeble take care of your CV writing needs
With Resumeble's help, you won't have to worry about how to write a CV in Nigeria. Choose us to handle your Nigeria CV format for you to ensure an application document that will get noticed by Nigerian recruiters and hiring managers. We make sure your CV not only follows the latest CV format in Nigeria but also the best CV format in Nigeria. Aside from CV writing, we also offer resume writing, LinkedIn write-up, cover letter writing, and more. Reach out to us today to learn more.
-

Check Your Resume Branding

-

Learn About Main Mistakes and How to Fix Them

-

Check if Your Resume is ATS-compliant

-

Get Your Analysis within 24 Hours or Less!
Get a free resume
review
Upload Resume