TOP-5 Tips for Writing a Follow-Up Email after the Interview
At long last, after many hours of preparation, you are now done with the job interview for the dream job you've always wanted. You firmly believe that you nailed it, but you're getting anxious as you wait for the email or phone call that will seal the deal. Instead of just sitting on your hands and fiddling your thumbs in nervousness, there's a way for you to know where you stand in the hiring process, and that's to write a follow up email after interview.
Why should you write a follow up email after the interview?
Sending an email after an interview serves as a way to thank the hiring people to demonstrate your gratitude. It's common courtesy, and something you should never miss out on doing after your interview. It also tells potential employers that you are enthusiastic about the position, which can increase your chances of landing the job or getting called back for a second interview (for which you should also send a second interview email).
Now that you know the importance of writing a short follow up email after an interview, here are five awesome tips from Resumeble to help you write an effective and engaging letter.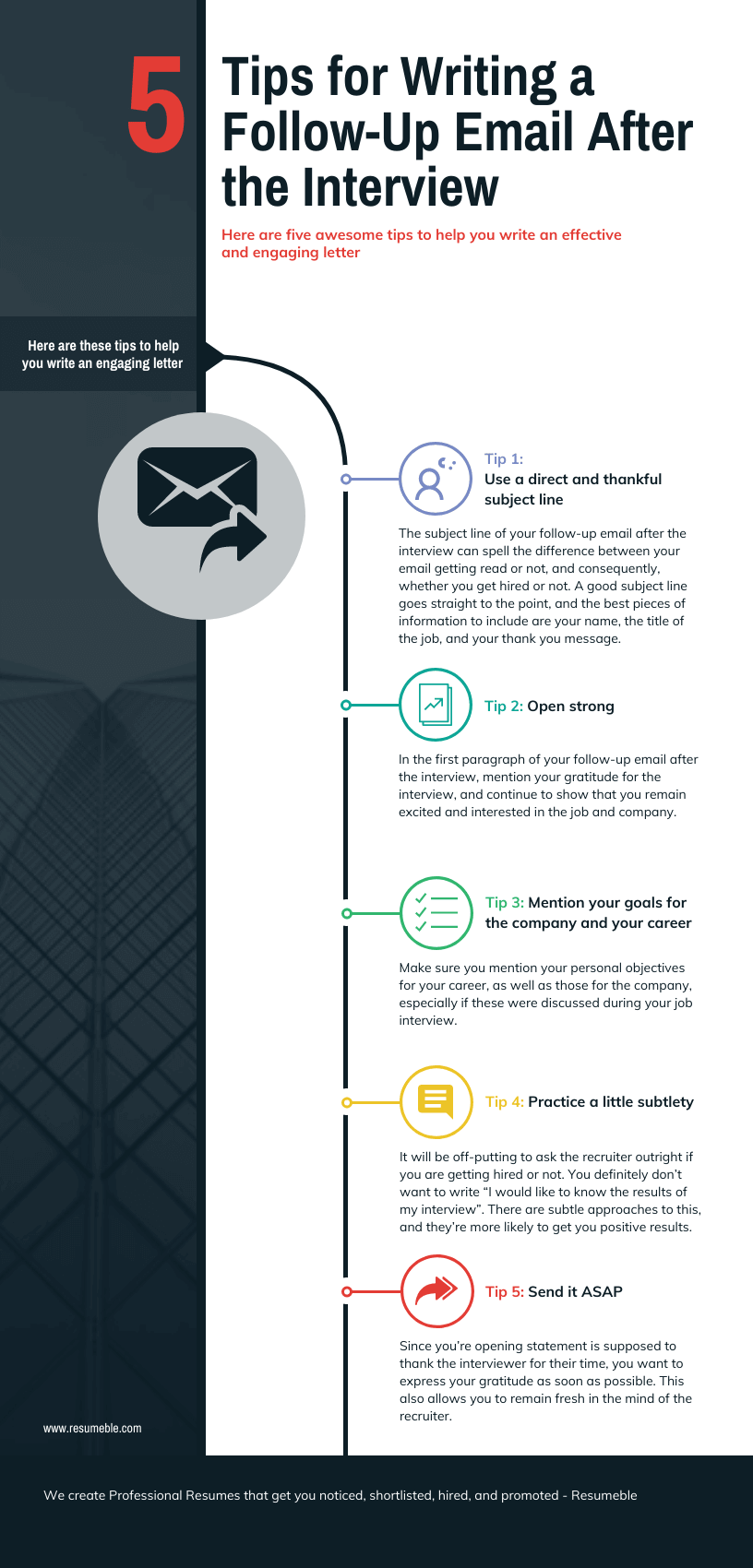 1. Use a direct and thankful subject line
The subject line of your follow up email after interview can spell the difference between your email getting read or not, and consequently, whether you get hired or not. A good subject line goes straight to the point, and the best pieces of information to include are your name, the title of the job you are applying for, and your thank you message.
Here are some examples:
John Smith/Sales Manager Applicant/Thank you for your time!
Jane Johnson/Clerk Applicant/In gratitude for your valuable time
Sam Coldwell/IT Specialist Interviewee/Thanks for the opportunity
2. Open strong
In the first paragraph of your follow up email after interview, mention your gratitude for the interview, and continue to show that you remain excited and interested in the job and company. It can be useful to include the date of the interview as well as some specifics of your conversation so they can recall you quickly in case they were interviewing a sea of applicants.
Here is an example:
Dear Mr Essex,
I am very thankful for your interview with me on (date of interview). It was exciting to know someone who shared my interest in bass fishing. Likewise, it was also a pleasure discussing with you the particulars of the vacant sales position. It is now clear to me that (name of company) is the best place to grow my career.
3. Mention your goals for the company and your career
Any company would appreciate a candidate who puts in the time to learn about its inner workings before applying. Make sure you mention your personal objectives for your career, as well as those for the company, especially if these were discussed during your job interview. If you can, be specific with the steps and deadlines of these goals to show your enthusiasm for the job.
Here is an example:
Ms. Kensing,
Thank you for the opportunity to interview with you last (date of interview). It helped me realize that working for (name of company) is the best avenue for me to further my career. I hope to stay at the company and expect that in three years, I will make a significant impact on the organization's bottom line.
4. Practice a little subtlety
It will be off-putting to ask the recruiter outright if you are getting hired or not. You definitely don't want to write "I would like to know the results of my interview" or any such overly obvious statements. There are subtle approaches to this, and they're more likely to get you positive results.
Here is an example:
Hello Mrs. Jones,
Thank you for the interview, as it gave me the opportunity to learn what the company is doing when it comes to social justice. I look forward to work on a team that shares my passion in the area. Please let me know of any further instructions regarding my application.
5. Send it ASAP
You can send your follow-up email any time within a week after your interview. Since you're opening statement is supposed to thank the interviewer for their time, you want to express your gratitude as soon as possible. This also allows you to remain fresh in the mind of the recruiter.
3 frequently asked questions about follow-up email after the interview
Should you always send your follow-up email immediately?
That's the ideal. However, if you were you were given a timeline as to when they will decide on your application, you'll have to wait to send your follow-up email until then. For instance, if the recruiter says it will take a couple of weeks, send your email after that time has elapsed.
Should I call to learn about my application?
Emails are more acceptable than phone calls. The latter puts the recruiter on the spot and could make him or her feel uneasy. When you send an email, you allow the recruiter to respond to your inquiry at their leisure, giving them time to compose the appropriate response.
What if I still don't get a reply after sending my follow-up letter?
Not getting hired is not the end of the world. If HR not responding to emails, take it as a learning opportunity to figure out where you fell short, and improve on them. It might also help to take another look at your resume to see if there are changes you can do to make it more impressive in the eyes of recruiters.
Send us your resume today for a free evaluation
Resumeble takes a load off your back with our reasonably priced resume writing services. Choose from one of our packages to elevate your resume
-

Check Your Resume Branding

-

Learn About Main Mistakes and How to Fix Them

-

Check if Your Resume is ATS-compliant

-

Get Your Analysis within 24 Hours or Less!
Get a free resume
review
Upload Resume