10 Best Tech Companies to Have on Your Resume
We are now in the digital age—a fact made obvious by how dominant and in-demand tech jobs have been for the past few years or so. Job positions like web designer/developer, data scientist, systems analyst, and IT support specialist, among others, are highly sought-after by companies across all industries and are known to pay a pretty good wage for those lucky enough to nab them. So what are the best tech companies to have on your resume? Resumeble shares with you 10 that will impress the most.
1. Google
Long regarded among the top 10 tech companies to work for, Google implements a unique "20 percent rule" that lets its workers spend as much as 20 percent of their time on a project of their choosing—with the company footing the bill. This means that when you work at Google, you can spend one day every work week on any pet project that can help improve the search engine giant's products.
On top of this immense perk, you get to enjoy one of the highest-paying tech jobs in the world, discounts on almost everything, and generous leave periods if you're a parent. And there's also free food.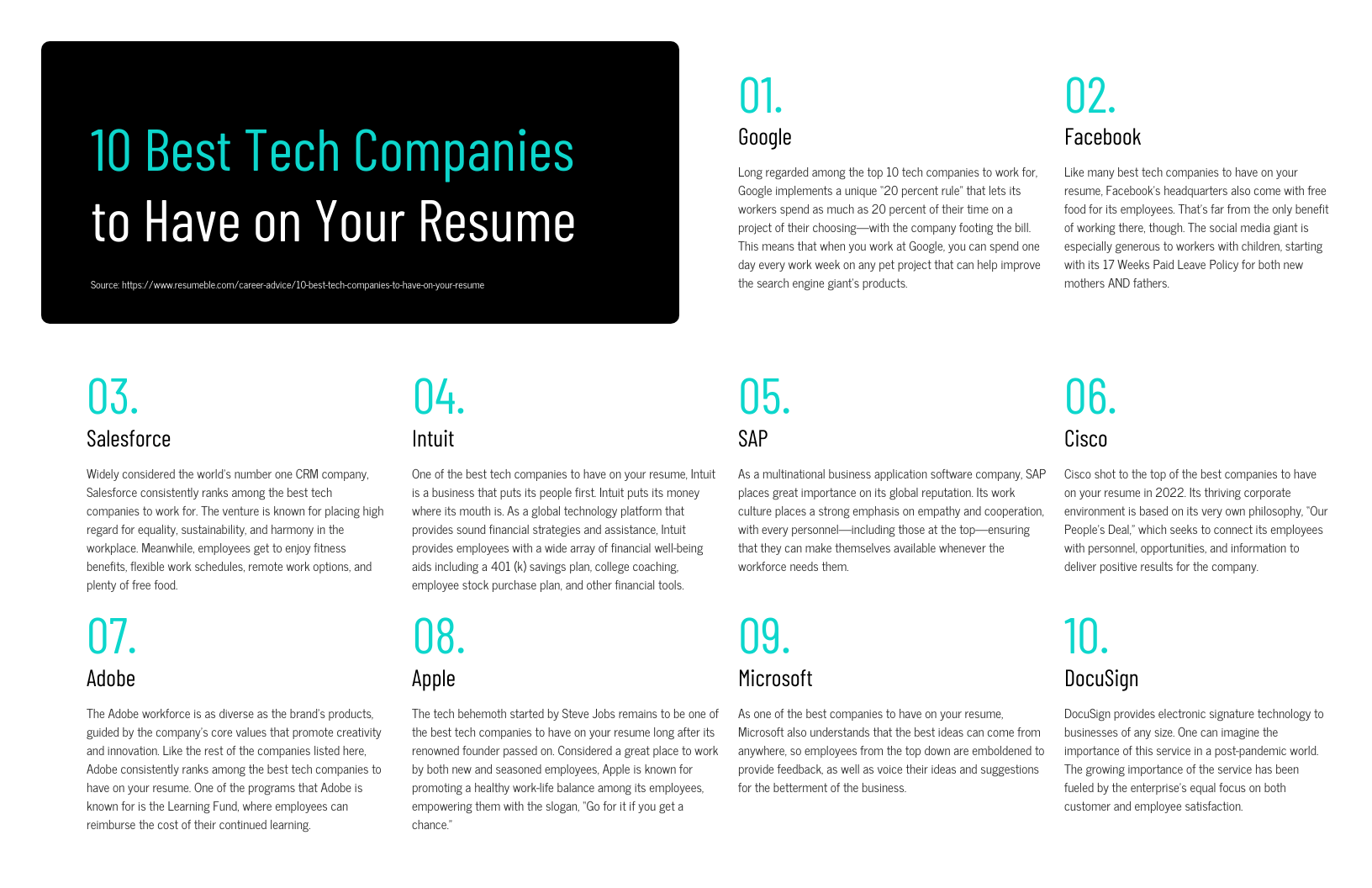 2. Facebook
Like many best tech companies to have on your resume, Facebook's headquarters also come with free food for its employees. That's far from the only benefit of working there, though. The social media giant is especially generous to workers with children, starting with its 17 Weeks Paid Leave Policy for both new mothers AND fathers.
Additionally, Facebook also encourages its workers to speak up and voice their concerns or suggestions, regardless of their position in the company. And when the business does well, it makes sure to let the success trickle down to the rest of the workforce. Aside from all these, workers can expect free transportation, onsite health and dental care, and even laundry services.
3. Salesforce
Widely considered the world's number one CRM company, Salesforce consistently ranks among the best tech companies to work for. The venture is known for placing high regard for equality, sustainability, and harmony in the workplace. Meanwhile, employees get to enjoy fitness benefits, flexible work schedules, remote work options, and plenty of free food.
4. Intuit
As can be expected of one of the best tech companies to have on your resume, Intuit is a business that puts its people first. Suffice it to say, Intuit puts its money where its mouth is. As a global technology platform that provides sound financial strategies and assistance, Intuit provides employees with a wide array of financial well-being aids including a 401 (k) savings plan, college coaching, employee stock purchase plan, and other financial tools.
Apart from these, Intuit invests in the well-being of its employees above all else. Benefits are wide-ranging, beginning with regular healthcare, mental and emotional health, generous vacation times, and other forms of support.
5. SAP
As a multinational business application software company, SAP places great importance on its global reputation. Its work culture places a strong emphasis on empathy and cooperation, with every personnel—including those at the top—ensuring that they can make themselves available whenever the workforce needs them. "Our senior leadership walks the walk and talks the talk, in that you can see SAP's core values demonstrated in their actions," describes one employee.
Aside from the impressive work culture, what makes SAP one of the most prestigious companies to have on your resume is that it also offers flexible work hours, a strong 401(k) matching program, plus a generous benefits package that's available to all employees.
6. Cisco
As a provider of software-defined networking, cloud and security solutions, Cisco shot to the top of best companies to have on your resume in 2022. Its thriving corporate environment is based on its very own philosophy, "Our People's Deal," which seeks to connect its employees with personnel, opportunities, and information to deliver positive results for the company. This philosophy is matched with Connected Recognition, a rewards program that employees describe as going "above and beyond" to deliver amazing perks and privileges for those who have achieved impressive results for the brand.
7. Adobe
The Adobe workforce is as diverse as the brand's products, guided by the company's core values that promote creativity and innovation. Like the rest of the companies listed here, Adobe consistently ranks among the best tech companies to have on your resume. One of the programs that Adobe is known for is the Learning Fund, where employees can reimburse the cost of their continued learning.
8. Apple
The tech behemoth started by Steve Jobs remains to be one of the best tech companies to have on your resume long after its renowned founder passed on. Considered a great place to work by both new and seasoned employees, Apple is known for promoting a healthy work-life balance among its employees, empowering them with the slogan, "Go for it if you get a chance."
9. Microsoft
Bill Gates' software marque lets employees change their work circumstances as they see fit. "You'll be given autonomy, your ideas will matter," describes one employee. For people who prefer not having a manager hovering over how they work, Microsoft offers the ideal setup.
As one of the best companies to have on your resume, Microsoft also understands that the best ideas can come from anywhere, so employees from the top down are emboldened to provide feedback, as well as voice their ideas and suggestions for the betterment of the business.
10. DocuSign
DocuSign provides electronic signature technology to businesses of any size. One can imagine the importance of this service in a post-pandemic world. The growing importance of the service has been fueled by the enterprise's equal focus on both customer and employee satisfaction.
Applying to one of the top 10 companies to work for?
Resumeble makes it easier for you to get shortlisted by the best companies in the world. Our exceptional resume writing services provide a 60-day interview guarantee. Send us your resume today for a free, no-obligation evaluation.
-

Check Your Resume Branding

-

Learn About Main Mistakes and How to Fix Them

-

Check if Your Resume is ATS-compliant

-

Get Your Analysis within 24 Hours or Less!
Get a free resume
review
Upload Resume