What's the Actual Standard of Resume Paper
When creating a resume, people often focus more on the content, and less on the resume paper that the content is printed on.
Presentation is key to producing a powerful and appealing resume, and so choosing the right paper for resume is just as important a consideration as font, format, and style. Even in today's digital age where a large percentage of resumes are sent via email, one's choice of paper still matters. Based on our extensive experience in resume writing service, we know for a fact that many recruiters and hiring managers still prefer to read physical resumes over scrolling through a screen.
Needless to say, aside from sending your resume through email, you also have to print it out on paper and send it out to the appropriate person. But you shouldn't just use any type of paper for your resume—you need to use resume paper.
What is a resume paper?
As the name suggests, resume paper refers to a type of paper used for resume writing. It is thicker, weightier, and more opaque than regular 20-lbs copy paper that people use for printing office documents. Resume paper can come in different materials, colors, and textures as well.
Though you can always use any type of paper for your resume, rule of thumb dictates that you must use quality paper that prints better, is made of high-grade material, and looks professional, and resume paper checks all these boxes. It goes without saying that if you want your resume to be taken seriously by recruiters and hiring managers who read it, then you absolutely need to use resume paper.
Of course, there's more than one type of resume paper that you can use. Below are some of the considerations and options you have when choosing the right resume paper for your needs.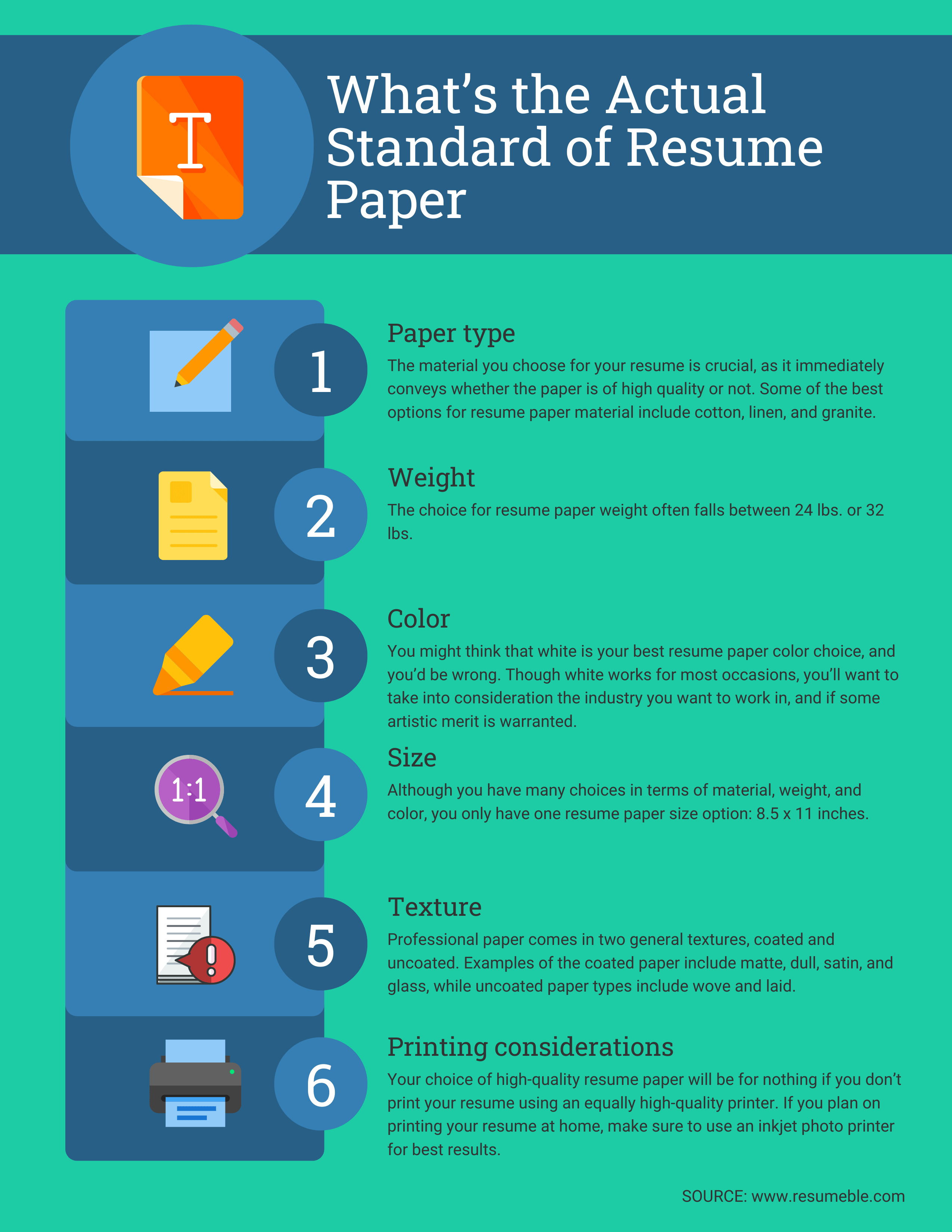 Paper type
The material you choose for your resume is crucial, as it immediately conveys whether the paper is of high quality or not. Some of the best options for resume paper material include cotton, linen, and granite. Cotton is the more widely accepted material, as its crisp and clean appearance instantly makes it a great professional-looking paper choice. Cotton is also an environmentally sustainable material, making it the best paper for resume for many.
Linen, on the other hand, adds a nice texture while retaining an all-important professional appearance. Granite comes with dark speckles, which lend a unique quality to a resume without sacrificing a formal tone.
Weight
The choice for resume paper weight often falls between 24 lbs. or 32 lbs. Many consider the standard 20-lbs. paper unacceptable for resume writing, as it is far too bland and common, and makes a resume look cheap and sloppy. 24 lbs. paper is the most common choice, as it can adequately handle frequent handling and prints. Most of the formal papers sold in the market come in 24 lbs. weight. However, many believe that 32 lbs. the paper gives a resume better 'gravitas,' which helps make the paper feel more important. Proponents of the use of 32 lbs. paper for resume writing cites the official appearance of diplomas and certifications—which use weightier paper—as good reasons.
Color
You might think that white is your best resume paper color choice, and you'd be wrong. Though white works for most occasions, you'll want to take into consideration the industry you want to work in, and if some artistic merit is warranted. Subtle shades of blue, brown, green or yellow can work for more creative positions, such as web designers or graphic illustrators. Likewise, an off-white or ivory paper will still appear formal while giving your resume a distinguishing factor that helps you stand out from the rest of the candidates.
Size
Although you have many choices in terms of material, weight, and color, you only have one resume paper size option: 8.5 x 11 inches. Go smaller or larger, and you risk your resume getting looked at unfavorably. Leave the best impression by sticking to the tried-and-true 8.5 x 11-inch resume paper size.
Texture
Professional paper comes in two general textures, coated and uncoated. Examples of the coated paper include matte, dull, satin, and glass, while uncoated paper types include wove and laid. Although any of these will work for your resume, you don't want your paper's texture to be too distracting. Regardless of the texture of the paper, you decide on using, make sure to check the final printed product before sending it out. If the texture takes the focus off your resume's content, replace it with something subtler.
Printing considerations
Your choice of high-quality resume paper will be for nothing if you don't print your resume using an equally high-quality printer. If you plan on printing your resume at home, make sure to use an inkjet photo printer for best results. And do consult your printer's manual if it supports the thickness of your preferred paper for resume, and if there are any special steps you must take to ensure your resume prints correctly.
If your home printer is not up to standards, you can visit an office supply store, printing service store, or your local public library to have your resume printed. Don't forget to bring with you your flash drive containing your resume. And save your resume in different file formats including *.doc, *.docx, and *.pdf if you're not sure which ones the printing service will accept.
Don't compromise on quality
Your resume represents you, that's why your choice of resume paper has a major impact on how recruiters and hiring managers will view you. A high-quality resume paper serves as the proper background for a well-written, well-structured resume. Keep the considerations above in mind when choosing the right resume paper for your needs.
Let Resumeble work on your resume's content
Match your high-quality resume paper with resume content that not only catches the attention of recruiters but also sustains it. Resumeble's professional resume writing service comes with a 60-day interview guarantee after finalizing your resume. Give yourself a better chance of getting your foot in the door. Have us write your resume today.
-

Check Your Resume Branding

-

Learn About Main Mistakes and How to Fix Them

-

Check if Your Resume is ATS-compliant

-

Get Your Analysis within 24 Hours or Less!
Get a free resume
review
Upload Resume