TOP 5 2021 Hiring Trends from Resumeble
The world of employment is an ever-evolving place where job market trends come and go. To navigate this world successfully, job hunters need to keep their eyes peeled and an ear to the ground, keeping abreast of the most prominent hiring trends of the day to ensure they are in a good position to get hired. Without further ado, here are the top five job market trends 2021 to look out for.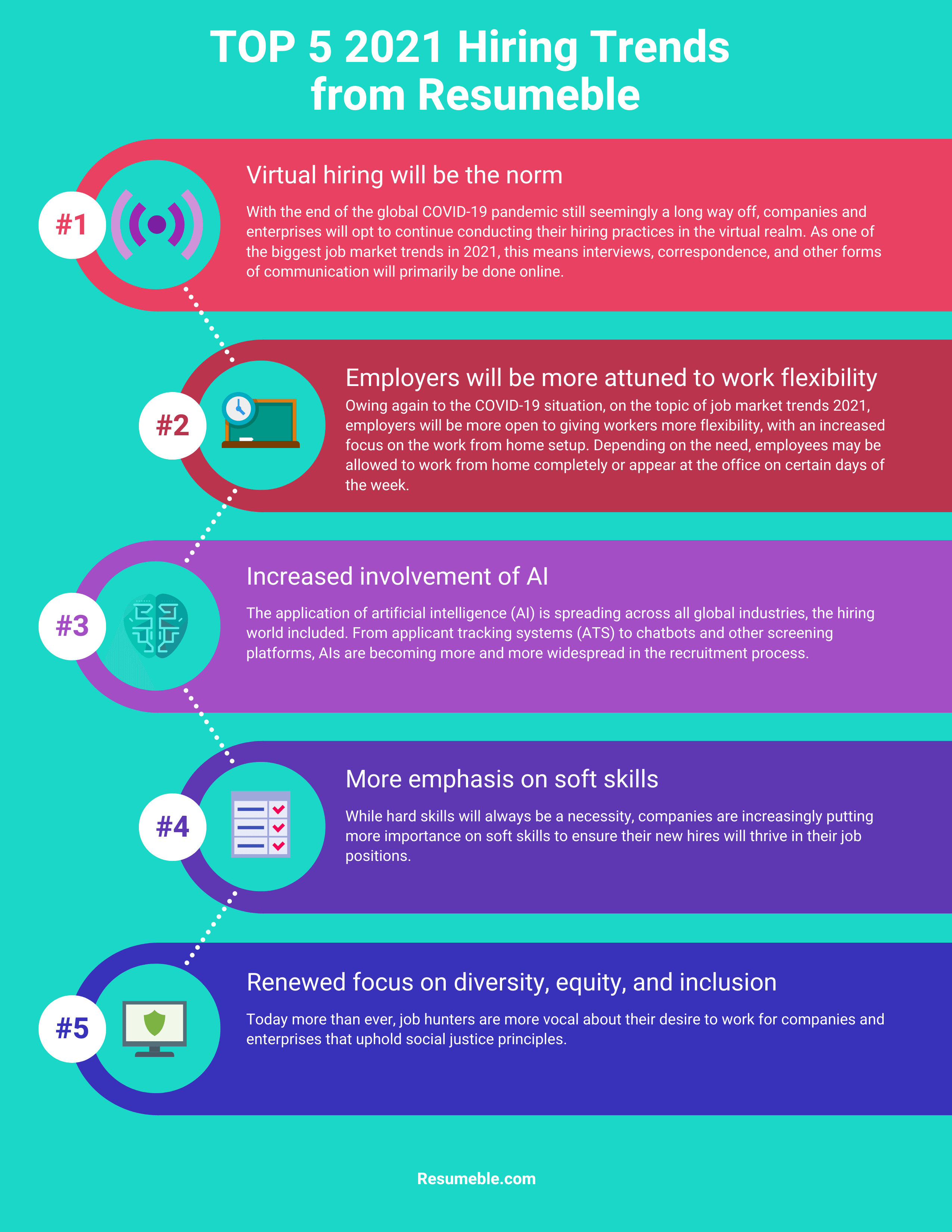 Virtual hiring will be the norm
With the end of the global COVID-19 pandemic still seemingly a long way off, companies and enterprises will opt to continue conducting their hiring practices in the virtual realm. As one of the biggest job market trends in 2021, this means interviews, correspondence, and other forms of communication will primarily be done online. While employers had increasingly been conducting job interviews via online conferencing applications such as Zoom and Skype, the practice has expanded to include other aspects of hiring, including contract signing, personality tests, and more.
Employers will be more attuned to work flexibility
Owing again to the COVID-19 situation, on the topic of job market trends 2021, employers will be more open to giving workers more flexibility, with an increased focus on the work from home setup. Depending on the need, employees may be allowed to work from home completely or appear at the office on certain days of the week.
A recent study found that more or less 56 percent of the US workforce holds a job that is partially or completely suited to remote work. Experts are suggesting that as the remote setup gains traction, the current adoption of 3.6 percent will more than double in the near future, with some predicting that 25 to 30 percent of the US workforce will be working remotely post COVID-19 pandemic.
Increased involvement of AI
The application of artificial intelligence (AI) is spreading across all global industries, the hiring world included. From applicant tracking systems (ATS) to chatbots and other screening platforms, AIs are becoming more and more widespread in the recruitment process. What this means for job hunters moving forward is that the one-size-fits-all application will rarely work, if at all. You need to tailor your methods to the position and company you plan to work for. A well-crafted, error-free and unique resume can spell the difference between your application being shortlisted for interview or discarded.
More emphasis on soft skills
While hard skills will always be a necessity, companies are increasingly putting more importance on soft skills to ensure their new hires will thrive in their job positions. Some of the most in-demand soft skills defining job market trends 2021 include communication, critical thinking, collaboration, creativity, and last but not least, self-discipline, which is a prime quality to have with the prevalence of the work from home setup. Adaptability will also be highly regarded, as it is considered the number one skill for recruiters to embrace in 2021, according to a LinkedIn survey.
Renewed focus on diversity, equity, and inclusion
Today more than ever, job hunters are more vocal about their desire to work for companies and enterprises that uphold social justice principles. According to a survey, around 62 percent of applicants will have no problem turning down a job offer if they found out that the hiring company places little value on diversity, equity, and inclusion (DEI). In another research, 74 percent of employees actually expect their employer to take an active stance on societal and political issues.
Experience success in the job market 2021 with Resumeble
Are you ready to level up your application efforts? Let Resumeble's expert writers help you develop your resume to ensure it makes the cut. Regardless of whether you plan to work in the USA, UK, Australia, Dubai, etc., we can accommodate you. Send us your resume today for a free, no-obligation evaluation.
3 FAQs about getting hired this 2021
Q: How do I best search for a job?
A: To find the ideal job, you must first create a job search strategy. Start by identifying your career goals and reflect on what would be the right career path for you. This is the best way to pinpoint the companies and enterprises that are the best ones to send your resume to. Next, create a schedule and dedicate specific hours of the day or week to job searching. If you plan on applying for multiple positions at once, make sure you keep track of your applications and have a way to follow up politely for those who take too long to respond.
Q: How do I know what employers are looking for?
A: The most important step is to review the job posting thoroughly. Take note of the hard and soft skills that the job requires. It will also help to learn more about the company, especially its mission and vision. This will help you decide if your personality traits would be a good fit for the work environment that the company upholds.
Q: How do I boost my chances of landing an interview?
A: The best chance of landing an interview is with a well-crafted resume. Make sure your resume is tailored for the job and company you work for, properly formatted, and free of any errors. Take note of the company's country of origin (USA, UK, Australia, etc.) and make sure to adhere to what an acceptable resume looks like in that particular geographical location. Resumeble can help craft that perfect resume for you, taking all these considerations into account. Not only that, our services come with a 60-day interview guarantee.
-

Check Your Resume Branding

-

Learn About Main Mistakes and How to Fix Them

-

Check if Your Resume is ATS-compliant

-

Get Your Analysis within 24 Hours or Less!
Get a free resume
review
Upload Resume