Jobs of the Future: 2025-2050 (updated)
The future of employment is indeed bright. Thanks to the influence of modern technology, numerous industries today are bracing for the onslaught of new, never-seen-before jobs, otherwise known as jobs of the future.
And with the popularity of our post, Jobs of the Future: 2025-2050, we thought it best to research what other jobs the current generation can expect in a few years' time. Without further ado, here are 10 more jobs of the future that the up and coming members of the workforce can look forward to.
Updated List of TOP 10 Jobs of the Future 2025-2050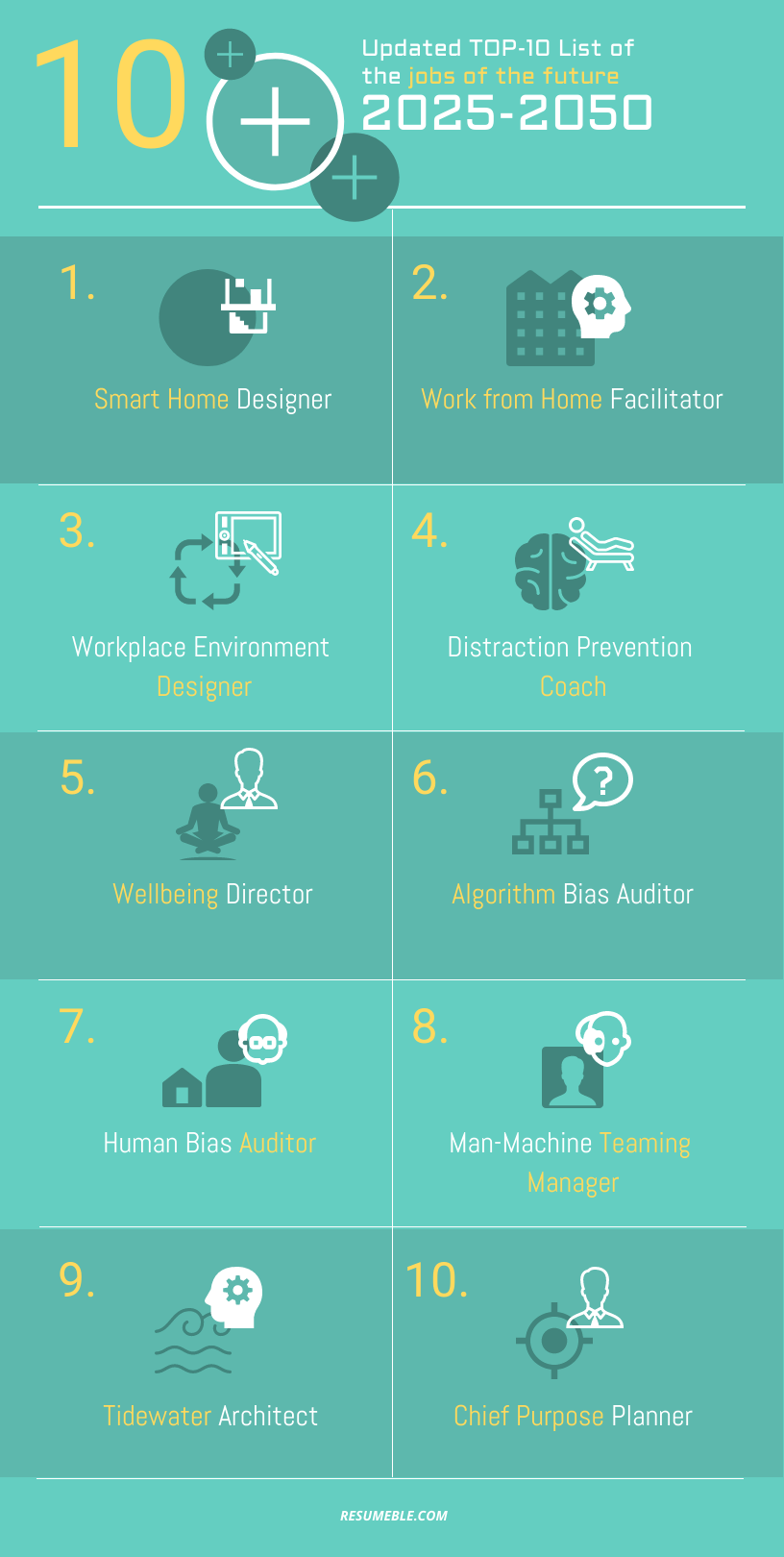 1. Smart Home Designer
With homes increasingly becoming connected, the demand for smart home designers can only grow. Even today, smart home companies are hiring Smart Home System Designers who have the right combination of deep technical knowledge, creativity, and practicality to help homeowners maximize the benefits they get from their smart home systems.
2. Work from Home Facilitator
Although many employees were forced to work from home during the height of the pandemic, a stunning 82 percent actually prefer to stay in the setup than to go back in an office. That's why companies are scrambling to hire Work From Home Facilitators to supply remote workers with the support they need—whether it involves communication, tools for work, or even following up on their wellbeing—to help them do their best work.
3. Workplace Environment Designer
Of course, organizations also need to give office workers attention as much as they do their work from home counterparts. With the pandemic causing many companies to rethink their office architecture, Workplace Environment Designers will play a major role in ensuring employee wellbeing and enjoyment in the years ahead.
4. Distraction Prevention Coach
This professional will serve as psychological help for people who can't seem to separate themselves from their smartphones, especially at work. By having a Distraction Prevention Coach, companies can veer their employees' attention back to their work instead of losing themselves in their smartphone obsession. Some of the requirements for this job will be a degree in human resources and/or psychology, as well as any relevant accreditation.
5. Wellbeing Director
The modern workplace brings with it all new kinds of stressors for the workers of the future, and the Wellbeing Director is tasked with addressing employees' mental, physical, emotional, and spiritual health to ensure productivity is maintained and burnout is prevented. Acting like a psychologist, yoga instructor, and spiritual advisor rolled into one, the people in these future jobs must create solutions that address employee stress, isolation, and conflict, among many other workplace-related issues.
6. Algorithm Bias Auditor
Companies today are placing higher importance on equality and inclusivity, and as the job title suggests, Algorithm Bias Auditors are there to ensure cognitive technologies are free from bias and discrimination. They help tweak algorithms to achieve equal opportunity for data users, and work to ensure the fairness of the workforce. Requirements of these jobs of the future 2050 and beyond include an advanced degree in ethics and bias management, and keen IT knowledge.
7. Human Bias Auditor
Human Bias Auditors work closely with Algorithm Bias Auditors and other decision makers to remove bias in all business functions overseen by HR. The focus of these future jobs is to achieve fair treatment of employees irrespective of gender, race, culture, civil status, age, etc. Similar to Algorithm Bias Auditors, Human Bias Auditors are also required to have substantial background in ethics and bias management, as well as an advanced degree in fields related to HR.
8. Man-Machine Teaming Manager
Pretty soon, man and machine will be working together, and there lies the need for a system of communication and collaboration between the two. This is the responsibility that these future jobs must fulfill.
9. Tidewater Architect
With the sea level expected rise 10 to 12 inches in the next 30 years, Tidewater Architects could soon be the biggest heroes of the jobs of the future 2050 and beyond. These professionals are projected to take on massive civil projects to address the many challenges of global warming and climate change.
10. Chief Purpose Planner
Organizations need vision to thrive, and a Chief Purpose Planner will help companies develop a corporate purpose, along with strategies and narratives that serve that purpose. A solid HR background, along with in-depth knowledge of corporate ethics, social media behavior, and employee/client engagement, are pre-requisites of these future jobs.
Our Previous List of the TOP-10 List of Jobs of the Future
Automation, digital technology, and artificial intelligence are changing the labor landscape in a big way, paving the creation of new jobs that never existed before.
Unfortunately, these factors are also causing the loss of many others.
A recently released report by the World Economic Forum and Boston Consulting suggests that America will see one million jobs vanish completely by 2026, with technology rendering most of them obsolete. With this in mind, candidates for jobs of the future will have to acquire new skills if they want to be competitive in the new labor market.
Are you ready for the best jobs of the future? Below are 10 jobs that experts claim will be highly in demand between 2025 and 2050 from Resumeble.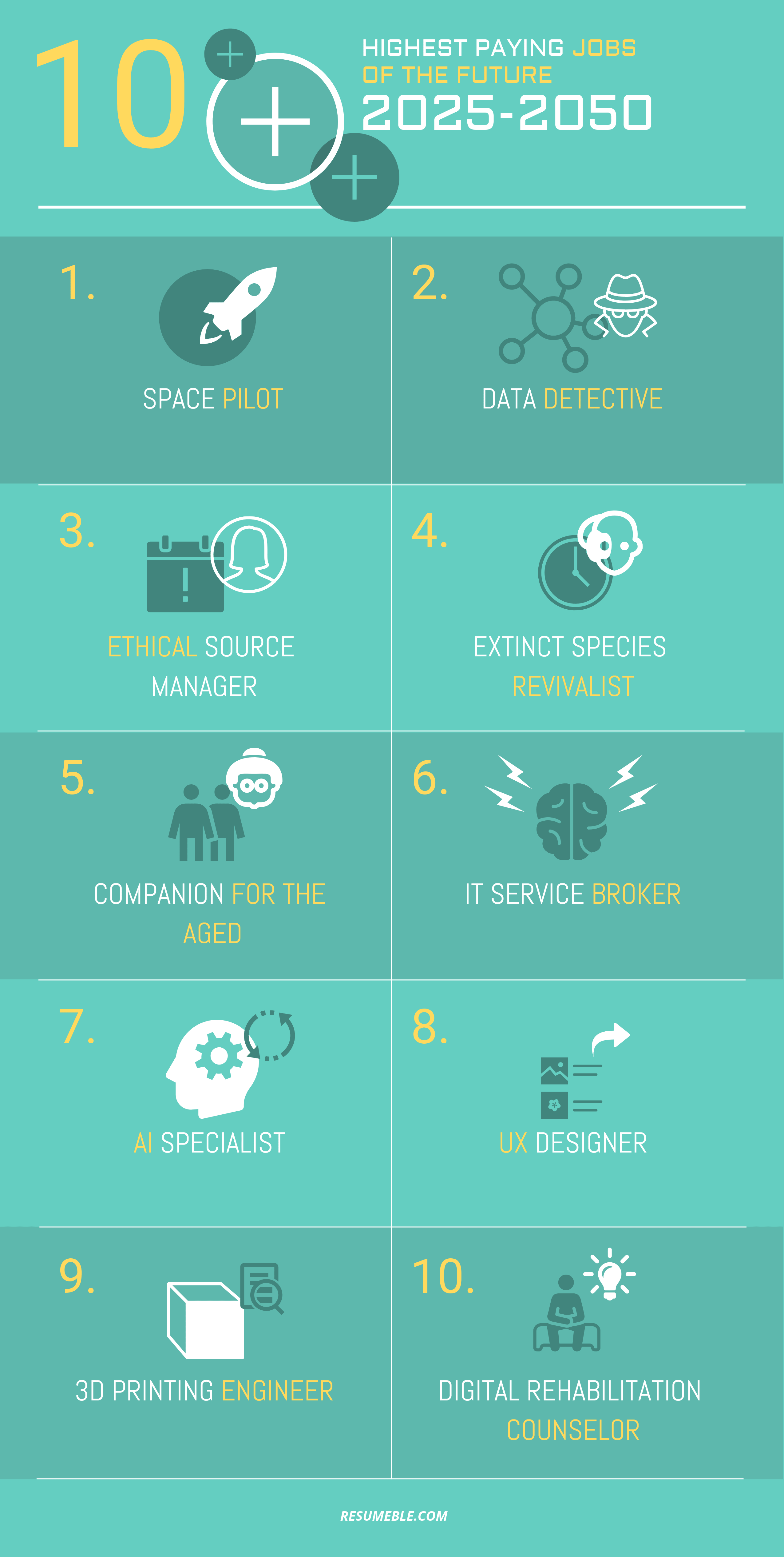 Space Pilot
The commercial space industry is getting 'ready to launch', so to speak. Which means that pilots who can fly a spacecraft will become a highly coveted job. As pilot jobs go, the most important qualification is logging in a specific number of hours in flight, but since we're talking about outer space, a background in astrophysics, astronomy, and engineering will also be necessary. As one would imagine, this is highly touted to be one of the highest paying jobs of the future.
Data Detective
Data usage is evolving, and so a data analyst's job needs to evolve along with it. By 2025, nearly 30 percent of data generated will be real-time, experts say. More than simple data processing and report generation, data information will also need to be translated into understandable, relatable terms so that those handling it can work to implement the necessary measures for improvement. Aside from the usual data analyzing responsibilities, candidates for data detective jobs of the future 2025 also need to develop an investigative problem-solving mentality and practice an ability to demonstrate a keen understanding of data problems that need to be addressed.
Ethical Sourcing Manager
Sourcing managers are responsible for handling an organization's end-to-end sourcing functions, which includes finding the best suppliers, analyzing and calculating procurement costs, and decreasing expenditure. As the world practices better environmental habits, sourcing managers will also have to be ethical with their approach to their job. Aside from ensuring that the sourced products are manufactured ethically, applicants for ethical sourcing manager jobs of the future also needs to ensure that the entire sources of procurement follow ethical standards.
Extinct Species Revivalist
Scientists estimate that between 200 and 2,000 species die off each year, with the dire effects of climate change expected to double the losses by 2040. Fortunately, the technology exists to revive extinct species—think Jurassic Park. From genome editing to extracting and synthesizing DNA strands, extinct species revivalists will soon be able to recreate organisms and reintroduce them to their natural habitats. Extinct species revivalist jobs of the future 2040 require a strong understanding of biology, chemistry, and medicine, as well as a full understanding of geographical, ethical, and legal concerns that affect each revived species.
Companion for the Aged
By 2050, the number of people aged 60 years and over is projected to reach over 2 billion. As general life expectancy gets longer thanks to technology, aging is expected to become one of the most important social concerns of the future. The job of companions for the aged will involve listening to them, helping them with their daily chores and even taking them out for a stroll or some fresh air from time to time. Some of the key competencies necessary for this job of the future 2050 include patience, empathy, and keen observation skills to see if the elderly person is experiencing any emotional problems, such as depression and anxiety.
IT Service Broker
With IT services in high demand, it becomes necessary for someone to play the role of negotiator between IT service providers and their customers. The growing adoption of IT means that the role of the IT service broker will only increase in importance. As someone who's ultimately responsible for intermediation, IT service brokers should be able to understand the customer's requirements and identify vendors who can meet them. Someone who has experience in real estate or stock brokering will find plenty of success in this field if they can shift their focus on IT, cloud computing, and other digital technologies.
AI Specialist
Candidates interested in pursuing opportunities for AI specialization have a variety of routes to take—automation, robotics, computer programming, and other fields relating to math, technology, logic, and engineering. There are also degree programs that offer specific majors in AI or pursue an AI specialization from within majors such as health informatics, engineering computer science, or information technology. As for the jobs themselves, AI specialists have a number of roles to fill, including research science, software engineering, algorithm programming, and AI consultancy.
UX Designer
With interfaces becoming more and more prevalent, UX—short for user experience—will become the primary focus of customer satisfaction. UX Designers will be responsible for the complete appearance of products and websites, with the goal of delving into people's psyche and identifying their needs as a consumer to help create a more enjoyable digital experience. Combining a background in graphic design and psychology will be helpful in progressing with this career trajectory.
3D Printing Engineer
3D printing is a relatively new way of manufacturing that utilizes computer-aided design (CAD). It requires high specialization, and the best candidates for this job are those who have a serious interest in the process, organization, and manufacturing, not to mention who takes great pride in ensuring perfection in their work. An associate degree in a technical field, as well as proficiency in measuring tools, are essential requirements for this particular job of the future.
Digital Rehabilitation Counselor
People are only now realizing how addictive and destructive social media and other online channels can be, with experts predicting it will be a major driver of mental health costs by 2030. Digital rehabilitation counselors are tasked with helping people recover their digital overconsumption and regain their life back. As one of the most important jobs of the future 2030, becoming a digital rehabilitation counselor requires a Bachelor's or Master's degree in counseling.
Is your resume ready for the jobs of the future?
Some of these top-paying jobs of the future are already waiting to be filled today. To qualify for these jobs, your resume needs to highlight not only your core skills and competencies but also your other unique attributes that make you the standout candidate for the position you plan to apply for. Let Resumeble help you make sure your resume is ready to be sent out to employers. Send us your resume for a free, no-obligation evaluation today.
-

Check Your Resume Branding

-

Learn About Main Mistakes and How to Fix Them

-

Check if Your Resume is ATS-compliant

-

Get Your Analysis within 24 Hours or Less!
Get a free resume
review
Upload Resume