Updated TOP 20 Examples of Subject Lines for Sending Resume + 20 Additional
When sending your resume via email, you need to pay serious attention to your email subject line just as you would the content of your email. Why so? It's because your email is the first thing that recruiters and hiring managers see. But more than just tell them they are receiving your resume, your email subject line provides a glimpse of the value that you potentially offer to their organization. Thus, it pays to learn how to write your subject for sending resume the right way.
The importance of email subject lines
In today's rapidly moving business world, even an average employee can experience email overload, otherwise known as the piling of unsolicited messages in one's inbox. If you can relate to the problem of email overload than perhaps you can imagine the abundance of email communications that a point-of-contact person such as a recruiter or human resources manager is bombarded with. Faced with a barrage of new emails, you've probably skimmed at email titles, ignoring and even deleting those that don't catch your attention. Recruiters and hiring managers are the same way.
What to mention in the subject while sending resume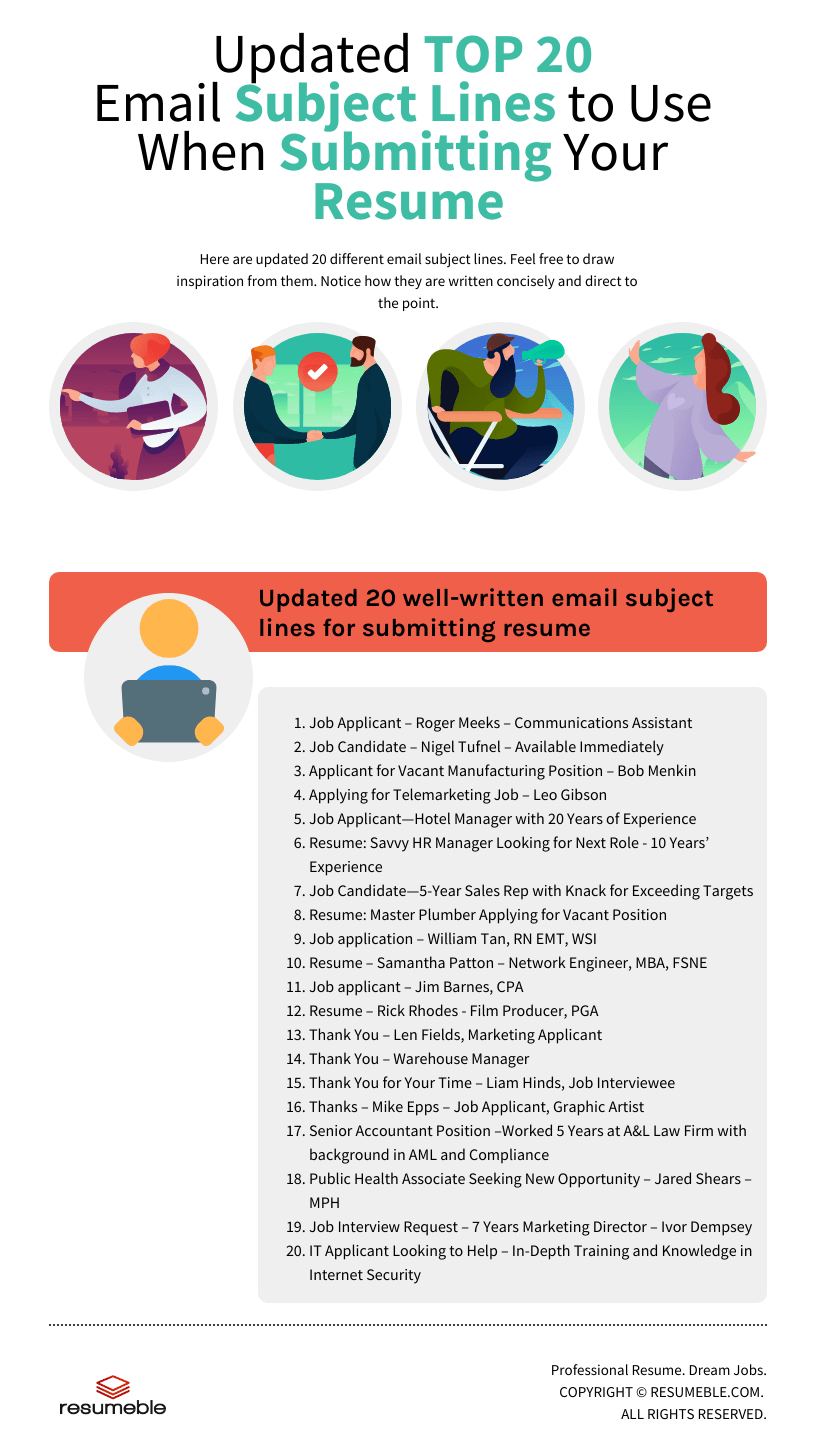 Think of your email subject for sending resume like the title of an article or a book. You have to make an effort to make your title catchy and compelling to encourage your reader to read the rest of your text. Otherwise, you risk your email resume getting sent to the trash bin, or worse, marked as spam. As for what to mention in subject while sending resume, here are four of the most important tips for making your subject for sending resume to HR as effective as can be.
1. Make it obvious you're applying for work
One of the biggest mistakes you can do (which a lot of applicants commit) is not clearly stating your intention, which is to apply for a job. Failing to do so can end up confusing and even infuriating recruiters and hiring managers, especially if your email subject line for job application is shoddily written and the messaging vague. Here are some solid examples of how to be direct-to-the-point with your email subject line when sending your resume.
Resume, John Doe, Applying for Sales Position, Miami
Job Application, Jane Smith, Applying for IT Specialist, Salt Lake City
2. Your qualifications
If the job listing has very specific requirements, such as knowledge of specific computer languages or a master's degree, it can help to use these qualifications in your email subject for sending resume. Check out these examples:
Experienced Content Writer – Over 100 Real Estate Articles Written
Forklift Driver with 2 Years' Experience Applying for Vacant Position
3. If referred, include referring person's name
If you were referred by someone from the company, including that person's name in your subject line for job application. By adding your referrer's name, you can make your email stand out, especially if it's someone who is in good standing with the company. In this case, you are already making a good impression even before the recipient even looks at your resume.
Referral from Steve Smith: Joe Johnson, Resume for SEO Specialist Position
Referral from Mary Winston: George Abrams, Resume for Senior Marketing Position
4. Formal words and phrases
Never use informal words or phrases that you would use in casual conversations with your friends—even if the recipient is someone you personally know. Some examples of terms not to use include "Hi," "Howdy." or "What's up?" Practice professionalism at all times in your correspondence when applying for work. Likewise, avoid using abbreviations or shortened terms unless that's how they were used in the job listing or submission instructions.
Email subject line good practices
More than just using the right words and terms, it also helps to keep some good practices in mind when writing your email subject for sending resume.
1. Keep it short
Recruiters and hiring managers reportedly take only six seconds to skim through an entire resume. How much time do you think they'll spend on your subject for sending resume to HR? Grab their attention immediately by keeping your email subject line concise and direct to the point. Use too many characters, and your subject line can get cut off abruptly, especially on smart devices and mobile phones. You risk losing your recipient's interest this way.
It is highly recommended that you limit your email subject line to 80 characters or less. That should be enough to let your reader know that you're applying for a job. If you have a lengthy name, there's no need to write it entirely—including only your first and last name in your email subject line will suffice.
Job Application, Tony Parks for Accountant Position, Dallas, TX
Resume, Norman Brown for Coaching Staff, Pembroke, NC
2. Review, and review again
Due to the limited space available, any typographical or grammatical error in your email subject line will be immediately obvious. These errors leave a negative impression on any reader, telling them that you're lazy and can't be bothered to check your work. For your application's sake, proofread your subject line along with the rest of your resume before sending it out. By ensuring your subject line is free of spelling or grammatical errors, you preserve your credibility in the eyes of the reading recruiter or hiring manager.
In addition, make sure you're sending your email resume to the right person—you certainly don't want the hiring manager to find another supposed recipient of your email resume.
3. Keywords, keywords, keywords
A lot of the resume applicant screenings done by companies these days rely heavily on keywords. Many modern recruiters use filters to separate job applicants from the rest of their emails, so you need to make your email subject line for sending resume to HR 'filter-friendly' by incorporating keywords relevant to the job position.
Phrases like 'job applicant' or 'job candidate'—along with the position you're applying for—will make your email subject line for sending resume to HR stand out from those coming from other candidates. Here are some examples of subject for sending resume:
• Job Applicant – Roger Meeks – Communications Assistant
• Job Candidate – Nigel Tufnel – Available Immediately
• Applicant for Vacant Manufacturing Position – Bob Menkin
• Applying for Telemarketing Job – Leo Gibson
4. Variations of what to write in subject while sending resume
Although the standard mail subject for sending resume (consisting of simply of the job title and your name) won't do any harm, it can help to deviate from the norm if you truly want to catch a recruiter's attention. Some of the smart variations to the traditional email subject line includes:
a. Accomplishments
You can use your most important credentials and experience to get straight to the point with your email subject for sending resume. Here's a format that works: [Your credentials] with over X years of experience. Below are some examples of this subject for sending resume:
• Job Applicant—Hotel Manager with 20 Years of Experience
• Resume: Savvy HR Manager Looking for Next Role - 10 Years' Experience
• Job Candidate—5-Year Sales Rep with Knack for Exceeding Targets
• Resume: Master Plumber Applying for Vacant Position
b. Acronyms
Attaching acronyms related to academics, job titles, and affiliations after your name in your subject line for sending resume offers a unique opportunity to capture a recruiter's attention and immediately distinguish yourself from the competition. Here are some examples of subject for sending resume:
• Job application – William Tan, RN EMT, WSI
• Resume – Samantha Patton – Network Engineer, MBA, FSNE
• Job applicant – Jim Barnes, CPA
• Resume – Rick Rhodes - Film Producer, PGA
c. Gratitude
Beginning your email with 'Thanks' or 'Thank You' is a great way to immediately establish good rapport with the recruiter reading your email subject line. A little gratitude goes a long way, and can be especially helpful if you've been in contact with the recruiter before. Here are some samples of what to write in subject line while sending resume:
• Thank You – Len Fields, Marketing Applicant
• Thank You – Warehouse Manager
• Thank You for Your Time – Liam Hinds, Job Interviewee
• Thanks – Mike Epps – Job Applicant, Graphic Artist
d. Maximum Characters
Though it's ideal to keep the number of characters of your email subject line at a minimum, there are times when an expanded email subject line can work, especially if you choose your words wisely. Here are some examples of subject for sending resume:
• Senior Accountant Position –Worked 5 Years at A&L Law Firm with background in AML and Compliance
• Public Health Associate Seeking New Opportunity – Jared Shears – MPH
• Job Interview Request – 7 Years Marketing Director – Ivor Dempsey
• IT Applicant Looking to Help – In-Depth Training and Knowledge in Internet Security
5. Do you have a professional email address?
Returning to the topic of professionalism, you simply can't have an email address that doesn't make you appear like a responsible and mature adult. So that email with your funny nickname simply won't cut it—that is, if you want recruiters to take you seriously.
As a starting point, your email should have both your first and last name. Having a few non-alphabetical characters in your email address is fine, as long as you limit them to four or five. It can also help to add your profession to your email address, as it can make your name stand out more (for example, [email protected]).
When including numbers, try to avoid those that reveal your age (birth year) or location (zip code), because these can be used to discriminate, whether intentional or not. And don't hesitate to make an entirely new email from scratch if you have to. Emails are fairly easy to create, and you can even make one specifically for application purposes.
20 additional well-written email subject lines for submitting resume
Here are 20 different email subject lines. Feel free to draw inspiration from them. Notice how they are written concisely and direct to the point.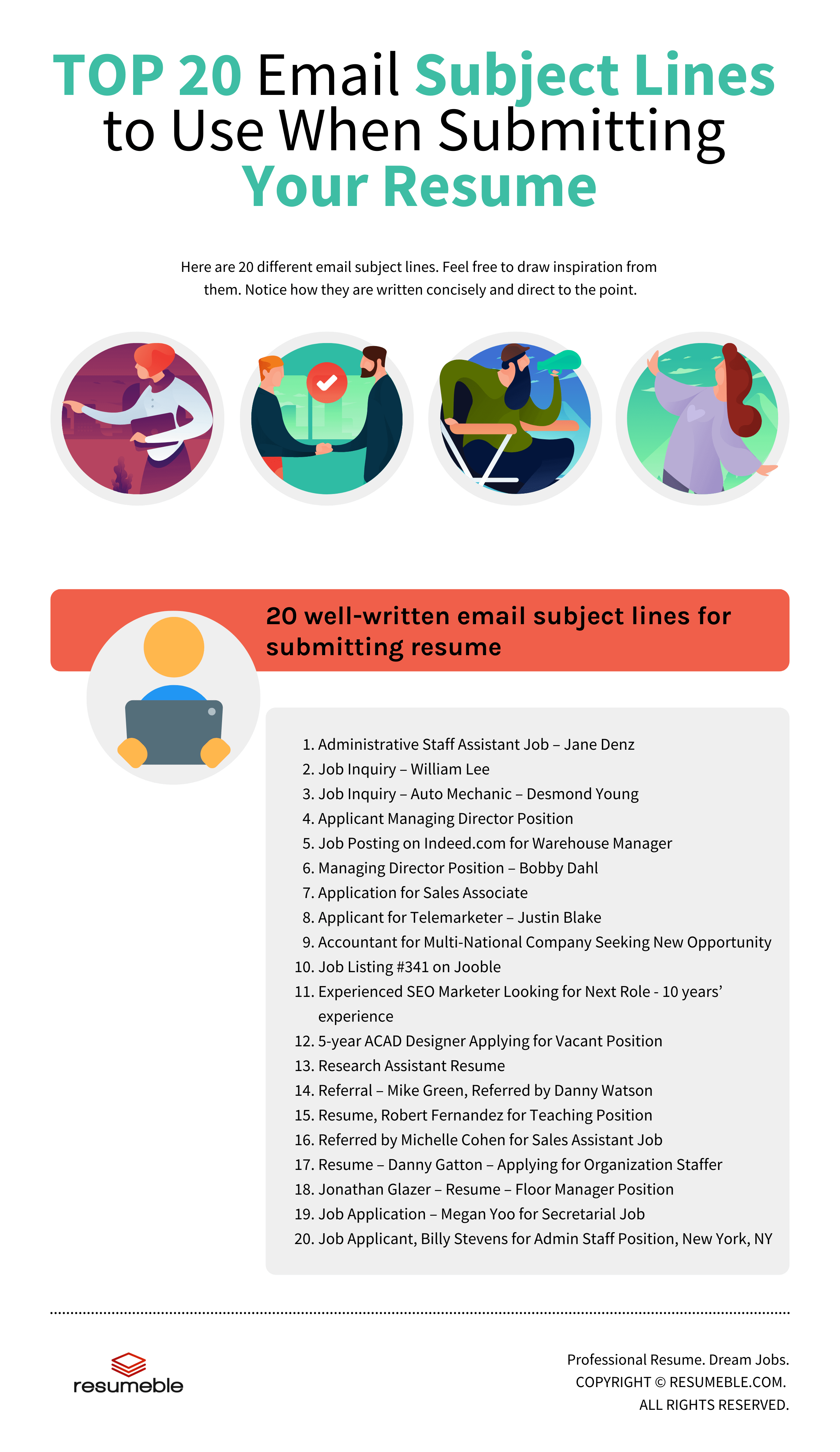 Administrative Staff Assistant Job – Jane Denz
Job Inquiry – William Lee
Job Inquiry – Auto Mechanic – Desmond Young
Applicant Managing Director Position
Job Posting on Indeed.com for Warehouse Manager
Managing Director Position – Bobby Dahl
Application for Sales Associate
Applicant for Telemarketer – Justin Blake
Accountant for Multi-National Company Seeking New Opportunity
Job Listing #341 on Jooble
Experienced SEO Marketer Looking for Next Role - 10 years' experience
5-year ACAD Designer Applying for Vacant Position
Research Assistant Resume
Referral – Mike Green, Referred by Danny Watson
Resume, Robert Fernandez for Teaching Position
Referred by Michelle Cohen for Sales Assistant Job
Resume – Danny Gatton – Applying for Organization Staffer
Jonathan Glazer – Resume – Floor Manager Position
Job Application – Megan Yoo for Secretarial Job
Job Applicant, Billy Stevens for Admin Staff Position, New York, NY
Work with Resumeble for your resume
Your email subject for sending resume is just one of the many ingredients to help you get one foot in the door. Make sure your resume is just as robust by having one of our experienced resume writers work with you to develop your application document.
More than just simply writing resumes for our clients, we at Resumeble take it one step further by providing an interview guarantee—we can ensure that you receive an interview call within 60 days of finalizing your resume. Other job hunting services are also offered, such as cover letter writing, LinkedIn write-up, and more. Send us your current resume for a free, no-obligation evaluation, and let's start working on giving your career the great start that it deserves.
-

Check Your Resume Branding

-

Learn About Main Mistakes and How to Fix Them

-

Check if Your Resume is ATS-compliant

-

Get Your Analysis within 24 Hours or Less!
Get a free resume
review
Upload Resume