The Ultimate Guide on How to Write a Resume in 2021
We are now in the second half of 2021. Have you found meaningful work yet? If your resume is not getting you the results you want, it may be time to clean it up a bit with a few key resume writing tips 2020. Make sure to use these tips to get ahead of the competition and finally get your foot in the door toward the career path you're aiming for.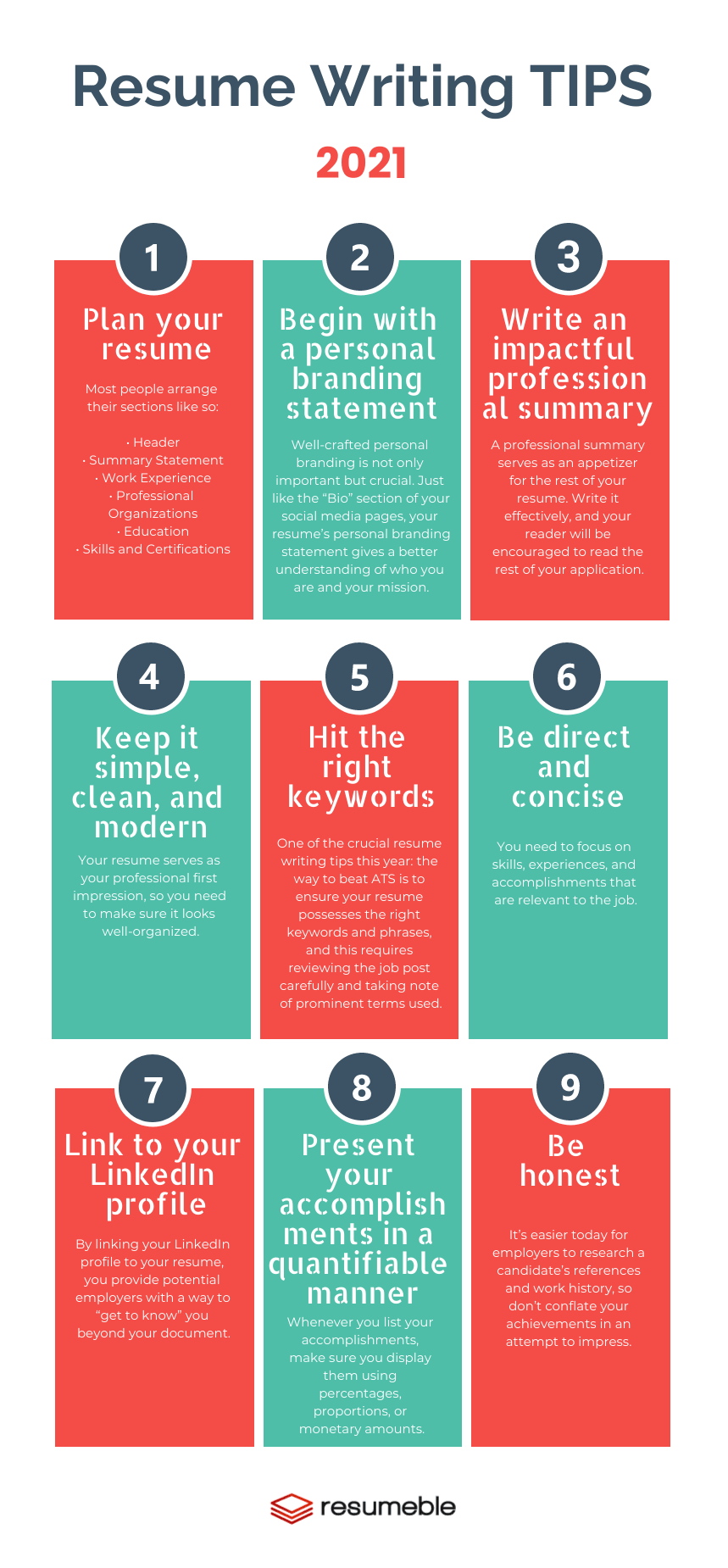 1. Plan your resume
Perhaps the most important of all resume writing tips 2021—before you begin writing a resume in 2021, you must first decide which type of resume works best: chronological, functional, or combination. Here's the definition for each one so you'll know the right one to write for your career situation.
• Chronological resume – the traditional type of resume, with the work experience listed in reverse chronological order.
• Functional resume – the type of resume that prioritizes skills over experience in order to take away attention from problematic career decisions.
• Combination resume – picks the best qualities of both the chronological and functional resume and merges them.
After choosing your resume type, you need to plan your resume sections according to the position and your specific career situation. Most people arrange their sections like so:
• Header
• Summary Statement
• Work Experience
• Professional Organizations
• Education
• Skills and Certifications
You can personalize these sections according to your needs, but avoid deviating too much from what recruiters and hiring managers expect to see.
2. Begin with a personal branding statement
For 2021 resume tips, well-crafted personal branding is not only important but crucial. Just like the "Bio" section of your social media pages, your resume's personal branding statement gives a better understanding of who you are and your mission. Below your job title, write a sentence or phrase that best encapsulates your passion, profession, and/or accomplishments. Here are some tips to keep in mind: Use active verbs, focus on what you're good at, and think over the keywords and make sure they feel fresh, not overused. Here are some examples:
• I build brands with small businesses.
• I make B2B transactions simpler and more cost-effective.
• Helping IT professionals achieve technical mastery over integrated management systems.
As one of the key resume writing tips to use for resume writing 2021, keep working on your bio statement until you're convinced that it conveys you as the ideal candidate for the job.
3. Write an impactful professional summary
A professional summary serves as an appetizer for the rest of your resume. Write it effectively, and your reader will be encouraged to read the rest of your application. As you write your summary statement, consider your unique strengths, experiences, and accomplishments that you believe are relevant to the job you're applying for.
• Customize it specifically for the job position.
• Apply keywords used in the job listing.
• Quantify your achievements with solid numbers and figures.
• Sum up all that you have to offer.
Read the job posting carefully, then evaluate your own skills and experiences to identify the value that you can bring to the job and organization.
4. Keep it simple, clean, and modern
Your resume serves as your professional first impression, so you need to make sure it looks well-organized. It represents you formally, so here are a few of the more important resume writing tips you must remember: only use high-quality paper, and print only in black and white, because it helps establish you as a serious applicant. Choose a contemporary font, such as Calibri, Garamond, or Helvetica. Strive for the perfect balance of white space and print. Keep the size of the text between 10 and 12 for legibility, and only use single spacing for your paragraphs. Finally, keep the side margins one inch wide on both sides, as this is the universally accepted standard for formal letters.
5. Hit the right keywords
Many companies and business enterprises today employ an applicant tracking system (ATS), a type of computer program that basically scans and screens resume before they are read by recruiters and hiring managers. The way these applications work is that they basically pore through resumes looking for keywords specific to the job posting. Needless to say, if your resume doesn't contain these keywords, your application has no chance of reaching the eyes of those who will supposedly hire you.
One of the crucial resume writing tips this year: the way to beat ATS is to ensure your resume possesses the right keywords and phrases, and this requires reviewing the job post carefully and taking note of prominent terms used. For a resume tips example, let's say you were applying for a warehouse manager position, some of the keywords you're likely to come across include:
• Trucking inventory
• Shipping and receiving
• Cycle counting
• Vendor management
By using job-specific keywords in your resume organically and naturally, you increase your chances of passing ATS screening, getting you closer to landing that ever-important job interview.
6. Be direct and concise
As you refine your resume, you need to make sure your document emphasizes the qualities that can help you stand out from the competition. This means you need to focus on skills, experiences, and accomplishments that are relevant to the job. Avoid peppering your resume with unnecessary and irrelevant information, as these may make you appear as someone who has very little to offer to the position in question. Recruiters will appreciate a lean resume more than that has been stuffed with unrelated experience.
7. Link to your LinkedIn profile
LinkedIn has become the preferred platform for brands and organizations to engage with a professional demographic. With over 87 percent of recruiters regularly using the platform, it is now considered a huge mistake for job hunters to not have a LinkedIn profile—even more so if they fail to link it to their application.
By linking your LinkedIn profile to your resume, you provide potential employers with a way to "get to know" you beyond your document. Expect them to go through your profile and posts to see if your skills and professionalism are up to par with what they're looking for in a candidate. Likewise, you should also expect them to look for sensitive content that may put their branding at risk. Take the time to clean up your social media pages by hiding or deleting any inappropriate posts.
8. Present your accomplishments in a quantifiable manner
Recruiters love to see hard, solid numbers on a resume because it confirms to them that you were successful at your previously held jobs. Whenever you list your accomplishments, make sure you display them using percentages, proportions, or monetary amounts. For a resume tips example, if you worked as a salesperson at your old job, don't just say that you regularly met the company quota—let your potential employer know what the quota was, how many months were you able to meet or exceed it, and how much your previous your company profited from your efforts. Here are some resume writing guides 2021 examples of what you could say:
• Generated over 20 percent of the company's sales total over a four-year period.
• Met and exceeded delivery targets over a 2-year period, resulting in zero production downtime for the manufacturing company during the said period.
• Created and carried out skill workshops that improved employee productivity by 20 percent.
9. Be honest
It's easier today for employers to research a candidate's references and work history, so don't conflate your achievements in an attempt to impress. If a recruiter finds contradictory information when they look you up on the Internet, you may just lose the chance of getting hired. Worse, you could even get blacklisted, and no recruiter will want to work with you. For resume writing 2021, this means that your resume will never be read by a hiring manager, and finding the next job or career opportunity only becomes that much more out of reach. Be truthful and avoid such consequences.
Need more tips on resume writing 2021?
Resumeble's Career Advice section has many useful articles to help you develop your resume into the best application document it can possibly be. If you need help with your resume, we have expert writers who will work with you one on one to chisel your resume into a top-caliber application that showcases your best qualifications and highlights the value that you can deliver as an employee. Take advantage of our highly in-demand resume writing 2021 services today.
-

Check Your Resume Branding

-

Learn About Main Mistakes and How to Fix Them

-

Check if Your Resume is ATS-compliant

-

Get Your Analysis within 24 Hours or Less!
Get a free resume
review
Upload Resume