Remote Work Trends in Today's Realities
Technologies such as teleconferencing, digital imaging, email, data storage, and 3D printing have allowed for more types of work to be done remotely.
With these modern conveniences, it's now possible for companies and enterprises to have an employee on any part of the globe.
Content and resume writers, graphic artists, accountants, consultants—in basically arguably every industry, it has become less important to be physically present in an office to maximize productivity and get projects done on time. This paradigm shift in focus has made the remote work model lucrative for many businesses.
Considering that remote work was fairly rare just a decade ago, the fact that the model enjoys widespread acceptability as of late is a testament to how digital communications have evolved in the span of just a few short years. Especially now with the current Covid-19 crisis when social distancing is not only recommended, but strongly encouraged, remote work can only grow in scope and importance.
With this in mind, it's important to know the direction where the trends in remote work are headed so that employees can better prepare themselves for the ever-changing employment landscape. Here are four major remote work trends that are expected to shape the future of the industry.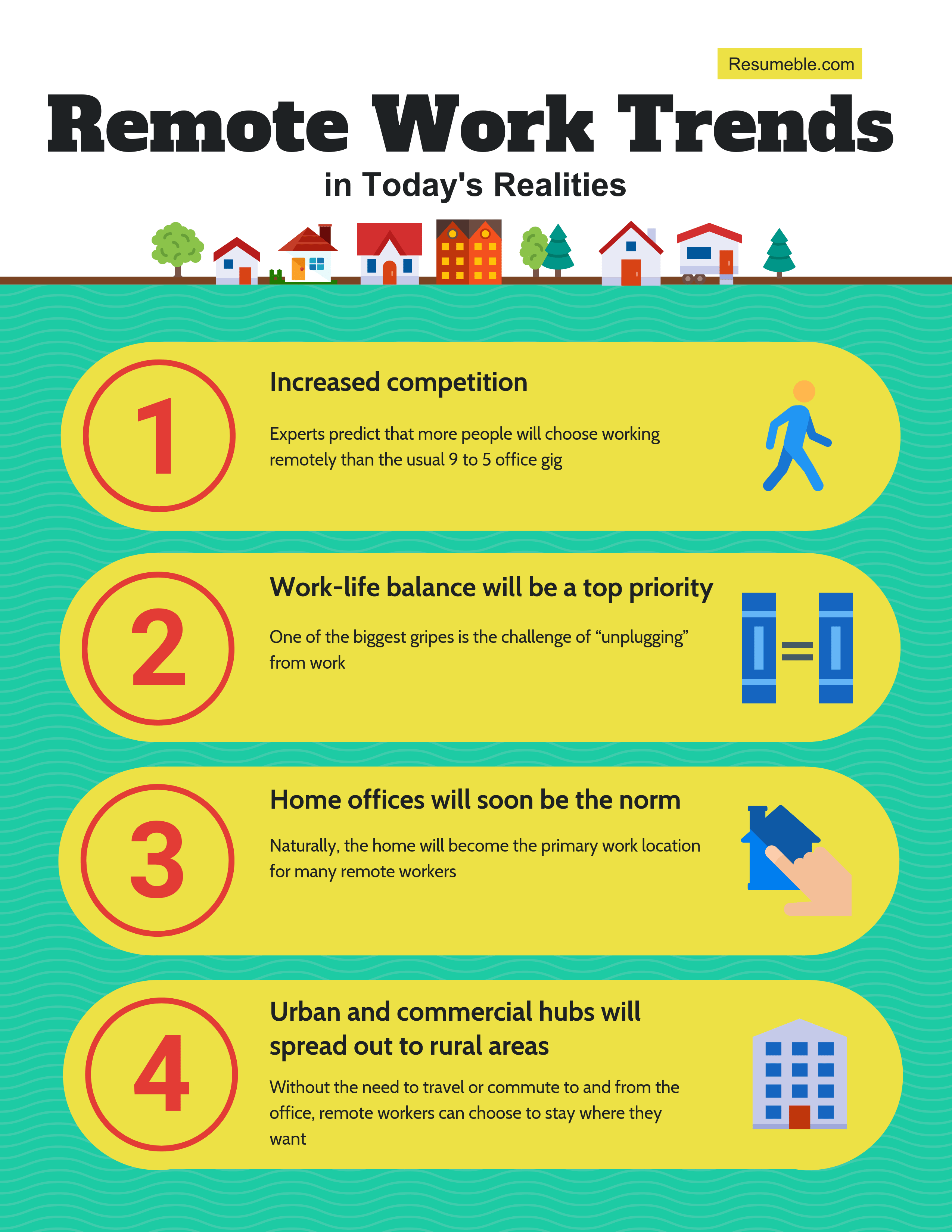 Increased competition
The benefits of the work-from-home setup are immense. Flexible schedule, more me-time, a more relaxed work atmosphere—these are just the obvious advantages that come to mind. And with people becoming more tech-savvy with each passing generation, experts predict that more people will choose working remotely than the usual 9 to 5 office gig. This is bound to promote stiff competition among remote work applicants, with employers preferring those with advanced tech communications knowledge over those who can only master the basics. Get a leg up on the competition by boosting your skills with remote work technology trends such as Google Drive, Basecamp, Zoom, or any tool specific to your industry.
Work-life balance will be a top priority
Of course, as with any type of work structure, there are downsides to a remote work career as well. One of the biggest gripes is the challenge of "unplugging" from work. With no clear structure and schedule, it can be difficult to distinguish when you should be on the job or not, and remote workers end up with an "always on" mentality—a serious reason for burnout. Some of the ways organizations are combatting this predicament is by setting hard schedules for their employees, requiring them to have a home office so they can have a distinct workspace separate from the rest of the house, and implementing remote work trends in talent development that instill better remote practices in employees.
Home offices will soon be the norm
Naturally, the home will become the primary work location for many remote workers. And now with people under quarantine and lockdown measures all over the world, more people are working from home than ever before. With workforces transitioning from in-office to work-from-home almost overnight, this could be a long-term reality for many companies, as the Covid-19 continues to be a threat to the general population. As companies develop better technologies, policies and practices for remote work, the supposedly temporary arrangement could already be laying the foundation for permanent change in remote work trends 2020 and onward.
Urban and commercial hubs will spread out to rural areas
Without the need to travel or commute to and from the office, remote workers can choose to stay where they want, whether it's in another city, another town, and maybe another country. If you've longed to live in a quiet low-cost rural neighborhood while earning an urban-level salary, a remote working career could be the big move you've been waiting for to make that happen.
Get your resume ready for remote work trends 2020 with Resumeble
Regardless of what is the trend going for remote work, one thing is for sure: remote working is here to stay, and the faster you adapt, the better your chance of success will be. Make a few adjustments to your resume to make it more suited to remote work trends 2020 and get ahead of the competition. Contact Resumeble today for any help you may need with your resume.
-

Check Your Resume Branding

-

Learn About Main Mistakes and How to Fix Them

-

Check if Your Resume is ATS-compliant

-

Get Your Analysis within 24 Hours or Less!
Get a free resume
review
Upload Resume